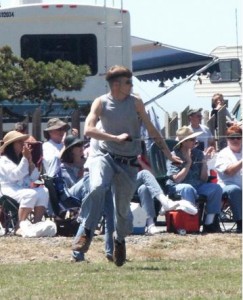 Hello my friends, issue 36 is off and running! We've gone out of our way to bring it to you jam-packed with personal, touching experiences from various people in kiting… With so much on our plates these days, our chosen past time seems to be among those most able to provide profound release, both artistically and in general.
I am also pleased to announce that I've just moved one of our Directors at Large to the position of Assistant Editor… Dave Shattuck has been one of the driving forces behind developing articles and various projects here at Kitelife since joining the team in early February of last year, I'm ever thankful for his hard work and contributions to my sanity.
The kite season is officially coming into full swing, and I'm looking forward to seeing all of you at the various festivals around the country… We'll make sure to bring it all home to our readers here at KL, building up to our traditional daily reporting from the AKA Grand Nationals which is to be held in Seaside Oregon this year.
If you like what you see on our site, I warmly encourage to help support us… While our content will always remain free of charge, it is not free to operate – we have over 25,000 files on line, with visitors downloading an average of 35-40GB per month… Our subscribers make this possible.
For roughly 10 cents a day, our subscribers ensure continued improvements and gain access to exclusive photos and videos in our members area, recognition in the forum, and free entry into our prize drawings held every 4-6 weeks… Sign up today!
Lastly, I would enjoy hearing from more of our readers (that's you!)… Click on my name below to tell me what you think of the mag, as well as our various projects and services.  Let me know what we're doing right and what you would like to see added in the near future! I answer everyone personally and benefit greatly from your suggestions, please be direct… It truly is yourKitelife!
I know that our authors would love to hear from you, and to know how much you enjoy their work… Also feel free to post your comments and suggestionsin our discussion forum.
Cordially yours,
John Barresi
Publisher/Editor
Kitelife Magazine
Next Prize Drawing to be held soon!