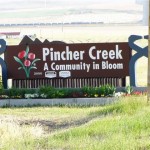 What can I say that I have not already said so many times over the last 12 years of being sponsored to this very unique one of a kind True Blue Canadian Kite Festival that is held on Windy Point at Old Man River Dam in Pincher Creek Alberta? The out standing feature of this festival is that it is 100% family oriented. It is a gathering of families and kite flyers from Pincher Creek and out laying areas plus from Calgary, Edmonton, Nelson, Lethbridge which all are around a 5 or 6 hour drive a way.
One gets the feeling that this how it must have been like in the early settlers days when people used to gather a couple of times a year to catch up with all the latest news and what ever… The kite festival, you might say, is a kind of bonus to this wonderful gathering. This was my 13 th time being sponsored to this festival and though out the years, I have had the great pleasure of getting to know the families and watch there children grow up. This year so many more babies have been added, so it looks like I will still be Uncle Ray for a while yet. J
As always, this was a well-organized kite festival. Thanks to Joan and Pete Rickard and all the great volunteers. And thanks also to the Pincher Creek Kite festival committee, who have been working on and off since the last year's festival on ideas. This year the theme was for every one to enjoy themselves.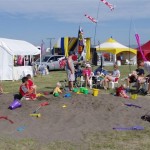 Besides the kite flying performances, there was Kids Tents – Make and Take Crafts, Kite making, Face Painting, and free kites to all children under 12 years of age, Flying Art Park, Sand Castles, Kids Carnival, Clowns, Tabloid Science Tent which was a hands on exhibition put on by the Science Alberta Foundation (very interesting to the young and old alike), and on the dam Force 10 Windsurfing Races. And the ever very popular Roger and Janice Maddy Kite Puppet Show from the USA, entertainment by Herky Cutler from the Prairie Fusion Band, plus all day music from the DJ Supreme Sound, and the great favorite that brings people in from miles around – the "Colors on the Wind" Fireworks display at dusk on Saturday night. This year was the best one yet with out a doubt.
One of the real high lights at this festival for me, with out a doubt is watching the faces of the children and adults of the Riverside Hutterite Colony that attend this festival each year, and seeing their faces light up with excitement as they watch the kite flying and all the other activities is priceless.
The wind on Friday and Saturday was great and all the kite flyers were able to really entertain the masses. There were a lot of new spectators that had heard and read about the kite festival and had come to see for themselves what it was all about, and I can honestly say no one went home disappointed. They returned again on Sunday. Alas, the winds were very light in the morning, but increased by the afternoon though were very gusty at times. The weather through out the festival was awesome, to some a little to hot, around 34 C which is in the 90 F, which is right up my street.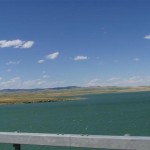 Every one enjoys the Toonie (two dollar breakfast) of sausages, pancakes and coffee.
This is also a great time to socialize, plus catching up with old friends and making new ones. It is also a great time for me to relax before setting up for the days flying. The beautiful picturesque scenery is unmatched. One can so easily see, feel and understand why the Indians loved this land. I could sit for hours and just let my mind wander and imagine how it must have been before the white settlers arrived.
Well another great festival has come and gone. Thanks to the organizers, the festival committee, all the wonderful volunteers and the very generous donations from the sponsors and the community of Pincher Creek – for with out them there would be no festival. Thank you Pincher Creek for inviting me for the 13 th time. Also thank you for your hospitality and friendship… You Bet'cha I will be back in 2005. Oh, and I want to add if I may, congratulations on a very nice write up and pictures about your festival that is in the July/ August issue of Canadian Geographic magazine.
Thank you for listening.
Ray