Enabling you, the flier, to buy and sell used kites and paraphernalia… That's what Kite Classifieds has always been all about.
Nothing more, nothing less.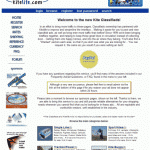 Put your used kites up for sale, search for used kites on the internet… Simply put, Kite Classifieds (KC) offers a great way for buyers and sellers of used kiting equipment to "make it happen!" Even providing links to many existing eBay kite ads.
Well – KC and Kitelife are joining forces, feeling that such a pact will make both services stronger. And, it keeps both entities totally independent of all kite businesses, which is something some users seem to like… Looking to enhance an already outstanding service, KC owner Charly Whitaker felt it important to utilize the number of visitors already coming to Kitelife in order to increase the quantity of items available, as well as the exposure they receive.
You'll find an easy reference FAQ on the new site, which will answer many other Frequently Asked Questions.
Okay, so what're the big differences in the NEW Kite Classifieds then? Plenty:
SAME old Kite ClassifiedsADS, but in an entirely NEW FORMAT… Take a gander. We think you'll like what you see…a LOT!
No-cost photos right on your NEW Kite Classifiedsad! No more links that don't work – though you can still use your links if you want to.
Much broader CLASSIFICATION of kites in the new Kite Classifieds, including lots of separate "Power" Kite classifications… Yeah, the "Power" folks need a place to sell their gear too, and we've responded… We even offer an area for used sewing machines!
AND… a very nominal $2.00 USD charge through PayPal for a sixty-day ad – simply to help defray server costs and software expenses, nothing more (this has been instituted due to exceedingly rare donations over five years at KC's old location.). And we'll even email you in advance and give you the chance to renew your ad before it expires if you wish.
You've not used Kite Classifieds before?
Or you have, and you want to look at the changes?
Or you're just interested in the possibility of selling some of your kite stuff?
Well, wander on over there and take a look at what we've got for ya, then… While ads are still being added to the new location, we know you find the new format to be an improvement.
Go ahead, click the link and go there --> NOW