Well, another great year at San Ramon goes down in the history books… Organized by long time Bay Area kite aficionado Brian Champie and a dedicated group of volunteers, this event has become one of my personal favorites!
Held Memorial Day of every year, Brian and his volunteer staff always go out of their way to take it to a new level.  As it is the Wind & ART Fest, it runs in conjunction with an extensive arts and crafts show on the other side of the park… Local artists, vendors and food concessions show up every year to offer an incredible variety of gifts and edibles to the impressive crowds that show up from all over the Bay Area to participate.
There are also kids kite making workshops, music, dance performances and street performers going throughout the weekend… As well as a dedicated skate park for the local extreme skate boarders and rollerbladers!  Held in a gigantic park, the event occurs on a beautifully manicured lawn with a baseball diamond on one end… In the right winds you can stall your kites right in front of the fence, step forward, and they just slap up against it held in place by the wind.
For one of the first times ever in 14 years, I was roped into flying a single line kite… A huge red, white and blue delta which we used to lift goodies into the sky for a kids candy drop, done on both days. With fairly light winds, my long legs got me the job of running the length of the field in order to get the kite high enough for a good drop to the 100+ kids that came out for a chance at the several pounds of sweet stuff we dropped out of the sky.  I really had a great time working with Brian Champie, Dave Sabilino and others to help make this possible, even in such light breezes in was quite a success and went quite well.
Sharon Champie dutifully operated the raffle tent, educating passersby about kite flying and helping raise funds for the event through the sale of raffle tickets… Looking a bit like a kite store, I don't think she got much of a chance to leave the tent and is to be applauded for her share of making this event possible every year!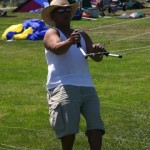 Many of the usual fliers came out to wow the crowd with their performances… Ron Despojado with his Revolution ballets and freestyle routines, David Sabilino doing his freestyle buggying complete with spin outs and riding around on 2 of 3 wheels… Too Much Fun showed up to fly their popular team routines, both dual and quad line kites flown by Mark & Jeanette Lummas, Susan Shampo and Ron Despojado. Rounding out the team presence was Air Zone which is composed of Darrin Skinner, Ulysses Villanueva, Wayne Fu and Aaron Champie.
Penny Lingenfelter brought her uniquely entertaining performance pieces to the show, including a crowd favorite where she comes out in an egg costume and hatches into a dinosaur during the course of her routine!
Bay Area local Miguel Rodriguez (the "father" of the Wasp school of flying) moved the spectators with his dynamic and explosive style, then paired up later with Brian Champie as "Avispados" to fly their championship pairs ballet. Speaking of exciting championship pairs ballet, San Ramon regulars Centrifugal Force (Dan Brown and Kerry Haines) also demonstrated their own brand of dynamic flying despite the light winds.
Heck, I even managed to slip in a few dual and quad line routines… This is one of my favorite places to perform, with very appreciative crowds and surround by so many good friends, it really brings out the best in fliers who show up to be part of the show.
"Danielle" Whitney and "Briana" Champie teamed up in their usual cross dressing performances, yet again drawing tons of laughs and curious glances from onlookers.
A first time participant, Carl Bragiel came all the way down from Amity Oregon to demonstrate his now well-known multiple kite flying… Assisted by wife Lisa who serves as his ground crew, Carl flies three dual line kites independently! With one in each hand and the third attached to a chest harness, he maneuvered all three kites with long tails through the sky to a variety of tunes throughout the weekend… Quickly becoming a crowd favorite, we'll no doubt see him at this event for years to come!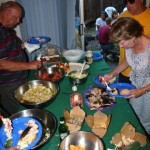 One of the biggest motivators for coming to the event is Saturday night when Brian and Sharon Champie host a potluck including more yummy smoked turkeys than you can shake a 4-wrap rod at, and the most delicious berry pies I've EVER had… Sharon's pies are renowned, they've even been auctioned off in previous years.
There is always great comraderie, cold beverages and nostalgia late into the night… This year we ended up watching old videos from Berkeley and other places, talking about the "good old days" and more.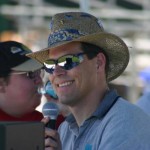 A huge hats off to Arnold Stellema for an incredible job of announcing throughout the whole weekend… Bringing his distinct brand of humor along for the ride, he is quite adept at keeping the crowd informed and excited about everything going on at this event.
To all those volunteers and performers who I've temporarily forgotten, and to everyone involved with the event even in the smallest ways… A hearty and heart felt THANK YOU for bringing one of the finest events on the West Coast to us yet again.
John Barresi
Check out the photo gallery in this issue!