The Call went out to all fighter kite fliers to meet at the 2004 Washington State International Kite Festival in Long Beach, WA., for a week full of fighter events, including the 4th Annual Line Touch Fighter Kite World Cup Championships hosted by NAFKA, the North American Fighter Kite Association. The WC (World Cup) is held on Friday and Saturday, a 2 day event…2 solid days of fighter kite line touch competition…there isn't anything like it anywhere else!
The Fighter Fliers are very fortunate to have representation on the WSIKF Planning Committee. NAFKA member, Richard Hurd, has held this position for several years and has done a fantastic job in getting three designated fields at WSIKF for the week long Fighter events. WSIKF provides name badges for all the Event Directors, Scorekeepers, and special Volunteers, and Ribbons for 1st, 2nd and 3rd places are given to the winners of each event. NAFKA greatly appreciates the dedication and support of Richard, and the rest of the WSIKF Planning Committee.
WSIKF is definitely a Fighter Heaven!
Monday 8/16
The Fighter fliers were given three designated fields located close to the beach approach from Sid Synder Drive, about a mile south of the main festival entrance. Mondays are typically a "Meet & Fly" day. Arriving fliers head out to test their kites and meet their old friends, and just have fun.
Johnny Hsiung & Gopal Das wanted to try something new at WSIKF to introduce Fighter fliers to the Indian style of kite fighting with manjha, which is line with embedded glass powder and used to cut opponents line. They scheduled an informal Manjha Challenge on Monday afternoon not too far away from to the designated fighter fields and they provided the manjha, paper kites and beautiful awards for the top three places.
The winds were light, so a thin Indian manjha was chosen, and each flier was given a specific length of it to attach to their cotton line. Paper Indonesian kites donated by Johnny & Rich Hurd from a trip to Taiwan were perfect for the light wind and the thin manjha. The 10 fliers flew a one point, round robin match, and as with manjha fights, there were NO RULES. Safety was an issue however, so when the horses went by in the dunes, the fight paused to wait for them to clear the path of a wayward kite.
10 fliers were up to the challenge of playing with manjha, Johnny, Gopal, Rich Hurd, Asif Zaheer, Eric Johnson, Steve Bateman, Ed Haynes, Brian Johnsen, Gary Goodenough, and John "Heidi" McKenzie. Chuck Lund stayed for a short while to watch and learn, but he had another commitment. After many fun tangles, and with fliers sprinting off to retrieve that favorite kite in the dunes, the matches were over too soon.
Manjha Challenge:
1st Place – Gopal Das with 8 pts
2nd Place – Asif Zaheer with 7pts
3rd Place – Eric Johnson with 6 pts
Wednesday 8/18
Seniors Skills,
Event Director: Chuck Lund
The extreme sport, senior skills, event was one big grin from the first kite launch to the last crash…and the strong winds added a special touch all their own. There was absolutely no success popping the balloons using a kite with a needle in the nose, and trying to knock cups off of poles was every bit as entertaining for the crowd. There were six poles varying in height from one foot to six feet.  The cups were a bit closer to the ground because the poles were tilted into the wind to keep the cups from blowing away. Three cups in total were knocked to the ground during round one. Now there was a tie, so a tie breaker was flown. Paul Peters made it look easy and got a cup off for first place.  Round three, Bruce finally got a cup and Scott didn't.
Senior Results:
1st – Paul Peters
2nd – Bruce Lambert
3rd – Scott Bogue
Sheep & Wolf Demonstration
Event Director: Richard Hurd
Rich wore a Tuxedo T-shirt for his role as Announcer for the Sheep & Wolf event. Johnny and Gopal were Wolves. Each had a reel of manjha and a blue Indian mylar fighter kite. The Sheep, volunteers from NAFKA, flew a variety of fighters, including Indian paper and mylar kites, and Indonesian paper kites, on cotton line. The sheep put up their kites and the wolves took turns cutting them out of the sky.
Thursday 8/19
Novice Fighters
Event Director: John McKenzie
Field Crew: Kirby Holt and Jerry Dines
A dozen grinning contestants… 20 plus donated kites… a few feet of string… And 2 very tired old guys. Jerry Dines and Kirby Holt chased kites out in the field till all you could see of 'em was shiny eyes, a big grin, and a dragging tongue. The novices had a good time flying.
Novice Results:
1st – Kevin Winn
2nd – Riley Abel
3rd – Ralph Resnick
Buka Challenge
Event Director – Karen Gustavson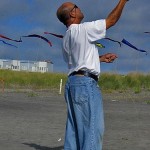 Seventeen fliers gathered for the Buka challenge, and were split into 2 groups to fly round robin 3-point matches, all points counting. After several hours, and many grins we had our final-5: Bruce Lambert, Johnny Hsiung, Dennis Crowley, Steve Bateman, and Gary Goodenough. With some points exceeding 7 and 8 minutes, a 3-point final round robin was chosen. The flying was amazing, a real treat to witness. Steve Bateman won 11 of 12 possible points to win the Challenge. Johnny and Dennis tied, so in a 1-point thriller, Johnny finished 2nd and Dennis 3rd.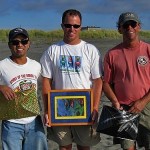 Final Standings:
1st – Steve Bateman
2nd – Johnny Hsiung
3rd – Dennis Crowley
Kite Making – Fighters Category
Apprentice Level:
1st – Richard Hurd,
2nd – Scott Bogue,
3rd – Ed Haynes (Large Buka)
Journeyman Level
1st – Paul Peters
Masters Level
1st – Chuck Lund
Kahuna Level
1st – Steve Bateman
Friday 8/20 & Saturday 8/21
NAFKA World Cup Short Line Comps Event Director: Bruce Lambert
Scorekeepers: Donna Lambert, Gina Hsiung and Nancy Bogue
20 fliers divided in to in 4 groups; Round-Robin, best of 3 match, match point counted.
After flying all day Friday, the fliers almost finished the 4th round, so Saturday they had to finish Round 4, and complete Round 5, break for Lunch and then the Finals of the top five point getters. However the weather didn't hold to finish Round 5 and with the heavy rain, flying was suspended. The fliers' scores were tallied through Round 4, with the top 5 fliers for the Finals set as:
Bruce Lambert
Chuck Lund
Johnny Hsiung
Steve Bateman
Woody Woods
The rain continued throughout out Saturday afternoon, so at 5:30 pm. the World Cup Director declared that the World Cup was finished, and the Final 5 would share top honors this year. All 5 fliers will be responsible for planning the 2005 NAFKA World Cup at WSIKF.
Highlights of the week:
NAFKA President, Gina Hsiung, was presented with not one, but two beautiful (plastic) tiaras. A Canadian tiara from Sharon Musto, and a matching tiara & earrings from the Northwest guys. Gina is beginning her 2nd term, and is ready to reign over another great year with the North American Fighter Kite Association.
Fighter Kite Artist and special Guest of the festival, Ralph Resnick, came all the way from Israel to participate in the week-long NAFKA events.
For more information about fighter kites and events, visit the North American Fighter Kite Association's home page: