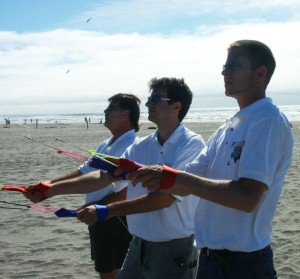 Hello and welcome back for issue 38 of Kitelife! We're especially proud of this month's content, featuring three interviews with well known kite specialists and some very in depth articles on making kites and about some of the history of kiting. I'll be in Taipei, Taiwan as this issue hits the web, and you can look forward to an exciting report in our next issue, as well as a special photo gallery and another video added to our subscribers area sometime later in October.
For our international readers, we have added an easy to use link below the banners shown to the right… Just click on your flag and you can have this issue translated into Spanish, German, Italian, French, Chinese, Japanese, Portuguese and Korean.  The conversion isn't perfect, but should be a great help regardless!  The translation will also follow you from page to page as you click the various links… Look for this feature to be added to our past issues in the near future.
Fighter kite enthusiasts will be pleased to see we've included coverage from the Fighter Kite World Cup at WSIKF, and talked Bruce Lambert into sharing more of his experience and knowledge with us… A long time Kitelife contributor, we missed Bruce and had to bring him back!
As promised, you'll also find a full report from this year's WSIKF, and an eight minute video added to our subscribers section… Be sure to check that out, and from October 11th through the 17th you can look forward to seeing our now traditional daily updates from the AKA Grand Nationals, to be held in Seaside Oregon for the 3rd time!
As many of you know, we're striving to move Kitelife to a dedicated server… Due to the incredible popularity of the video section, and our upcoming plans to archive every issue of Kitelines published since the 1970s, we're in need of a great deal more bandwidth, which a dedicated server will provide. In addition, we have over a dozen new videos to add including Team High Performance's 1993 championship World Cup routine… To help us reach this goal, we're hoping to have 50 new subscribers by January 1st, 2005!
As thanks to those of you who become official Kitelife Subscribers, we're giving away two great kites in our next monthly prize drawing… Going out to two separate winners will be an 11′ Ghost Pyro Delta single line and the new Phoenix Supreme dual line kite from HQ Kites.  For $2.95 a month or less, you can help us to continue pushing the envelope of kiting media on the web!
Cordially yours,
John Barresi
Publisher/Editor
Kitelife Magazine
Next Prize Drawing to be held soon!