It happens every summer; for 2 days in July and for the past 12 years, Brookings is everything you'd ever want a kite festival to be. Except for one thing — it NEVER lasts long enough! They could make it a week-long event and I'd STILL start missing it the minute I climb into the plane to leave that little bit of heaven. I've only been home for 3 days and already I can't wait to go back.
The Southern Oregon Kite Festival is the kind of event you look forward to every minute of every day. I don't think a day goes by during the year that I DON'T think about Brookings. For those of us who fly there, it inspires us, it motivates us, it requires us to give the best of ourselves and to put on the kind of show the people of Brookings deserve. All we can do is hope that they enjoy it and look forward to it with as much enthusiasm as we do.
The wind in Brookings is typically light and in the 2-6 mph range, most of the time. We use light wind kites and fairly short lines because they're needed. That doesn't limit what we can do though, as far as flying our best, and if you'd seen Mark Lumas do back-to-back 360s with a 12-stack of Hyper Kites, you'd know what I'm talking about. If you'd seen John Barresi's performance of his Bugs Bunny routine, flawless as always and complete with multiple 360s, you'd understand. If you'd seen Susan Shampo's individual quad and dual-line routines, a very rare treat since she joined the 'Too Much Fun' team a couple of years ago, you'd get an inkling of what's so special about Brookings and why we give so much of ourselves. It's because we want to.
It's that feeling of belonging … of being a part of something bigger than the sum of our individual parts. We smile … ALL the time. We have fun … EVERY minute of each day we're there. Everyone involved in the festival is happy and we all thoroughly enjoy each other's company. Being a part of the Brookings festival is like having a second family that, in some ways, you enjoy being with more than your real family. The people of Brookings, the organizers of the event and everyone who shows up every year ARE the Brookings family, and it's a treasure that none of us takes for granted.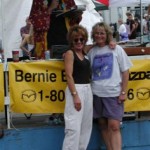 So, every year we wait for the invitations to arrive. That's how you get to Brookings; you're invited. Then you start counting the days and DO THEY EVER drag by! Eventually, the time comes and you're whisked away to one of the most beautiful spots on the West Coast. The Southern Oregon coastline is simply drop-dead-gorgeous and if you haven't seen it yet or experienced the majesty of it's surrounding hills, Grant's Pass or the splendor of the Pacific Ocean itself, you haven't lived.
Being smack in the middle of the banana belt, the weather in Brookings is superb. When we (Susan Shampo, Randy Tom and myself) left San Diego, the temperature here was in the 90s and the humidity was stifling. The high temperature in Brookings that weekend was around 72 degrees, with cool nights and a couple of light misty mornings. Waking up to the sound of fog horns and buoy bells off in the distance, before the fog burns off and the sun pops out, is something right out of a Hemingway novel. It calls to you and gets you out of bed just to see what's going on out there.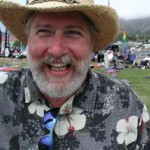 The "show" (the actual festival) is the brain-child of Steve O'Brien and from it's inception has involved some of the best fliers, organizers and sponsors you'd ever hope to meet or spend time with. A few have drifted in and out of the picture over the years but it remains a well oiled machine that works superbly BECAUSE of people like Steve, Nita Rolfe, Russ Crabtree, Jack (the sponsor man), Sheri O'Brien, Lisa Bragel, Gary Maceachern (the auctioneer at the banquet dinner) and everyone else involved in the play-by-play action that makes the festival what it is. The 2004 festival was Arnold Stellama's first year as the announcer and he did a SUPERB job.
The single-line folks deserve every bit as much credit for the show as the multi-line fliers. At the drop of a hat and between performance, you'll see a huge assortment of some of THE most beautiful kites on the planet. Kites from John & Mary Gabby, Ron & Sandy Gibian, Deb Lenzen, Rod & Cindy Thrall, Doc Counce, Al Councelman, Rhonda Brewer (who also does the kite building workshop with the local kids), Lindsay Johnson, Barry Poulter, Bob Serack, Ellen Pardee, Tim Helwig & Evan Stone and others … all top names and kite builders from around the country. Launching a big kite in light wind is no small feat, I can tell you, and with all the effort that goes into putting so much sky candy up, it's no wonder the crowd goes wild when they see all those shapes and colors dancing above their heads. It truly is a sight to behold.
This year I went out of my may to help out the single-line kite fliers and every chance I got, I offered up my services to them. My reward was the privilege of flying some of THE coolest single-line kites I've ever seen and I'm hoping that next year I'll get to fly even more. The fact that I have a few Gibian kites probably helps, but I'm hoping too that some day I'll be accepted into the single-line "fold" that I've learned to respect and appreciate so much over the past few years. It truly is a GREAT group of individuals and an art form unto itself.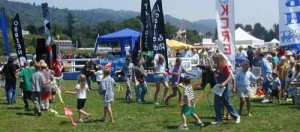 As to multi-line fliers, there were the Bay Area Sundowners who are ALWAYS a huge crowd pleaser. Barry Nash, Gordon Osterland, Randy Tom and Mark & Jeanette Lumas (who are also half of team 'Too Much Fun') put on an awesome display. Speaking of Too Much Fun, Ron Despojado couldn't make it this year due to an illness in his family.
Too Much Fun (Susan Shampo, Mark & Jeanette Lumas) put on an excellent show, despite Ron's absence, but he was sorely missed. Susan, Mark and Jeanette also performed individual routines as well as pairs (Mark & Jeanette).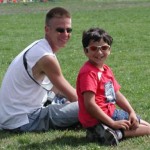 Other fliers included Al Washington, Centrifugal Force (Kerry Haynes and Dan Brown), John Barresi, Carl Bragel, Brian Champie, Miguel Rodriguez, surprise performer Nathan Ostovar, yours truly and a few others. Even in very light winds, these "seasoned" fliers put forth their very best efforts and won the hearts and applause of the Brookings town folk.
To put things into perspective, last year at Brookings, John Barresi helped teachlittle Nathan Ostovar to fly a stunt kite. This year, Nathan performed for the crowd. He's still learning but with an instructor like John Barresi, how can he NOT become a great flier?
And that's what Brookings is all about — putting on a show and spending time with local fliers who want to learn from the best. It's a give-and-take proposition where we give of ourselves (the show) to the crowd and they in turn give back to us by applauding and letting us teach their sons and daughters to fly. It just doesn't get any better than that.
So, another year has come and gone and I'm missing Brookings already. I know I won't be truly happy until I move to that sleepy little hamlet and become an integral member of it's community. That's my dream… to one day live (and play) there and try and convince ALL my other kite buddies and friends to live there too. Kite Paradise. It's all right there in Brookings.
AL Stroh
07/22/04