If there is one event that I try and make a point of always attending, it is the AKA Grand Nationals (AKAGN) and annual convention, probably the largest representation of competitors, kite makers, and all around fliers of any single event in the United States… This year was no exception with nearly 500 registered attendees, and full flight orders in nearly every discipline!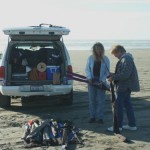 Although the convention is traditionally scheduled as Tuesday through Saturday, I always try to arrive on Sunday or Monday in order to get in a good deal of practice and have "down time" to relax with the friends I often only get to see at Nationals… This year I arrived on Sunday with my good friends Theresa and Scott from The Kite Shoppe in Vancouver, with whom I spent the better part of the day just a bit north at Sunset Beach and truly enjoying the steady 4-5 mph winds before heading into town to see who had arrived so far. Being a bit of an "old school" dual line flier, I actually set about learning a couple tricks and managed to pretty much get the hang of both the Cascade and Flic Flac!
Wandering out onto the field Monday morning, I was greeted by Ray Bethell who was set up near the water, and a growing group of proficient quad line fliers down by the promenade… Paul LaMasters, Zach Gordon, Ulysses Villanueva, Ben Dantonio, Wayne Fu and Doug Coates, just to name a few of my favorite pilots who I came across during the course of the day.
After a long day of quad line flying and socializing, I made sure to go check in at the registration desk which was located in the convention center and say hello to many of the others who had arrived during the day. As the sun was going down, a number of fliers gathered at the promenade for an AKA Convention first… A drum circle! Darrin Skinner, Mike Gillard, Jeff Erzin, Ulysses Villanueva, John Gillespie, Aaron Champie and a couple of other rotating players were having a blast laying down some primal sounds across the night air… Until a disgruntled resident of a nearby hotel came down to chastise the group for disturbing them that fine evening, so we snatched some chairs out from under the security guard at the event tent and wandered further out onto the beach to lend accompaniment to breaking waves.
This turned out to be the first of many late nights spent between the beach and Shilo bar located on the oceanfront… I think every night saw me hitting my pillow around 3am or so, after posting our daily updates to the web from my room.
Besides being the national championships for both sport kite and single line comprehensive competitors, the AKAGN is about people… An unbeatable opportunity to renew friendships, make new ones, exchange ideas and add to your kiting experience.
My very first AKAGN was on this same beach, nearly 15 years ago. There were more than a few faces that I remember from that time when I was very new to the community… Lee Sedgwick, Ray Bethell, Miguel Rodriguez, Darrin Skinner and our AKA President from Oregon, David Gomberg. It was very interesting to think back on those first days, and how many things have changed over the years.
Among the good chuckles during the week, Lam Hoac with a "Jackie Chan" badge, and Ron Despojado with "Bruce Lee"… Seeing 8 year old Tristan Underwood beat the snot out of fliers four times his age in the Hot Tricks event… Josh Gordon doing a Cascade so bloody fast that almost everyone thought it was a Comete… Just to name a few.
Also a good brain twister… Realizing that Zach Gordon (top five in quad line comps this year, one of the best in country at age 12) wasn't even born yet when I won my first kiting trophy! I'm old at 29, eh, what can you do?
One of my favorite parts of the convention is Saturday night at the awards banquet… Each year they have everyone in the room stand up and acknowledge them for being there, then ask the first timers to sit down… Then those there for their second time… Then the third time, and so on.  Usually by the time they've asked everyone who has attended the convention seven times or more, the majority of the room is seated. This was my tenth convention ('90, '91, '92, '93, '94, '96, '97, 2002, 2003 and 2004) and it was interesting to for the first time, be standing so long and seeing so few people up there with me… When I finally sat down, there might have been a little over a dozen people still on their feet!
Good friends, good memories (new and old), good flying… A deeply satisfying week indeed.
I apologize for not getting into too much detail, I really wanted to express the sentiment that this event holds for me… Please do feel free to browse the daily updates from this year's convention where you'll find a great deal more information and additional photos:
https://www.kitelife.com/magazine/aka04
As always, this event was of my highlights for the year… I hope to see you for the next one in Ocean City come next October!
Best winds,
John Barresi
– All photographs by John Barresi –
(Be sure to check out the photo gallery in this issue,
plus over 100 more photos and an 8-minute video can
be found in the subscriber's area!)