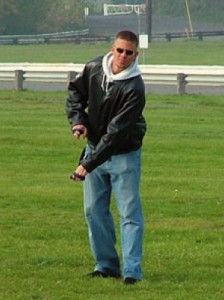 Coming 'atcha! Welcome back for our latest issue of Kitelife… We keep trying to raise the bar with our content, and have been really proud of the changes we've implemented since I assumed ownership way back in July of 2003!  Nearly a year and a half later, we've increased our content several times over and expanded our mission to include archiving out of print publications and videos.
Shortly after the AKA Grand Nationals in Seaside, our server was hit with an email bomb directed at all Kitelife.com email addresses.  This has shut down our usual channels of communication for the last few weeks, but with our recently added .org domain, we're still in touch with the world… You are encouraged to reach us by clicking on my name below.
Also worthy of note, Kitelife has moved it's offices to another area of Portland in search of more office space and to accommodate more in-house staff… If you need our updated mailing address, you can find it on our contact page.
My 2005 festival tour should expand to include 2 or 3 East Coast events, as well as the usual events up and down the West Coast… I have too few chances to go see all my friends in the Eastern USA, and I'm going to make a concerted effort to attend some of the equally wonderful festivals in that part of the country over the coming year.
Our subscriber base is holding strong, but we would like to see 20 or so more sign up by the end of the year… If you enjoy the services, publication and archives that Kitelife has to offer, consider taking an active role in helping us keep expanding the envelope!  We are a flier-based organization, and our success is assured by people like yourself who recognize the mission that Kitelife holds so close to it's heart.
We're currently giving away a Transfer XT.R (Unleaded) from L'Atelier, courtesy of GWTW Kites… This $299 kite will find a home with one of our subscribers on December 25th. So, are you signed up yet?
Getting you through the winter is our first priority… With the weather driving so many fliers indoors, we'll be working our tails off to find stimulating and useful content for our coming issues in order to help you get over withdrawal as smoothly as possible!
Cordially yours,
John Barresi
Publisher/Editor
Kitelife Magazine
Next Prize Drawing to be held soon!