Well, here we go again… Charly and I are off to another Kite Festival – to fly a bit, watch the comps, and mostly to just go hang out with kite-folks. Believe me – it doesn't GET any better than this…
This one's a little different though… The Whidbey Island Sport Kite Championships occurs on an island in Puget Sound, so it's right in your own backyard so to speak – 30 minutes to the ferry, a 25 minute ferry ride, and another 30 minutes to the field. Piece o' Cake! We saddle up and laze our way over – in no particular rush, since we're headed over on Friday and the festival doesn't really start until Saturday morning…
And if you believe in good omens, it'll be a GREAT festival. Why "omens?" Well, we had a bagpiper serenading us on the ferry-ride over to the island, that's why. Perhaps that piper was an unplanned "gift" from our Canadian friends that we're really looking forward to seeing this weekend. Ah, just one of the delights of living in the great Northwest!
First item on the docket is to check in at Casey's Cove Inn, our home for the next couple of days. We're staying with Debbie Holmberg and Steve Damon, and we find that they've already checked in and are over at the flying field. As we head to the room to drop off our bags, sure enough, we run into Paul Horner, Carol Marrett, Steve Brown, and also Dana Inglis whom we'd not met before, all down from the islands of British Columbia for the festival. Gosh – it's always great to run into old, and new, kiteflying pals… And the motel is just the kind of place we need.

So after dropping off our bags, it's off to the kite-field just a short walk away from the motel. Lord, what a glorious place to hold a kite festival! Fort Casey was an old artillery base guarding the entrance to Puget Sound, and we fly on the old regimental parade grounds – a mere 75 feet from the water. This thing is huge, flat as a tabletop, all well-tended lawn, and has the advantage of those salubrious breezes right off the water.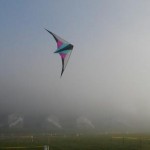 So Charly and I wander out to find everyone and notice "the gang: from the motel all out flying again. Paul Horner has his pretty Bob Childs "Wangdoodle" out – and I just have to try it… Ten feet of kite, with inflatable "pockets" that mould the shape of the kite. What an impressive kite to fly and darned precise in the air! They'd be a great Team kite, too.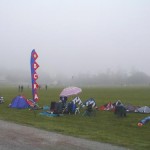 Paul also had his pretty homemade Rokkaku out, and we got to yakkin' about the Mylar panel he'd put in it… It's a pretty kite, and a great construction job, too! With one thing and another, I had so much fun flying Paul's toys that I didn't get to spend much time with the rest of the pilots before the sun finally set and we called it a day. Oh, well – there's always tomorrow…
Saturday morning broke fairly bright and rain-free, but there was a hefty layer of fog right on the ground, so we meandered off for a little breakfast, and showed up at the flying field – and tried like crazy to watch the "Action" in the competition arena. Seems like everyone brought their white kites this weekend – which blended perfectly with the low ceiling (fog). I would have hated to be a judge in that mess, but judging got done anyway… And events went off as scheduled.
We spectators couldn't see much though, so I finally got tired of the eyestrain and wandered over to glance at the stuff Linda Barnes, "Mrs. Pizazz," had assembled in the Raffle Tent this year… Wow – Awesome stuff (as usual). And I also stopped by and looked at all the "goodies" people were willing to part with – sometimes for a mere pittance – in the Swap Tent. Again, goodness reigns! There must have been about 20-25 first-class flying machines in there. Everything from Prophesies to CdC Styxes, and even a Nirvana. Yep, some of the lower priced kites as well…
As long as I was over there anyway, I thought I'd stop in and say "Hi" at the office/registration table, and compliment them on their usual high standard of planning and organization. Marjorie and Allen Taylor had done their usual extraordinary job, and everything was just as it should be. Decent bleachers for the spectators in the Comp area. Separate Single Line area, and another separate spot for our "Invited Exhibitor," who was Rob Pratt with his pretty Baden-Powell Kites this year. And a motorhome for the "office", plus the aforementioned Swap Tent and Raffle tent! Pretty decent vendor row, too…
Marjorie and I yakked a bit, and I complimented her on getting it "2/3rds right." We had about 7-10 MPH of wind, and NO RAIN, but this darned fog kept getting in the way of seeing the kites… She agreed, but allowed as how they only had enough "Weather Gods" budget this year for the wind and the no-rain… We'd have to tough it out with the fog, though. We did too – the entire weekend! Darned fog stayed in place until the last kite came down or the last competition ended. Then it would clear, as if by magic!
As I was wandering away from Marjorie, Debbie Holmberg grabbed me, and almost dragged me over to the Blue Moon Photo-Shoot, finishing up about 75 feet away. What a HUGE pile of Blue Moon goodies – just "dumped" onto the field! Actually, the owners weren't far away at all… and were really watching these Ken McNeill works-of-art like hawks. Indeed – many of them had "dumped" their Blue Moons, and were lining up for the subsequent Aerostar Photo-Shoot… Well, I had my camera with me for a change, so went out and shot photos like I knew what I was doing… Nice bunch of folks, these Aerostar owner/pilots… It's not surprising that many of these people own BOTH brands, since the quality of both lines of kites is pretty legendary… These folks know "class" when they see and fly it!
What WAS surprising to me is that, of the five Areostar Sano SS owners, four of them were down from Canada. Does that mean our Canadian friends are more "discerning" as far as kites go than their south-of-the-border counterparts – or maybe it's just that they like having their pictures taken better than we Yanks? Who knows…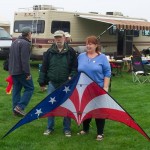 Debbie also wanted to get a photo of the "geezer" with her and the "Patriotic Mamba" – which Ken McNeill calls the "Flag Kite." I had designed the kite's graphics (sans stars) on a whim while just fooling around one evening, and sent it to her in an email. Debbie talked Ken into adding those stars when she ordered the kite. Anyway, we finally got a willing button-pusher to handle the camera while we stood in the fog as subjects…
Since this is a kite festival, other events were happening while these Blue Moon and Aerostar Photo Shoots were taking place. The day's competitions had gone to an "intermission," so that the MOST popular event at any kite festival could begin – The Teddy-Bear Drop."
If you've not attended a kite festival recently – this is a "must see" thing. The kids hung out on the edge of the field as Robin Haas, our announcer, selected each child, read the pedigree of each bear, and called the shot as each Teddy-Bear parachuted down from a kite in the center of the field. NOTHING competes with the energy of a child in pursuit of THEIR bear – as the rest of the children holler, "BEAR IN THE AIR!" Each kid keeps "their" bear, of course… and there were enough bears or other stuffed animals for each kid this weekend. Not all the animals "flew," but every child received a "bear."
Well – I'D been "busy" over at the Aerostar Photo-Shoot while the Teddy-Bear Drop event occurred, but I did manage several photos of satisfied children – and I assume the Bears were satisfied, too…
Then it was time for some lunch, (musta been about 3:30 or 4:00 PM) so I stopped at the Hot-Dog stand and got one of their extra-gigantic, all-beef, all-the-fixin's models, and then sauntered over the espresso stand and got a mocha to go with the dog… Sorry guys, no beer tent, but I'm a coffee kinda guy anyway, so a mocha and a dog suited me just fine!
While I was eating, I walked over and introduced myself to Rob Pratt, the event's "invited flier." What a nice man, and he's extremely knowledgeable about the Baden-Powell kites he flies. And then I sauntered around and watched the SLK folks play "Hide the Kite in the Fog" with their Roks… Kind of a fun game, so Paul Horner got his homemade Rok out and joined in the fray. I probably had a little to do with this nonsense too, because Jim Fielder asked me to "tend" his pretty roller SLK for a while. Kinda fun playing peek-a-boo in the clouds like that…
Finally, Pal Charly corralled me and suggested we head back to the motel because the banquet and indoor fly were over in Coupeville, about 5 miles away. It wouldn't hurt us to spiff up a little… I agreed, and we headed for the barn for a while to get ready for the evening.
The banquet at Whidbey is always nice, because it's prepared rather than potluck. Buy your ticket, go in, sit down, and eat! No hassles. If we're lucky, there'll be a little bit left over so the "kids" can have seconds… There happened to be a little Lasagna left over this year too – and you would all be amazed at how many 40-to-50-year-old "kids" we had in attendance all of a sudden… I sure was!
Then it was directly across the street to the School gym for the indoor fly. Yep – open indoor comps, after a few warm-ups of course. Nice time for those who'd never seen indoor flying… and a good time for the rest of us too. And it was a full-scale, judged, competition. Our Canadian friends did quite well in this one – as they did in all of the events, actually. Young Tristan Underwood (at 7 years old) delighted the audience – flying out there with the big folks. Click on the "Placings" link at the end of this article for ALL the competition results.
Sunday morning broke slightly better than the prior day, but still with more than our fair share of that foggy stuff present. But – we had a little wind again, and No Rain! Guess we were going to fly again today. Our friend Debbie managed to encounter some electrical problems with her truck overnight, so we made a quick trip into town for some parts and made it back to the kite field by mid-morning. Yep – they were underway again.
I kind of lazed around, savoring my third cup of coffee to help clear the "fog" out of my head, and decided to make a trip into the Raffle tent. Hmmm…. The usual 10 or so bolts of kite-fabric. A couple dozen fine sport kites of various sizes and manufacture. At least as many Single Line Kites as sport kites. The usual mix of kite trinkets and notions, including about a dozen linesets in various lengths and weights. Tee shirts, and Sunglasses, and gadgets galore, plus the usual "notions" that nobody can quite categorize – all with a kite on them somewhere. Scholarships to kitemaking workshops, and a vacation or two in some exotic kite-flying place… Yep, the normal raffle fare for this festival. Actually, pretty great stuff. Great job, Linda Barnes! At least half of this collection would go across the border before nightfall – home with those nice Canadians.
Finally, Debbie came and grabbed me again – wanting me to FLY that Mamba I'd designed. Well, I'd never done that either, so maybe it was time to remedy that situation. I wandered out to the Free-Fly area behind the competition field and picked up the lines. Okay – I've flown Mambas before, but this one didn't seem to be acting right…
About that time, Steve Brown happened by, flying a Blue Moon Killer Bee in a patriotic scheme, and we began to try to play with a little "pairs" flying… I say "try," because it certainly didn't happen – at least not with any degree of success. Yeah, we got them in the same airspace, but the Mamba was still acting "quirky." We kept at it long enough to get a couple of photos before I managed to drive the Mamba THRU the lines of the Killer Bee. Not so good…
Fortunately – no kites were damaged in this exercise. Nothing shredded but my ego, as the saying goes. After I untangled the lines, I decided I'd check the bridle to see what was making the kite act so funny. It turns out that the difference between settings from one side to the other was about an inch and a quarter out – pretty extreme, even for as nice and forgiving a kite as a Mamba.
So rather than tinker with the Mamba bridle settings, I simply unhooked the lines and put them on Debbie's Aerie Air FX UL that was lying nearby, and pulled it into the air instead… and – WOW!!! It just felt, well – RIGHT!!!
Now you folks can rave about your latest, newest, hottest, greatest purchase all you want – but there's a REASON those Air FXs ruled the roost a while ago. Lordy – I was in Kite-Love again (and maybe "LUST" too)!
It's been a few years folks, but I re-connected with that kite instantly. I managed a full edge-to-edge side-slide within the first two minutes of flight. All the rest of the stuff was there too – and the kite just felt perfect. Speed and directional control was automatic, too. The kite became just an extension of my mind and hands…
WOW, what a feeling… I put it down after about twenty minutes – when I finally came to my senses! What was I DOING wringing out somebody else's kite that way – uninvited? (But, MAN, was I ever "laughing on the inside" – and the grins lasted for hours…) I did thank Debbie for the inadvertent "loan" afterwards, however…
After my little foray into kite-flying heaven (I missed the Teddy-Bear Drop AGAIN because of it), I headed back over to the competition field to catch the last of the comps. Team 6th Sense was awesome in their Team Ballet. I can understand how they won First Place at the AKA Grand Nationals this year… And we finally got to the spectator's favorite – Hot tricks!
Again, the Canadians and American seemed pretty evenly matched. Tristan Underwood showed us how it was supposed to be done, making it to the quarterfinals before he was finally eliminated. And the final shoot-out matched Dan Haigh against Egan Davis. Dan's a great stunt pilot, but absolutely NOBODY was going to beat Egan on that particular day. Dan later said – if he'd had a vote, HE'd have been voting for Egan too! Yep – Hot Tricks is a total "gas." What a joyous way to end the kite competitions for a festival!
Finally, all the comps were over. Time for all the announcements and competition awards (again, see the link below for comp results), and we were into the raffle business. Everyone drags up their lawn-chairs and gathers in a circle, and Robin begins announcing away… with kids and the "uninvolved" drawing winning tickets for each raffle prize. I didn't keep track of who won what, except to note that about half of the prizes went to some Canadian family, and the other half ended up staying in "the states." And – I guess that's appropriate.
I've tried to find a way to tell you of the spirit of "special-ness" of this Whidbey Island Sport Kite Championships festival in this report. Yes, comps are a lot of fun for everyone any and every time – but sharing the field, and the sheer joy of Kiting, with our northern neighbors makes this event truly special. It's an added attraction for me… one that adds an extra dimension. It turns what would be "real pleasure" in kiting into "pure delight."
I guess that special spirit is best exemplified by mentioning the name of a gentleman I've not noted much in this article until now – Dana Inglis. He comes from a small island at the northern end of the Straight of Georgia – Quadra Island. Dana is probably in his mid-50s give or take, and had never been to a kite festival before – ANY kind of kite festival! Well, every time I ran into Dana – which was often – he had this glorious twinkle in his eye and a silly grin on his face. I believe he spent the whole festival delighting everyone he ran into – which had to be everybody! As much as I delighted in my half-hour with an Air FX on the end of the lines, Dana was tickled with the WHOLE FESTIVAL – all three days he was there. And so he spent loads of energy "infecting" everyone around him with his own sheer joy at just being there! Well, Dana, you managed to bring it off – even though you might not have been trying to do it. It's "your" kind of camaraderie that makes the Sport Kite Championships so special. So – see you there next year, eh Dana?
So a very special Thank You to Marjorie and Allen Taylor and Dick and Linda Barnes and the rest of the folks on Whidbey Island, too! They sure know how to do it right.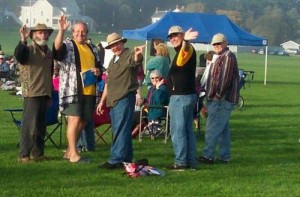 And – maybe we'll see YOU there next year too – eh?
Good flying,
Dave "Geezer" Shattuck
Photo Credits:
Dave Shattuck and Debbie Holmberg
Click here for competition results!