We'd been gearing ourselves to hold the 3rd Goa Kite Carnival towards the third week of January 2005 when out of the blue, about the last week of October, we got an invitation from Goa to hold it instead on the weekend of 10-12 Dec 2004!
"Six weeks to organize an International Kite Festival?" I said, "You got to be mad!"
"No, you've got to be Nomad," responded the lovely lady… She got me there!
Besides, we were being invited to open right after the closing of IFFI – the International Film Festival of India – which was being held in Goa for the first time. Visions of teaching Angelina Jolie and Aishwarya Rai how to fly kites seriously clouded my judgment.
So, Rashmi and I went into gentle hysteria mode… faxes, emails, telephone calls all across the world to see who was willing, able and worthy. Luckily I have a great set of people in my office, because in a couple of days I was no good for anything unless it had to do with kites.
When in a crisis, my first stop is the Drachen Foundation. So promptly a message was sent to Ali Fujino and in two days I had an answer – Scott Skinner could come. I'd met Jose Sainz a month ago when I was visiting my son in California and I'd thought then that he'd be just great in India so, though Ali had someone else in mind, I asked for Jose to come… and he did.
Frank Coenraets from Antwerp has been to virtually every Festival we've done – starting from the 1st Desert Kite Festival in 1997. This time his wife, Ka (Katelijne) also decided to come and got feverishly to work to complete her new kite – a delicately painted Edo over 6 feet tall.
Raymond de Graaf from Holland, another regular over the last couple of years, had already bought his ticket to India in July, anticipating the dates of the Desert Kite Festival .. and he couldn't change it without a really stiff penalty. But Otto Vossen turned up out of the blue in response to Troy Gunn's forward of our email announcing the Festival… And Otto is a fine bloke.
Karl Henzinger came from Austria, keeping his date with us three years down the line when he had to cancel his trip because of a skiing accident.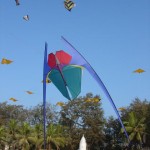 Christophe and Sylvie came from Collectif Zoone with some of the most beautiful kites in the world. Ramlal, who's been wanting to come for years, couldn't make it again.
Nicolas and Sylvain Grez, the tiger twins with terrific positive energy, happily got to packing their kite bags – all they wanted to know was how much excess baggage they could carry!
So, it looked like we had some kite flyers, after all! Of course all of them thought they'd be teaching young Miss Jolie the secrets of flight! Even Tal Streeter sent me this uncharacteristically naughty message about his fantasy of falling to the ground in a tangle of line and arms and sundry other appendages while teaching Angelina Jolie to fly!
But there were no rooms in Goa! Between the IFFI and the Exposition of the mortal remains of St. Francis Xavier – which happens every 10 years, and this was to be the last – all the hotels in Goa were sold out. I started looking for tents and had the wild idea of creating a little 'Kite Village' on the beach… but again, IFFI had swallowed all the suppliers…. No luck there.
Meantime word came in from Gadis in Singapore that she'd found two good kite folk who could come… So Robert and Peter, who speak better English than Chinese, also joined the gang. Then we got a great Indian team, Team Mangalore, who make fabulous kites of ripstop and bamboo. Of course, Babu Khan would be there… and I knew we could count on the Goan people who love to have a good time and would be there ready, willing and able to fly. As a bonus we got a group of six flyers from various countries who live in Goa and call themselves the "Arambol Kite Surfers" who turned up with a buggy and a land yacht and a couple of surfboards.
And yes, we finally found the rooms and we got the airline bookings confirmed, and we got the ok for 15 kilos of excess baggage per person… by 20th November or so it looked like we actually did have a Festival happening sometime soon.
So, Thursday 09 Dec… Everybody lands up in Goa by the afternoon and a few beers later it's time to go do a workshop with the students of the Goa College of Architecture. Ali had already shipped the kite kits and Scott and Jose got to work teaching slightly bemused students how to make something that flies. Soon the Principal of the College and his wife, who's also a Professor of Architecture, joined in and Yoshizumi san's fish kites started to take shape – with a little help from all the international kite flyers, all of whom wanted to come to a boring old kite workshop, instead of drinking chilled beer on the beach!
Then Scott introduced a new concept – "Tensegrity." Everyone got some bamboo and some thread and a brief demo – You create structures using the bamboo in bows or straight lines, or even asymmetrical shapes, the only condition being that there should be no contact between any two pieces of bamboo; instead you use the line to keep your structure together… The Tension lends the structure Integrity – hence Tensegrity. After some initial hesitation and confusion the students got right into the spirit – and of course since four hands work better than two at something like this, the Principal and his wife were almost rubbing noses, a bright gleam in their eyes as they created a fantastic object; it wasn't a kite yet, but it could turn into one. By now it was getting dark and I could hear the sound of the rum calling .. or is the sound of the sea, since our hotel was right on the beach? Anyway, we left them the remaining materials and we left them to play – noses close together, arms intercrossed, intertwined, everybody tripping on Tensegrity.
Friday the 10th of Dec we opened at 5 pm on the wonderfully expansive Miramar beach. No movie stars but we had the Minister of Tourism, a Major General from the Army, the Inspector General of Police – we inaugurated the Festival by giving each of these officials a kite to fly – and maybe another three thousand people who came and of course the students of the Goa college of Architecture who'd made a train with the kites they'd made at the workshop the previous day.
The wind was a little uncertain, but it picked up and soon the Grez twins had an arch up of bright yellow Deltas and then their Manta Ray took to the skies and Babu Khan's train with over 250 fighters and Jose's striking kites and Scott's spectacular bee and Karl's elephants and Otto's beautiful Edos and hundreds of Indian fighters that the public was buying at a kite stall we'd set up – the only conditions being
No manjha and
You can fly only from the designated public flying area.
Soon the music kicked in – we had a cool DJ, Ranjeev who plays "Downtempo chill lounge," to quote him. Sunset was beautiful and then we had a great concert on the beach – A. Sivamani, India's ace percussionist and an old friend, who performed with Louis Banks, an accomplished jazz musician on the keyboards and Rene, a terrific saxophonist from Sweden who lives in Goa.
The rest of the evening is a bit of a blur – Indian rum is among the best in the world!
Sat 11th Dec… Look out of the balcony and the Indian Ocean stretches out before you. Clear blue skies and a gentle breeze ruffling the coconut palm fronds. Looks good. By 11 we were at the flying beach, which is really the other end of the beach from where our hotel, the Swim Sea Beach Resort, is situated. By noon the crowd started to grow… we'd had big colour pictures from yesterday in all the papers this morning plus interviews and news clips on the local TV channels.
Robert and Peter from Singapore soon had their dragon in the sky. Team Mangalore spread out their incredibly beautiful Kathakali dancer kite on the sand and started fitting the bamboo spars, closely watched by a group of nuns! The Grez twins' huge Gecko floated up and all the children ran towards it, shrieking with joy. Scott's magnificent bee took to the sky, Frank's blue deltas with long streaming tails added another blue to the blue sky, Ranjeev the DJ had got a couple of beers under his belt and the music picked up some juice too.
The kite shop was doing brisk business. Bridled fighter kites at Rs. 10/- each and a charkhi with cotton line for Rs. 20/-. We sold more than 2500 kites over the next two days! Suddenly a lot of dads got a last chance to play hero before their teenaged children … the fathers knew how to fly fighters, the kids didn't — quite a change from pleading with your ten year old to figure out why your digital camera's shooting only fuzzy pictures!
The Kathakali dancer rose majestically, his arms floating gracefully below him as though to brush the palms. I switched off my cordless mike, my 'weapon of mass seduction' as Rashmi, my wife, calls it, grabbed a chilled beer and one of my favorite kites, a George Peters bird, and headed to the far end of the beach… Even organizers should be allowed to fly…
The Arambol Kite Surfers had their own party going in the water, and their own dedicated audience… Kite surfing's pretty rare in India and even the nuns daintily picked up their habits as they ventured closer to the water's edge to get a closer look. Stefan was going up and down the waterline, offering rides on his buggy to little kids who patiently stood in a queue for their turn. Everybody seemed to having a great time. I used Organizers's privileges and asked for a chilled beer over the walkie-talkie to be sent to my peaceful little corner. Life could be worse…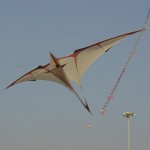 The wind continued to blow steadily all day long The kites continued to fly. Heading back to our tent – the Kite Headquarters – I saw this father and son standing there with huge silly grins by the water's edge, unmindful of the hot noonday sun, squinting up into the sun, their kite a tiny dark speck incredibly high … They'd bought two charkhis and let out all the line on both… Getting that kite down would have been hard work later in the day! But this is what one of our friends who'd never been to a Kite Festival before said, "You know, what's amazing for me is that I haven't seen so many smiles at one time in one place in a long, long time."
We had an exhibition tent displaying a set of 17 posters on the history of kites, produced by the Smithsonian and brought to us courtesy the Drachen Foundation, alongside an exhibition of the beautiful appliqué paper fighters made by Babu Khan. A steady stream of people wound their way through the exhibition right through the day. The great thing about Goans is that they are a very civilized people; a gentle announcement does the job and you don't need policing to ensure that no one touches the exhibits.
At sunset we had another music performance – this lovely Dutch duo, Eddie and Nadine (well, Nadine's the lovely one !) who live in Goa, came on with their Rock/Pop act and got the party rocking. Rene the saxophonist came on with Vidal on the jambe drums and dainty Kaiyoko from Japan. All around the beach little parties were happening and it looked like they'd be there even after the music ended.
Soon we headed back for a hot shower and then the plan was to go out to dinner to this lovely little restaurant, the White House, on a cliff overlooking the sea. Coincidentally another friend who was also in Goa and had gone to the same place for dinner called me from there to ask what I was doing for dinner. I told him we were all headed that a way. Five minutes later he called me back to say that he'd spoken to the lady who ran the place – there was no way she could handle 25 ravenous kite flyers at an hour's notice. By now everyone's had a shower and is coming onto the bus… Rashmi's asking me "Ok, wise guy, it was your bright idea for everyone to go out for dinner together. Where do we go now? Why don't we just eat here at our hotel?" But I'm looking for a place with a view … Suddenly Shailendra, who's been part of the core organizational team since we started the Goa Kite Carnival in Jan 2003 remembers this place about 20 minutes drive away that has a great deck restaurant looking down into the valley. So, we have a destination again. The plan is for Shailendra to get there on his scooter before the coach, warn the owner of our impending arrival and grab as much of the deck as he can. But our coach driver's a tiger. Soon we're burning rubber and Shailendra's kissing our… Dust. So, we land up at the Alisha Restaurant and Bar. Of course, the upper deck is packed. No surprise there.
The owner offers us one table on the upper deck and says he'll keep giving us more as people leave. Forget it, we said and grabbed the three vacant tables on the lower deck (not quite the same view, but heck, the food wouldn't be any different). Chairs were retrieved from any table in the restaurant that had a vacant chair; the minute someone got up to leave, their table was grabbed and added to our steadily growing island of tables and the waiters were suddenly faced with two kinds of very vocal kite flyers – the hungry and the thirsty… and we all know that a liquid is definitely more mobile! So while the hungry ones gnawed fingernails and looked at other tables where people were happily tucking in, the saner ones sat back with a smile and a glass. But you can't keep Rashmi down… Soon she had the kitchen buzzing and then the food started to arrive – grilled fish, grilled prawns, grilled chicken, hot garlic bread… Of course she's conditioned the waiters and all the food takes a route that was away from us and towards the hungry lot – the Grez twins, Sylvie, the Singaporeans, Otto and Karl (who were strategically positioned at the border between the primarily hungry and the primarily thirsty – they were our bridge and food flowed our way largely through their efforts, apart from the odd waiter we managed to hijack!)
By now everybody else in the restaurant had decided that discretion was the better part of valor and staged a dignified exit. After taking over the Goan skies, we took over a Goan restaurant. A very few rums later, the ex-hungry lot, with Rashmi as the spokesperson decided they were quite happy and were going back to the hotel. The rest of us were now finally beginning to get seriously hungry… Aah, the difficult differences in the kite world! So, obviously the coach would have to go and then come back again… and the drivers had had a long day… and we had another full day of flying tomorrow… An effort was made to hustle us into eating quickly and leaving with the others, but we pointed out the serious inconvenience it would cause to the kitchen and the serving staff, who had been so good to us, if we were to ask them to get our assorted orders in 10 minutes… I mean, this was Goa… things take time. Luckily the owner offered to drive the rest of us back after dinner. He'd also close up when we decided to go home. So all was well again. And he drove us home… seven or eight very high flyers packed in a van at about 2.00 am. We majestically rolled slowly past a couple of police check posts and Christophe had to be restrained from making shooting gestures at the gentlemen on duty.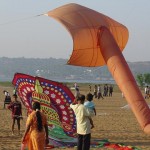 And so into Sunday, 12 Dec… the last day of the Goa Kite Carnival. We get to the beach and the wind's blowing the wrong way… and it's really weak, almost non existent… and this after a great day yesterday. Anyway, we're all here to fly kites, so we get to work. But the wind's not only very weak, it's also very erratic; it swings around, it dies suddenly. You've spent 20 minutes getting a kite up and suddenly it's into this long graceful glide heading back to the sand. Ok let's get out the really light wind kites and give it a shot again… Same story. Nico and Sylvain Grez get the Revolutions out and do some tricks for the crowd, but it's hot work and they need to keep moving all the time to keep the kites up. It's not looking good at all… and the crowds are building up.,. it's a Sunday and the Goans are out there looking in real time for all that the papers and the TV channels have been showing them over the last two days – exotic kites from all over the world filling the Goan skies. They're really not so keen on seeing exotic kites from all over the world lying in the Goan sand!
We'd planned to fly the big kites till sometime in the afternoon and then let Manjha Mania take over – We'd all fly fighters and let the public fly too at the same time with no restrictions on manjha lines or designated flying areas. And so a suggestion was made that we let the public fly now since maybe at least the fighters could fly in this thin wind, and we'd fly the big kites a little later in the day when the wind would hopefully pick up. But manjha is a like the genie – once you pop the cork and let it out of the bottle, there's no way you can get it back in! If we let the manjha out on the flying field now, there was no way we'd be able to fly anything else later.
So we got the DJ to pump up the music and we made announcements about the Food Court where people could go and get something to eat and drink and we made announcements about the lovely exhibition we had put up for them and about the music performance coming up this evening and the slide show from the Drachen Foundation and the KAP pictures of Nicolas Chorier that he'd taken yesterday and which we'd present as a slide show this evening… In short we kept talking about everything other than the kites that refused to rise!
Lunch came… but no wind still. This wasn't looking good at all. I decided there was nothing to be done for sometime… might as well go get a beer. So I grab Rashmi, who's looking all hot and harassed, and tell her there's someone I'd like her to meet and walk off the beach to this little restaurant across the road and tell her that there's a Mr. K.G. Fisher who's been sitting here chilling and would be glad to make her acquaintance. So we order a chilled Kingfisher beer. A half hour goes by and suddenly I look out to see the tops of the palms swaying… Hah! It looks like we have wind!
As we make our way back to the beach I can see Scott's bee and Babu Khan's train and the Grez twins' bright yellow deltas and Karl tiger rok and Frank's crosses and Otto's lovely edo and a lot of other kites up and flying… and of course the fighters, lots of them. Boy am I glad we didn't let the manjha out of the bottle! The wind's coming in steadily off the ocean and more and more kites take to the sky. That's something Otto Vossen remarked on, "We have such a small group, but we have so many kites up; you'd think there were at least fifty flyers, twice the actual number!" That's right, we had a great group. Everybody put in a 100 percent…
Just before sunset we had the brothers Grez put on yet another Kite Ballet which wowed the crowd. Far away at the water's edge were another set of brothers – 9 and 12 who were flying their stunt kites in pretty good synchronicity – these kids had come to the 1st Goa Kite Carnival in Jan 2003 with their dad, currently the top cop in Goa, and the whole family's got hooked onto kites. They've been building kites, buying kites, and they've been practicing ….
Sunset was great again. And then it was Scott's turn to take the mike and do a small slide presentation on the activities of the Drachen Foundation – exhibitions, workshops, collection, kites in education, also some of Nicolas Chorier's slides of the KAP of humpbacked whales off the coast of Mexico. The Music Company, a Goan trio who play good old retro music – CCR, a Beatles medley, some Country and suchlike stuff from the time when I didn't organize kite festivals and had a beard that was black and hair that was long – came on to cheers… the local crowd know them well. In the background Nico's aerial pictures from the day before continued on the screen… the music and the pictures creating a slight sense of déjà vu…
Rashmi's better sense had prevailed and we'd decided to do the Farewell Dinner right at our hotel. They have a great little restaurant overlooking the beach and the food just kept coming… so did the rum. I think it must have been about 4.00 am that the last of us had dinner. The restaurant staff had all gone to sleep, but everyone knew where the ice was and the water and the sodas… the kite flyers had taken over again.
Maybe four years down the line we should get a kite flyer to stand for the President of the US of A!
But, much before that, the 4th Goa Kite Carnival's scheduled for 20 – 22 Jan 2006. It's the weekend after Makar Sankranti. I hope we'll be able to do a Desert Kite Festival in Rajasthan around Makar Sankranti 2006 but if we can't, those of you who're in the good books of Gujarat Tourism and are recipients of their largesse, might want to mark these dates down in your calendar and ask for your return tickets to be scheduled accordingly!
A big Thank You to our supporters and sponsors – IFFI, Goa Tourism and Indian Airlines – to all the kite flyers who made it at such short notice and put on such a fabulous show and to the great Goan people who know a good thing when they see it.
It's been said, "The Light is in the East."
Come, Fly in it.
Ajay Prakash
(Article photos by Scott Skinner)
Be sure to check out the separate photo gallery
by Jose Sainz in this issue!