The "Gomberg Crew" has just returned from the 17th Annual Kite Trade Convention — this year held in Primm Nevada.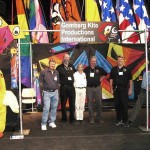 As many of you know, this is an annual exhibition where manufacturers and distributors offer products to kite retailers. Forty exhibitors filled 100 booths. (GKPI had six spaces.) About 100 buyers were represented among the attendees.
Our team included Kurt Lisk of Windfeather, Al Sparling, Susie and myself, Jim Martin, and Billy Jones (not shown).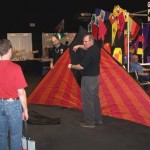 KTAI is always an interesting mix from our unusual and diverse industry. You get large corporate manufacturers, small importers, multi-store chains, mom-and-pop shops, and internet vendors. You get long established businesses, new firms, and wanna-bees.
You get kite companies, toy companies, fabric companies, line companies, and spar companies. You get representatives of buyers and sellers from around the world. And all week long you get kites, kites, kites.
For the third year in a row, we saw a slight downward trend in the number of attendees.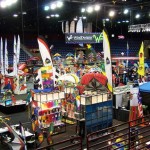 This was a concern to manufacturers who spend huge amounts to be at the show. In response, KTA leadership is considering how to draw more buyers, or possibly combine the kite convention with another gift or sport show.
Merging with the AKA convention was also discussed.
Another reoccurring theme was the perception that the kite market is shrinking. Many stores have slipped away from offering regular festivals, local flies, or hiring and training in-house kite experts. Competition from the internet is driving down prices. There is a need to support events and retailers who promote kiting. After all, where did you discover kites??
The Gomberg booth this year focused on kites designed for the introductory market. We offer the largest range of line laundry and line art in the industry. But now we also provide a full range of Deltas, Diamonds, Novelty, and Cellular pieces, most packaged with our How to Fly Guide. We also presented four different Ghost and Pyro selections, a new Battle Rokkaku, and the single and double French Military kite.
The Gomberg "Pro Series" of inflatables, lifters, and laundry is only available to established retailers who demonstrate the expertise and experience to support larger kites.
While retailers are off at workshops and seminars, the manufactures spend three days assembling displays. Watching the show come together is an amazing process.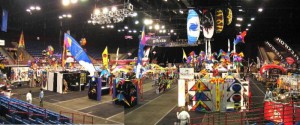 Cruising the aisles of the KTA is like wandering into the largest kite store in the world. There are trends and consistencies. But there is also variety and a head-spinning assortment of new designs and applications. Here is a sampling of some of the other booths.
And of course, it isn't all work. While in Primm we spent quality time dining out in fine restaurants, we walked our new bugs around the receptions, and I even won $1.25 on the omnipresent slot machines (although I later lost it all back).
The industry has made adjustments to keep the product quality high, while working hard to keep the pricing at competitive levels. I think the theme of the show was to remind us that the kite store down the street or across town is not a competitor, but another resource that can thrive in the industry when you work together to keep kiting fresh and appealing to all potential customers.
For more details on KTAI, check out the Kitelife
daily updates posted during the trade show!