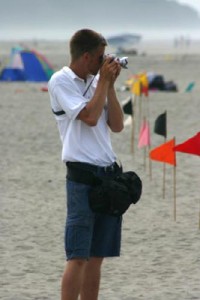 Welcome to the 41st issue of Kitelife Magazine, almost exactly seven years after our first edition hit the world wide web in April of 1998… We're still right here with you, shaking last year's sand out of our kite bags and gearing up for another amazing season of kite flying and crazy adventures, both here and vicariously through all of you around the world.
My good friend Mike Gillard had a vision, to create an exciting and informative kite publication that could be accessed almost anywhere in the world, made for and by fliers, featuring some of the foremost experts in our community and 100% free of charge to anyone with an interest in kites.  I am extremely grateful for the opportunity to carry it forward into the future, as well as for the various experiences and personal growth I've had since assuming ownership in early 2002.
My deepest thanks go out to those of you who enjoy our services, and even more so to those of you who have taken time out of your busy lives to contribute in one way or another and helped to make us one of the top kiting resources in the world… Even a note from you here or there makes a remarkable difference in the quality of our days here at the office, and are truly appreciated more than I could ever express.
Some exciting news for you, we've secured permission from Roger Chewning and Sky Festivals to publish any part of the old East Coast Stunt Kite Championships footage to the web as part of our video archives… Very gracious on Roger's part, as this enables us to put some of the most historic and memorable sport kite routines in history within reach of anyone who has a broadband connection!  Thanks to donations from Ari Contzius and Rick Knauss, we have the official videos released from 1986 through 1990 which you can expect to see added to our archives over the course of the next several months.
Also, you can expect to see the next volume (4 issues) of Kite Lines magazine republished to the web on May 1st, and again on the 1st of every odd-numbered month until all fifty issues are finished and available on line.
As a last order of business, you might imagine the resources required to host the kinds of archives that Kitelife has to offer… With an average of 45,000 visitors and 75GB worth of downloads per month, we're trying to get ourselves into a larger dedicated server so that we may continue to grow the archives, as opposed to reducing them as our readership grows.
If Kitelife were gone one day, would you miss it?  We stay operational thanks in part to our sponsors, but even more so thanks to our official Kitelife Subscribers.  In exchange for their support, we give away monthly prizes and a bevy of other benefits which are well worth our nominal subscription rate…Take a look here!
We hope you enjoy this latest edition, and look forward to hearing from each and every one of you… Tell us what we're doing right, what we can improve, or just drop us a line and let us know you're reading!
Cordially yours,
John Barresi
Publisher/Editor
Kitelife Magazine
Next Prize Drawing to be held soon!