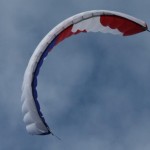 Specifications
Manufacturer: Premier Kites
Model: RM10
Wingspan: 120″
Height: 24.5″ (spar to trailing edge)
Type of kite: Power/traction, 19 square feet of total sail area.
Materials: Tapered carbon/graphite leading edge, Ripstop Nylon, includes 120 ft. x 200 lb. Spectra line & straps.
Source for test kite: Manufacturer
Many years ago, the world's fastest kite was designed by Ray Merry, and he's still going strong. Based on his original FlexiFoil design, the Speedfoil RM by Premier has all of the same characteristics we've come to know and love from Ray… When I caught up to Jim Cosca from Premier at Kite Party 3 this year, I knew we had to get our hands on one and see if it was everything we'd hoped for.
Quality of Construction
The product sample we obtained from Premier was well made, with no inconsistencies in the sewing or placement of components.
The rings through which you hook up your lines are aluminum, attached to the leading edge by way of light but sturdy webbing.
Nearly indestructible, the only thing I've ever seen give out on these kites has been through extreme abuse… If you crash hard enough leading edge first, you can potentially blow open one or more of the inflatable cells, but you actually have a much greater chance of breaking your traditional framed sport kites when crashing at the same speeds.
Graphics are full cut out appliqué, and very striking in the sky… In addition to the patriotic theme, Rainbow, Flame, Red Storm and Alert are the other graphics which are available on the RM 10.
Bridle
What bridle?? This is one of the things I most enjoy about this design, is not having to fiddle with bridle settings… The ends of your line simply go through a ring near either wingtip, and is then larks-headed onto the tip of the spar just inside of rubber grommets which combined with the rings, keep your line from slipping off the ends.
There is very little tuning required due to the way lines attach to the kite… At most, you might have cause to move the little rubber grommets on either wing tip in or out a little now and then.
Wind Range
With an advertised wind range of 7-26mph, you can cover most conditions… However, what is not often discussed is the 10 foot model's ability in light winds!
Due to the efficiency of the sail design, and the total square footage, I've actually managed to fly the stock kite down into the 2-3 mph range… In conditions such as this, it truly becomes an experience of finesse.
Amount of Pull and Sensitivity
As a true power kite, the RM series generate a good deal of pull, even more so in the 10′ size… And with the ease of stacking, you can realistically put together as much as you want.
Stacking is as simple as attaching the lines to the kite, two train lines between each… Larks headed onto the wing tips, through the rings.
All photos by Kitelife
Unusual Flight Behaviors
This style of kite does not do well near the edges of the window without a certain amount of finesse… Since it relies on being curved under pressure for forward flight, when there is greatly decreased pressure (like near the edges) it loses drive and will tend to float like an air mattress.
This characteristic can be overcome with practice, and even utilized as it's own niche skill… It's not easy to float around, and was very much acknowledged when these kites were still used in competition during the late 80's and very early 90's.
Another facet to be aware of is in how you launch the kite… Since it must be curved to fly efficiently, launching is a matter of applying a steady pressure on the lines while it rises off the ground (sometimes with a wiggle alternately on both lines) until the leading edge "sets in" and it takes off.
Trick Ability
Not being a delta configuration kite, the Speedfoil is not a kite for modern slack line tricks… However, it is the only kite that I know of which will do what I call "barrel rolls"!  As the kite is coming to the top of the window, put both handles in one hand, reach up with the other and grab both lines as far out as you can reach, pull all the way towards you and let go of the lines while keeping a firm hand on the handles.
What happens is that the leading edge will float back and over the top, rotating the sail around it… A simple trick, but kind of cool and 100% unique to this kite.
Precision
Not generally acknowledged as a kite for precision, you can actually whip out some clean corners using the right techniques… Rather than simple punch or pull turns, it requires a full range of motion using both push and pull at the same time.
While we've only reviewed the RM 10 (10 foot) here, the amount of motion  required for cornering is greatly reduced as you go down in size into the RM 8 and RM 6 models.
This kite is very fast in the right winds however, with it's fore bearer still holding the world record for speed in flight at over 130mph… That was during a hurricane, and in most conditions it is still quite manageable.
Flying Experience
There is a reason this style of kite has survived for so many years… It is an amazing design, and lends it own completely original feeling to flying through the sky.
In light to medium winds, the silent "whoosh" and large arm motion required to fly is somewhat of a zen experience for me… Securely giving the Speedfoil it's own niche in my heart, much like Hyperkites and Revolutions do… Each with their own distinctly different style as compared to the common delta configurations we see so predominantly these days.
For high wind flying, it's hard to beat the power and simplicity the RM 10 has to offer… Simple assembly and no tuning puts "from bag to sky" just a blink away, while giving a good smooth, predictable and constant power zone.
Things to Look Out For
While the kite is very well made, simply by the design of the kite it's 3-piece leading edge will sometimes come apart and can occasionally cause a sheared rod… The solution to this however, is very simple.
Assemble the spar out of the kite, applying black (electrical) tape around where the rod slides into the ferrule… Only two places need this, and you'll find that you can move the tape for breaking down in-between flights and leave it on the spar for later use.
Summary
If you haven't tried a Speedfoil before, I would highly recommend the experience… The RM 10 is by far my favorite as a "giant in the sky", but if you're looking for something with quicker turning ability or a little less pull, you might very well consider the RM 6 or 8.
These kites have a very long life span, and you'll get thousands of hours of flying from each one… Making it a very good value for the money.