Located in Eastern Oregon, the Condon Chamber of Commerce wanted to organize their very first kite festival in an effort to bring more family activities and arts to their area… Gathering suggestions and input from Alan Cunningham in nearby Arlington (home of Up The River Indoor Festival), Chamber president Darla Seales and her daughter Erin definitely put their hearts into putting on this first annual event.
Making the 3 hour drive from my home town of Portland with the Geezer (Dave Shattuck), we enjoyed the scenery along the way to Condon… Rolling hills, deep green wheat fields and distant mountain ranges provided plenty to feast our eyes on.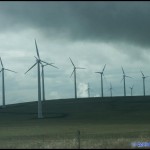 Just about 5 miles outside of town we passed through a virtual forest of 84 brand new wind mills recently put up by SeaWest Wind Power… Very picturesque, and a great step for the environment — go wind power!
Rolling into town around 9:15am on May 14th, we made a brief stop by the county fairgrounds to see where we would be flying for the day, and then wandered into town to stroll down Main Street and browse the local shops… Stopping into the market, I mentioned the festival to their cashier who said "Oh yeah, I see our barber flying kites out there sometimes…", a good start indeed!
As we headed back to the van, I looked up at the sound of a car horn… Lo and behold, Rod and Cindy Thrall had arrived the night before and would joining us in putting on a display… We all ended up back at the fairgrounds by 10am, setting up our kites and gear for the one day event.
Also on the invitee list along with the Thralls and I were Steve and Marlyce Childers from the North American Fighter Kite Association… The four performers selected by the organizers brought a respectable variety of kite styles. In addition, Erin Seales had arranged a kite making workshop in the fairgrounds exhibit hall.
The weather gods were kind to us, offering up a 5 minute sprinkle first thing in the morning and nothing but sun for the rest of the day… As is often the case with any inland wind, it was variable. We had 4-6 mph for the first half of the day, then variable and swirling 1-5 mph for the remainder.
Utilizing a small but sufficient sound system, the Seales family let us play CDs at our discretion, entertaining the small but very appreciative audience with several ballet performances, as well as single line and fighter kite exhibitions.
I set up my Techno from New Tech in hopes of giving a couple of sport kite lessons, but winds were not cooperative enough for anyone's first flight… But switching back and forth between my Rev I and Sea Devil, I probably spent 3/4 of the day in the air and given the variable winds, it turned out to be a pretty effective day of practice for me all in all.
The Thralls set up nearly a dozen banners between the front gate and our field, plus a couple of inflatables, but the winds were not cooperative enough to lure out any bears… Rod however, who is usually known for his large single line and ground displays, surprised me by bringing out his workshop Mojo and laying down some dual line moves complete with an axel, and flew a demo routine to Chariots of Fire.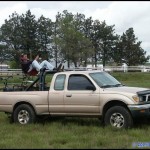 And yes, even the barber came out to join in the fun… Flying from a lawn chair on the back of his truck, he put up a couple of small power foils and demonstrated true laid back country flying.
Winding down by 4:30, we packed everything up to join the Seales family for a wonderful dinner at Hotel Condon… With a busy May workload to handle back at the Kitelife office, we regretfully declined an invitation to stay at their ranch and headed home.
Our thanks and congratulations to Darla and Erin for putting on this first annual event, and we look forward to seeing what next year has to offer… For information, visit the Condon Kite Festival web site.
Cordially yours,
John Barresi