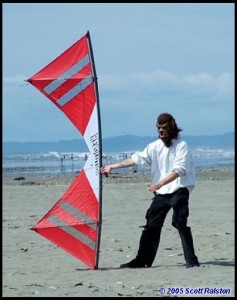 Howdy folks, welcome to what we hope is anotherhowlin' issue of Kitelife Magazine… The kite season is in full swing, with dozens of great festivals on the calendar all across the country!  We'll be doing our best to bring you news and highlights from as many as we can, with daily updates from a select few events this year… Nothing beats live coverage as it happens, and we're happy to do it!
In addition to the daily updates we just did from the East Coast Stunt kite Championships (ECSKC) in Wildwood New Jersey, we'll also be bringing you daily updates from the World Sport Kite Championships (WSKC) to be held in Lincoln City, Oregon later this June!
Another milestone – this will be my first full sport kite competition season in 2-3 years, touring the Northwest as a team member of TKS Mid-Air… I'm very much looking forward to sharing the skies with many of you over the course of the year.
Our video archives just keep on getting more vast, with a grand total of 138 full length comp and demo routines spanning from 1987 to present… Whether you're an old pro, or a newbie, you'll find a whole collection of truly inspiring performances by fliers from all over the world.
In addition to the sport kite end of things, we're also featuring a fighter kite article by Bruce Lambert in this issue… Accompanied by a wide variety of articles and plans in the ever-growing Kite Lines on line archives.
Our total content is larger than ever, and with a record number of readers (47,000 visitors a month), we're seeing downloads from dozens of countries… The cost of managing such resources and bandwidth is of course significant, and our sincere thanks go to the official Kitelife Subscribers for their loyal support.
If you haven't subscribed yet, take a look and see what it's all about…Information can be found here. Help us keep a good thing going, and earn a chance to win cool stuff every month as well!
Cordially yours,
John Barresi
Publisher/Editor
Kitelife Magazine
Next Prize Drawing to be held soon!