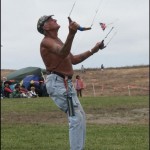 For the first time ever, a kite-related documentary film has received major recognition at the 2005 Tribeca Film Festival in New York City… Conceived by Matt Nie, this 8 minute film features Ray sharing his passion for kites and his passion for life.
"I do what I love to do, because I love to do it."
Flying since 1980, Ray is a living testament to artistry and attitude… Reminding us to live, love, and fly. This film does an excellent job of conveying that spirit, and moved this author – quite a wake up call.
At 79 years of age, he's had his share of challenges in recent years and continues to share his art with audiences all over the world, traveling to dozens of international festivals every year.
Film credits to:
Director – Matt Nie
Producer – Dennis Guskov
Camera – Jon Day
Editor – Paul Paras
Sound – Graham Zwicker
There are both large and small versions of this film available for download from the Vancouver Film School's web site, at no charge… We heartily encourage you to check it out, not to be missed!
Click here to view Ray's film!
Be sure to take a moment and let Ray know you enjoyed this film… You can also learn more about him and his travels via his web site: