Our friend Steve Irby is in the 'A' line with us as we board our non-stop Southwest flight to Las Vegas on Saturday, March 26th. My wife Katy and I are ready to enjoy a week of adventure in the Mohave, Spring Break buggy style. We blast out of Austin, pushing through a storm front bearing down on central Texas. Once we reach cruising altitude it all smoothes out. As we approach the Vegas area, Steve calls back for us to look out the window as we pass over the area dry lakes: Red lake (AZ), Roach and Ivanpah.
As we head for the luggage carousel I check messages. Dean Jordon called with a warning that El Mirage and Superior to the southwest are wet. The pre-event caravan will be heading in our direction tomorrow, possibly to Lake Mohave to race Peter Lynn's kite boats.
With all our gear we cumbersomely find a taxi and head to our RV rental spot on the east side of town. We grab a 30' class C "moho" and head for the grocery store. After spending enough for groceries to pay for rent, we make lunch in the Albertson's parking lot and head for Ivanpah.
It is evening when we reach the lakebed. A few land sailors are lingering after their event last week. We find the Buggy Texas crew (Dave Dickerson, Susan Orgeron, Joe Irby, and Charles "AJ" Jackson) and the northeast crew (Glenn Pedro, David Forney, Paul Laurence, & Jason Robbins) trying to milk runs out of light northerly breeze. We catch up with everyone and are glad that Ivanpah is dry with no rain in the forecast for the week.
David Forney hooked me up with spare axel bolt for my PL Comp. Thanks Dave! One thing's for sure, if you're on the lakebed, the beach or the grass and you need a part, someone is always glad to lend you what you need in order to get rolling.
That evening Katy and I roasted hot dogs over the grill and watched the moon rise over the mountains. Weather forecast is for wind shifting and increasing to 10-15 mph in the afternoon. It's our first night on the lakebed and it gets COLD!! Dave Dickerson and Susan loaned us their blankets the rest of the trip or we would have frozen.
Sunday, March 27th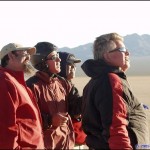 We are up with the sun at 5:45 am! There is no wind during the day, so we readied gear, played with Air-YOs and boomerangs in the morning and waited for more people to show up. And what an outstanding entrance they made, too. Riding high seated atop a Blazer in a Peter Lynn Kite Cat was our very own Master of Ceremony, Dean Jordan. Peter Lynn, Meg Albers, Blake Pelton, Arron Heffelfinger and Claxton Thompson arrive together with Dean. Shortly thereafter, part of the Drachen Foundation makes it out to Ivanpah, too. Martin Lester, Scott Skinner, Jose Sainz and more friends are here. After hugs and kisses all around, the guys set up their camp and we hung out reacquainting ourselves, waiting for the wind to blow.
Monday, March 28th
This morning we awoke to howling gusts of wind. Katy looked out of the window in time to see Freeman's tent completely collapse. He crawled out with his pillow and ran across the playa to bang on the door of a neighboring camper. He was wearing pajamas this time. Dean, who had pitched his tent next to us, even made a brief appearance like a rabbit darting out of his hole for the morning constitutional. Katy remarked, "Now that's what I call pissing in the wind!" People started showing up and we all hit the playa for a great day! The winds blew 25 – 35 mph. That evening around the campfire there were reports of buggies reaching speeds upwards of 60 mph. The wind continued into the night and with a full moon shining, the night buggying was in full force. There were blinking lights all over the playa.
Tuesday, March 29th
Today was a five-crapper day! By that I mean 5 porta potties which were all knocked over by the 40 mph winds. That's right folks… winds were cranking – gusts to 45 mph! It was extreme for buggies, but really superb for a little thing called the Windjet.
Richard Jenkins from the UK had been camping and waiting for enough wind to set the world land speed record by a wind-powered vehicle. He had been here to attend NALSA (North American Land Sailing Association) in the weeks leading up to NABX. Dean invited him to stick around and this week and he would have folks to help crew.
So today with the winds cranked, he suits up and he gets a hand push onto the playa were he reached speeds up to 98mph. He didn't break the record (116.7 mph), but it was sure awesome watching him try! Read all the details on the official Windjet website. Also see some awesome video footage by Dave Dickerson.
Wednesday, March 30th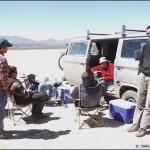 Corey Jenson joined everyone on the lake bed mid-week and he was happy because kite flyers were showing up en mass. Usually, it's only him and two other people buggying on the lakebed and it warmed his heart to see the sky full of kites and people everywhere… Winds started out light in the morning, but right after lunch a smooth wind began to rise out of the southwest (peaking at 25 mph). I spent most of the day cruising from one end of the lake bed to the other. At 40 mph, this makes the lakebed seem small. I hit 49 mph in my Libre with the 3m Ballistic Burner.
Later that day the rains came. AJ had prank called Charles Huckabee one too many times. Dave and Susan had been teasing Charles all week by sending him pictures of flooded lakebeds and telling him that one lakebed was now a huge sand dune, etc. Charles was ready to take a loss on his plane tickets and stay in Texas. This time, AJ proceeds to tell Charles "Hey dude, it's sprinkling here on the lakebed." At the time it wasn't raining at all, but as soon as the words were out of AJ's mouth, Dave spots a huge rain cloud pushing its way towards us over the mountains. A few of us scrambled to pack up and get off of the lakebed before it poured. That evening we slept in the Buffalo Bill's parking lot to avoid the moisture on the lakebed. After so many days of buggying, we were so exhausted, even a walk to the 'hanging tree' was too far.
Thursday, March 31st
In the morning, there was very little evidence of rain. The playa was dry, the wind was up and kites were flying.
Another morning session was tempting, but it was time to empty the tanks on the moho. We decided it would be a fine morning to drive to Lake Mojave, since there is a campground there with facilities. We cross the mountain on the road to Searchlight, NV and pass a picturesque Joshua tree forest. From Searchlight, a winding low road takes you to the sparking Lake Mohave. After a pit stop at the campground, we look for the Peter Lynn crew, but are unsure where the secret cove is located. So we head back to the playa to ride the steady winds. As we cross the pass and see the Ivanpah in the distance, a convoy of the Peter Lynn lake riders passes us enroute to the lake.
Registration is open when we return. The event shirt is a huge hit and the stories of Dave Kennedy's Flintstone buggy were shared by all who knew it well.
The Ozone camp was set up and in full force. Team rider Dave Sabalino had everyone admiring his stylish, handcrafted ground stakes made with gear shift toppers. Nobody has more buggy style than Dave.
Friday, April 1st
Another day and we are blessed with wind. The direction has shifted to northeast so runs are a little shortened. But who could ask for anything more? Circuit races were held in the afternoon after a quick debriefing. Results follow:
Place / Rider / Engine
1st – Peter Lynn (8m PL Venom)
2nd – Richard Ridgeway (3m Jo Jo)
3rd – Chris Shultz – (3m New Tech Burner)
4th – Elton Thanh – (Ozone)
5th – Aaron Heffelfinger (6m PL Phantom)
6th – Claxton Thompson (?)
After the races, we assist AJ 'Pimp' his buggy with eight pounds of Mardi Gras beads. A short stroll around camp and you could see all the contestants "getting their pimp on." Lots of metal was being polished. Scott and Jose created what looked like rolling psychedelic tumble weed using zip ties. Claxton had sewn a custom harness for his buggy in rasta colors. Larry Linder's ride had light and communication system built in. It was cool to see all the imagination and creativity unleashed.
The banquet was held under the big tent that evening. Lively entertainment, games and a viewing of the entries into the "Pimp You Buggy" contest highlighted the evening. Mike Jura and crew had spent most of the day cooking a fabulous spread of grilled chicken & ribs with all the fixings. The food & camaraderie was most excellent. We celebrated Fran Gramkowski's Birthday (the grandfather of NABX) and fond remembrance of everyone's friend Dave Kennedy.
Saturday, April 2nd
Our flight is out in afternoon, so we must say farewell to our friends until next time. The 1st annual NABX was a smashing success. All told there were 140 registered guests and riders. As the week comes to a close, my GPS has logged over 300 miles. No wonder I developed calluses on my hips from my Dakine harness.
Everyone was left with lighter winds, perfect for freestyle competitions. Results follow:
Freestyle Buggy
David Sabalino
Christoph Riddle
Elton Thang
Eric Marchand
ATB Freestyle
Christoph Riddle (tie)
Gabe Shortman (tie)
Erik Stone
Pimp Your Buggy
Larry Lindler
David Sabilino
Dave LeVeck
I think my wife put it best when she described the buggy guys as "tanned and leathery on the outside, but soft and kind of sweet on the inside." We think of these folks as our extended family and hope more will join us on that ole lakebed next year. Until then may the wind always be at your back and your GPS register top speeds.
Cheers,