John Barresi and I had high expectation as we headed out to attend the Northwest Sport Kite League's Annual Meeting. After an easy drive, we checked in with Chris Casal at Cutting Edge Kite Shop and then went on to "Casa Casal" to say "Hi" to Vicki and Amber Casal. I've found its always good practice to check in with your host and hostess early for events like this. Then it was back to Cutting Edge where Jim and Monica Barber were hosting a reception for incoming attendees.
After a long winter, it's always nice to see the folks who're active in sport kite leagues. These people are the ones who REALLY hold the leagues together and really "make it happen." These folks are the ones who handle registrations, lay out fields, set up and tear down sound systems, staff the pits and the comp fields, act as judges, do the publicity, and handle all the rest of the details that go into a successful Sport Kite Competition. Anyway, it was sure nice to see all these organizers in town for the meeting, with the intent to ensure that the NWSKL stays healthy and active.
Following the reception, we enjoyed a good dinner and a restful sleep, and showed up all bright-eyed and bushy-tailed – ready for the morning NWSKL session.
I was pleasantly surprised to see about 50 people in attendance. That's a good showing for something as presumably uninspiring as an annual league meeting. Now I don't know if you've ever attended one of these meetings, but working under "Roberts Rules" almost demands that these're dry-Dry-DRY affairs. Still, these folks are all acquainted, so there was a fair amount of camaraderie and levity – for a business meeting, anyway… Elections, committee reports, and "other business" were all handled with as much dispatch and agreement as possible, and all issues and items were done in three and a half hours – pretty good for a league annual meeting, I thought. Major Kudos to the officers and organizers of this affair. Yeah, it was "dry" around the edges, but it wasn't as boring as some organizational meetings I've attended.
Results? You want results? Okay, there were a full slate of officers elected, including two new positions – a Secretary (previously coupled with the Treasurer), and an Indoor Flying Coordinator. Both new positions were filled, by the way – which means someone had actually done their homework beforehand. And there's sufficient money in the bank to cover League expenses. Then, the different organizing/managing committees all reported good results – even the equipment committee, which reported that the concept of splitting equipment among different members for transportation to and from events worked well last year and should continue. If you're interested in further details, you might check out the NWSKL website at www.nwskl.org.
Following a break for Lunch of Pizza, plus plenty of salads and munchies, we were soon into our "Invited Guest" session. How fortunate we were to have an entire afternoon with Ari Contzius, discussing the different aspects of competitive sport-kite flying. Now I don't know if you've been lucky enough to attend an "Ari Seminar," but if you haven't, the first things you need to know are (1.) He's a great teacher who really knows his subject, (2) Ari comes equipped with handouts – both printouts and CDs – so that you'll leave at the end of the day with all the information he wants you to have, (3) you WILL enjoy his presentations, but (4) you better come prepared to participate too – because Ari's seminars are very "interactive.".
Ari's initial presentation was a short recap of the history of Sport Kiting, including video presentations, followed by a query regarding where his audience thought he should focus the rest of his efforts for the afternoon. Preferences ran to (a) "Flying Like A Master," (b) "Pairs Flying: The Wright Approach," and (c) "Tricks, Tricks, Tricks," so that's just what Ari did!
Ari's discussion on "Flying Like a Master" included discussions on basics such as straight lines and square corners, calling in and out, using the whole field, getting help from the Field Director, plus on-the-field decisions and demeanor. Ari's teaching methods are very much "hands on" and there were plenty of exercises, questions, and discussions from the audience. If you didn't come away from this session with something you could use even if you're a novice – you just plain weren't awake.
The interactive portion of Ari's presentation on "Flying Like a Master" had attendees listing Ballet Routine likes and dislikes on poster-board. One of the boards reserved a corner for a cartoon showing a billboard next to a tree. The billboard said "Ari C. Needs Help," and "Ari's" kite was stuck up in the tree! Was Ari perturbed by this? Nope –HIS poster-board was a caricature of "Team Sick Sence," one of our own comp teams in the NWSKL! Yup, just "Ari Humor!"
Ari moved seamlessly into "Pairs Flying: The Wright Approach" with discussions of music selection, choreography – including an exercise using choreography grids; and (c) working out routines in practice. Another exercise consisted of using the grids we'd already created in "stick flying" practice, so Ari passed out Fig Newtons and bamboo skewers to use as "sticks." Much levity occurred when someone leaned over and bit the "kite" off someone else's "stick." Yeah – more Ari humor, but good teaching/learning techniques, too! It was instructive, and fun too!
After a short break, Ari brought us all together again to teach us all how to "Teach Trick Flying." The concept involves (a) an experienced pilot that knows how to fly the trick, (b) a student who's willing to learn, and (c) a kite with very short lines. The teaching and learning occurs indoors, under controlled simulation. The instructor first shows the student a pilot's view of the trick, as if the student has flown the trick. All the forces on the kite are explained to the student – flight (wind) forces, which lines are tugged and when, and the forces of momentum as well.
While holding and moving the kite in turn, an instructor walks the student through any given trick step-by-step, including all line inputs – when to tug, when to maintain tension, and when to slack off. Once the student understands the forces on the kite as they occur, several iterations of "flying" the trick are "flown" in order for the student to fix the memory of how to fly the trick. Then the attendees split up into five groups to learn tricks such as Slot Machines, Jacob's Ladders, and so forth, depending on your strength or weakness, to teach or to learn. This was very much a "hands-on" affair. And after nearly everyone had a chance to either learn or teach, Ari ended his "Teaching" presentation by giving a break down of the Comete… Hand movements, kite rotation and timing, plus an introduction to some of the differences between flying styles in Europe and the US.
Finally, Ari closed out his presentations by getting into a short discussion about the future of Sport Kite competitions – including the new "Tricks Party" format that is so strong in Europe these days. Ari believes that, while this concept is new to us in the USA, the Tricks Party rules are really the way of the future.
To finish the session off, Ari handed out CDs to all attendees, so everyone left with a wealth of new information at their disposal. My copy of the CD Ari handed out contains:
Choreographing an Individual Kite Ballet Routine (4 pages)
Fly Precision like a master flier (1 page)
Pairs Flying (12 pages)
List of websites to view kite videos (2 pages)
Choreography Grids (3 pages)
Tricks documents: Comete Instructions and video, How to teach trick flying, Description of advanced tricks, List of tricks by era (5 pages)
The history of the Sport Kite Competition in 9 parts by Al Hargus (98 pages!)
39 kite videos!
Trick Party Rule manual (3 pages)
Photographs of today's greatest dual line fliers
Yeah, plenty to keep me interested and busy for a while… All in all, it was a superb afternoon. Thank you SO much, Ari!
After another good dinner, we headed out to sample the Indoor Fun Fly on Saturday night, along with most of the other NWSKL attendees… Plus, a surprise visit from northwest kiting veterans Eric and Genny Forsberg, as well as Penny Lingenfelter!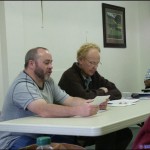 Fun times in the gym at the local elementary school, with plenty of energy expended. Like most indoor "free flies," this one started out slow and built through the evening until everyone ended up with enough sweat expended to make certain we'd all sleep that night. And we did sleep well too – after a shower, of course!
Sunday's session was devoted to discussions on Judging, chaired by Bill Rogers and Mike Huff… Both are long-time Masters level pilots in both individual and team events. Plenty of Q&A and discussions, with everyone interested and paying attention.
Topics:
Training Judges – Shadow Judging
Changes to the AKA Comp Rules
Changes to Precision figures, including some changes in "critical components"
Judging to different levels (Novice, Experienced, Masters) discussion
Traditionally a breeding ground for NWSKL judges, the main focus seemed to revolve around establishing a fairly consistant judging approach by way of education and discussion among those present… Also a hot topic was how to recognize, understand and judge a flier's use of tricks, many of which are fairly new to 1/2 of the sport kiting community.
Following the Judging discussions, the Northwest Sport Kite League's Annual Meeting adjourned and everyone packed up and headed toward home. I don't know about the rest of these folks, but I left feeling energized about the coming season, pleased as punch with the sessions I'd attended, and with an overall feeling that the NWSKL was very healthy and headed in the right direction. They're all good folks, giving their thoughts, time, and energy to their league. You can't ask or expect much more than that!
Warm regards,