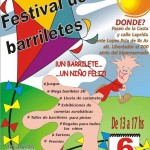 On Saturday August 6th, children day was held in Buenos Aires – Argentina.
"Alto Vuelo" kite factory, "BATOCO" and the "Secretaría de Cultura Deportes y Turismo de la Municipalidad de Vicente López", join their efforts in order to organize an special kite festival. The purpose of this event was to honor those who make our lives sense: "Our Kids". So, we called our neighbors to come and participate in the celebration at "Paseo de la Costa -Vicente López" riverside.
Fortunately, a huge number or spectators were present from 1:00 PM, the starting point up to the end of the scheduled activities. After installing the tents, we began with the free kite building workshops that permanently operated during the festival.
At those workshops the adults and their beloved kids could share the creative labour of building, decorating and flying their own kites. As well, there were lessons on how to fly stunt kites particularly for children.
Nearby the Japanese Rock Band called "Sedai Band" could be heard. "Sedai Band" is make up by 5 Argentinean musician that play rock music and sing in Japanese language. To us sound ¡very original!
The first activity on the arena was candy drops. Lots of various ages flock was waiting under the kites meanwhile "Sedai Band" was playing the first song.
As anecdote, at the end of that activity, my son Nicolas went to me at once and told me: ¡Daddy, I lost my candies…! Please see the picture about it… Soon, I embrace and told him; dear son do not worry, I am sure that they have other presents for all children.
After that, I took his hand and moved closer to the "Mr. Eddy", a kind character that played with all children on the arena. So, Mr. Eddy gave him lost of magic candies. Please look at his face after that in the another picture attached.
About 3 PM we begun the first game "Burst Balloons with BATOCO"
That game involved burst balloons with Revolution Kites. So, the children choose the balloon and the pilots burst it. Inside the all balloons where a lovely surprises to all participants.
The next game was "Pass the kite to somebody" that involved passing the kite between children as a race in a circuit. At the end of that game all children gain souvenirs.
May be you are wondering ¿What was the weather like? Well, the wind was strong and cold from southwest, the temperature was 5 degrees centigrade. Fortunately the sun was present all day.
Despite the challenging climatic conditions about 4:30 PM, we began with kite demonstration until 6 PM.
"El Fabuloso Team" opened flying their routine in time to the music. ¡Wow! "El Alma del Piloto" flew Multiple Kite (two stunt kites – one pilot), particularly this routine was accompany with "Sedai Band" on live.
"Sedai Band" played the song called "Uchina" that it means Anthem. Imaging, pilot and band in unison on live ¡Wow, Wow!
To close the Festival "El Team Tropita" our youngest kite flyers, flew perfectly its routine in time of music. ¡Wow, Wow, Wow!
As the day comes to a close, the crowd was continued flying its kites. ¡Wow, Wow, Wow, Wow!
Friends of mine… I think that definitely was a wonderful and special Festival…we showed the "kite way to our children".
Best wishes,
Gustavo Di Si