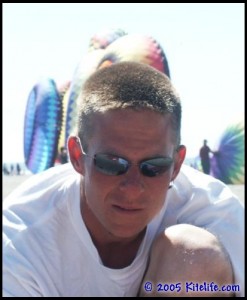 Welcome to our latest issue, it's been a crazy past few weeks with so much happening in the closing months of the season… Festivals, competitions and fun flies nearly every weekend in September have kept the staff here at Kitelife very busy indeed! I make a concerted effort to attend as many events as possible every year, in order to represent the community at large as best we can in these pages, and to see what is really going on all over the country.
Additionally, we're gearing up to process another four issues of the now out of print Kite Lines magazine and add them to our archives.  As the longest running color kiting magazine in the United States (if not abroad), they amassed a truly amazing wealth of history, interviews, plans and stories from all over the world… Again, I'd like to offer my personal thanks to Valerie Govig for allowing us to republish her works to the world wide web for everyone to see, absolutely free of charge.
On another interesting note, I'm honored to be serving as Chair of the American Kitefliers Association Sport Kite Committee (SKC) for 2006.  Working with over a dozen other recognized sport kite representatives from all over the country, the SKC works to develop and improve the existing competition rules, as well as to identify and address ways we can improve the sport as a whole.  In other words, the committee works for the competition community as a whole… It will be a challenge, and a distinct pleasure to lend what experience I can from my fifteen years in this wonderful and dynamic sport.
Each year, the SKC also holds a "Symposium" at the AKA Grand Nationals, where attending fliers can address the committee directly (face to face) with their concerns, ideas and recommendations… Those of you who are in that community are heartily encouraged to take the time to share your insights every year, as well as throughout the year by way of your own local representatives.
With regard to our video archives which some of you may have found inaccessible (except to official subscribers) during the latter part of each month, you'll happily find that we've quadrupled our bandwidth resources and do not expect to see that area of our site restricted any time soon… However, we do plan on accumulating Hot Tricks and Kitelife-produced tutorial videos in our subscriber section over the winter!
Keep an eye on our email updates, and in upcoming issues for news on this.  Please remember in the interim, this is a "home grown" publication and web site – we rely on both advertisers and subscribers to keep our services operational, as there is a great deal of time and resources involved in maintaining it… Please do your part, and consider becoming an official subscriber today!
On a cool media note, a correspondant from Evening News came to the Westport Windriders Festival this past July 9th and 10th, to do a feature on the 2005 World Champion sport kite team Cutting Edge. Look for it sometime in October or November on NWNC, channel 49 in Portland OR, or King 5 in Seattle.
Cordially yours,
John Barresi
Publisher/Editor
Kitelife Magazine
Next Prize Drawing to be held soon!