The days leading up to the Carolina Kitefest were somewhat unsettling. First the weather called for rain all day Saturday. Then when that forecast went away, the weatherman was calling for 15-20 mph winds. And even on Friday night as the volunteers gathered, the subject of the weather was on everyone's concern list. But then Saturday dawned better than any of us expected.
As the day broke on Saturday, it was 42º with a 9 mph north wind and bright blue sky. Extremely encouraging. An enthusiastic group of volunteers could be found at 8 a.m., setting up tables, marking off the field, setting up the PA system. The setup was quickly completed and all got ready for the fun. By the time the festivities started, the wind was about 10-12 mph, perfect for a day at the beach flying kites.
The master of ceremonies role was shared by Don Dixon of Kites Unlimited and David Gomberg, President of the American Kitefliers Association. This gave Don a break from the full day of work, and gave all in the crowd a different perspective on kiting that only David can provide.
Besides David and Susan Gomberg, there were other notable attendees. Al Sparling was there with his large kites, Ray Wong and Randy Tom brought some beautiful art kites. Of course the Bay Area Sundowners (Craig Wong, Gordon Osterlund, Ken Osterlund, Randy Tom), Mike Agner, AKA District Director, Jim Martin, past AKA District Director, and Blake Pelton, power kites.
If you've never been to the Carolina Kitefest, the emphasis is totally on fun. The only competition to be seen is the friendly competition between kite fliers who either knew each other or had met each other in previous kitefests. To the left of the flying field was an area limited only by beach for stunt kites. The marked off area was dedicated on the left to stunt activities like the Bay Area Sundowners, the area to the right for single-line activities, and the far right to the large single-line kites. Some of the large kites were:
Megabite – Al Sparling
Gecko – Kites Unlimited (Jeri Dixon)
Large cat – Kites Unlimited (Jeri Dixon)
Octopus – Kites Unlimited (Brett Dixon)
Scuba Diver – Mike Agner
Manta Ray – Mike Agner
Yellow Fish – Al Sparling
Green Fish – Mike Agner
Red Spiky Balls – Mike Agner
Assisting with all aspects of the large kites was Susan Gomberg.
One of the first events was kite building for kids. Children decorated their plastic sled kites and then enthusiastically flew them. There was one orange kite decorated like a jack-o-lantern, clearly in tune with the season. Others had faces, animals, "sayings," and most anything else that a child could think of.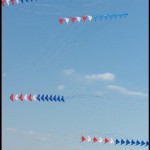 While the kite building was going on at one end of the field, the Bay Area Sundowners performed their new routine with 13-stacks of Hyperkites to the melody of "God Bless America". I hate to admit it, but the performance was just a little bit emotional for this kiter. The Sundowners also performed other of their previous routines, such as four stacks flying to the sound track of Exodus. To see their red, white, and blue Hyperkites with patriotic color mylar tails backlit by the bright sun in the bright Carolina Blue sky was something to behold.
Lessons were offered for learning to fly dual-line and quad-line kites. For some strange reason, there were no takers for the dual-line lessons. This kiter was fortunate enough to help with the quad-line lessons and got to see first hand the wide grin on someone's face when they realize that they can control a kite forward, backward, up, and down. One of the students had recently bought a Revolution and wanted to learn how to fly it. Another had specific technique questions. However, there was the teenager who was very curious – how to set it up, how the lines are attached, what the handles look like, etc. After a while he could pretty much control the kite; in the end, we had helped another kiter move toward the "dark side". [Note: it was gratifying to be able to help teach others, especially since it was three years ago at this same kitefest where I put my hands onto Rev handles for the first time.]
There were candy drops for kids, so we helped the local dentists make a little extra money. I mentioned to one father that the candy drop was coming up and he ought to mention it to his young daughter. The father assured me that it wouldn't take any reminding; his daughter was very aware of the event and looking forward to it.
There were mass ascensions (see how many we could put up in the air at a time) of numerous types of kites:
Delta kites
Critters (any kite in an animal shape or with an animal on it)
Dragon kites
Soft-body kites
Box kites
Line Laundry (any kite with any sort of line laundry on it)
Flat or bowed kites (diamonds, etc.)
Fighter kites
You can see that the activities are oriented to most anyone. People flew expensive art kites, large hobbyist kites, and plastic kites from the drug store. All kites welcome. And all had a great time!
There was what was to be a Fighter kite competition later on in the afternoon, but too few fighters showed up. However, that didn't stop this kiter from tangling lines with David Gomberg a number of times. However, neither of us was using manjha, so we walked away with our lines intact!
A couple of times "The Running of the Bols" was held to the glee of the youngsters and the panting of the oldsters. One middle-aged woman told me that it totally wore her out. And this with only 10-12 mph winds!
The afternoon festivities wound down about 4:30 or so, but reconvened about 7:00 p.m. for the night fly. By then the wind had dropped considerably, so flying much of anything was a challenge. The Sundowners again amazed us by flying some precision maneuvers with lights on the Phase stunt kites when most others couldn't even get their kites up. After a couple of hours there were a couple of ghost deltas with white lights on them, a large delta with flashing lights, and a cube with LED's flashing around in it.
Sunday morning broke again with a cloudless sky, 45º and a light wind. A very light wind. Setup of the field took less time than Saturday, so several of us flew ultralights until the planned start of 10:00 a.m.
With the wind so light, Don Dixon had to rethink the festivities, placing an emphasis on light-wind activities. A fighter kite mass ascension brought a few fighter kites, but it appeared that not many people had brought them. A mass ascension of Sky Skimmers (a kite made and sold by Kites Unlimited) brought out eleven fliers. However, an art kite mass ascension brought out a wide variety of rokkaku's, deltas, dragons, etc with many beautiful designs. Randy Tom's white tiger rokkaku in my estimation was one of the prettiest.
The Bay Area Sundowners performed a couple of times, but the light winds gave them a real challenge. However, like always, they were terrific crowd-pleasers.
There were power kite demonstrations by Blake Pelton, using a Peter Lynn 16-meter Venom and a mountain board down near the water. Blake offered to let participants try their hand at the huge kite, and several folks braver than I took him up on the offer.
One spectacular "kite" that was flown was the arch created by Randy Tom, owned by Kites Unlimited. First the Disney arch was brought out. Then it was joined by the flag arch. Next the colored pattern arch was added. And finally a fourth arch making a huge arch a total of 440 feet long! Even with the light wind, it was a challenge to hold down as evidenced by several people holding each end!
David Gomberg offered the game "Stump the Announcer," by offering to answer any kite-related question. I'm not sure that he was ever "stumped." He also encouraged all the participants by telling them that the wind really wasn't too light. Some people just didn't have the right kites. He noted that you actually couldn't have too many kites; you just need the right ones for the right wind conditions.
After lunchtime there was a freestyle "Mystery Ballet" where anyone with a multi-line kite could "compete." I was the only quad flier with a Rev 1.5SUL, but there were three other dual-line fliers. I'm not quite sure what the mystery was except for the music. It started out to be some unusual (mysterious) Celtic music. Sure was a fun "non-competition competition" and also nice to get some flying in. I don't know who actually "won."
There were, of course, many other activities that I probably missed reporting on, but one thing I can say for sure – it was a totally enjoyable time, and I look forward to the 19th annual Carolina Kitefest in 2006. Maybe you should make a trip to Atlantic Beach the last weekend in October next year!
Doug L'Hommedieu
(CLTKiter)