This year a record crowd estimated to be in excess of 7,000 people attended the Devonport kite festival. Most attending flew kites either singularly or as part of a family or social group. The combination of a big crowd, light wind and plenty of musical entertainment proved again to be the right ingredients for a fun day. The sky at times was literally covered in kites of every description, flown by all ages.
An informal fly Saturday afternoon and then a evening barbecue and kite auction before the Festival proper on the Sunday. After the festival, it is only a 10 minute drive to the ferry, which means you can be back in Melbourne early Monday morning.
This year's festival featured a new event for Devonport, the Great Teddy Bear Fly-in. 200-plus parachuting bears were dropped from a helicopter, the winner being the teddy that landed closest to a X on the ground below the drop. About 200 teddies were dropped with the hope that next year that figure will double.
Devonport Rotary Club Marketing and Promotions officer Tony Reid said the Bear Drop raised about $10,000 for charity. First prize was $4,000 and this was donated by the winner (Roberts Ltd.) to the Rotary Health Research fund. The rest of the money goes to various charities.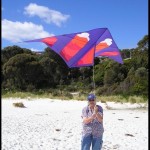 In addition to the Bear Drop, a Bear Parade was also held. The Amcal Pharmacy won the prize for the Best Dressed Bear.
The 2006 Devonport Kite Festival will be held on Sunday February 26th, 2006… The venue for this popular kite festival, will again be the Meercroft Park recreational grounds located in the City of Devonport, Tasmania.
The Binalong Bay weekend (east coast, near St. Helens) is not a festival, it is a kite retreat. And depending on the wind direction, we have a number of outstanding beautiful beaches to fly on. We get together on the Saturday evening for a meal, and fly all day Saturday and Sunday. Binalong Bay is an informal, wonderful kite weekend. The next weekend we get together again at Devonport.
As this event follows a week after the Kite Flyers of Tasmania's club weekend at Binalong Bay (18th and 19th Feb.), the combination of two top class kite events should again entice some of our interstate kite friends to plan a trip to Tasmania. Devonport is serviced by an airport and the Bass Strait ferry "Spirit of Tasmania." This means you can drive your car onto the ferry in Melbourne and drive off at Devonport. Why not spend the week between the two events exploring Tassie?
The Kite Flyers of Tasmania look forward to welcoming you to these two kite events. Please contact our President, Robert Brasington, (03-63-761-667) or Secretary, Malcolm Dick (03-64-278-590) if you would like more information about the events or general information to help you plan a Tassie kite holiday.
Best wishes,
Malcolm Dick
*photos from Binalong Bay*