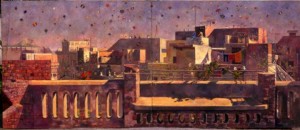 Yep, you read that right, a total ban of kite flying, and kite sales by the Supreme Court. BUT it isn't the US Supreme Court I'm talking about it's the Supreme Court of Pakistan.
There are times when kitefliers in the USA complain about too many restrictions and safety regulations governing our hobby/sport. Much of what Kite Safety really involves in simple common sense. But in certain areas of Pakistan common sense, and kite safety seem to be tossed to the winds.
"The Supreme Court of Pakistan on Tuesday October 25, 2005 banned buying, selling and flying kites for one month. The ban also includes the manufacturing of all types of kite line. The main reason for this ban on kiteflying is that on the average 30-40 people die ever year from "Kite Related Incidents""
This Supreme Court ban precedes the two festivals-or Eids in the Muslim calendar: Eid al-Fitr and Eid al-Adha. On these days, Muslims wish each other "Eid mubarak," The phrase "Eid mubarak" translates as "blessed festival," and often means "May your religious holiday be blessed." This phrase is often applied to both Eid al-Fitr (marking the end of Ramadan) and Eid al-Adha (marking the end of the pilgrimage to Mecca.) In India this same festival celebrated by Muslims is called 'Jamghat', a traditional festival of kite flying.
The holy month of Ramadan for Muslims is based on the dates of the appearance of the new moon. November 2nd Shiites began the three-day religious holiday of Eid al-Fitr, which ends a month of fasting during the Islamic holy month of Ramadan.
So kite flying in Pakistan doesn't really compare accurately to the activity we call the Hobby or the Sport of Kiteflying here in the USA. Kite Flying is a 'religious expression' in many Muslim countries. Literally thousands of kitefliers crowd roof tops in all cities to fly kites both day and night! There are written descriptions of huge 'Clouds of Kites' that block the sun during the celebrations. But this is where "Kite Safety and Religious Fever" cross paths.
The President of the Lahore Electricity Supply Company (LESCO) told the Supreme Court that the power company suffer losses of over 8 Million Rupee's (1.5 Million Dollars US) every year because of kite flying. This year the Eidul Fitr in Lahore was marred by power breakdowns in many parts of the city caused by reckless kite-flying. Despite the Supreme Court ban as many as 1,000 minor and 50 major instances of kites or their string getting entangled with power cables caused power outages and fires at grid stations. The city police arrested 25 men including a general councilor of Icchra area and registered cases in the various parts of Lahore for violating the Supreme Court's orders against kite flying on Tuesday (11/9/05).
As is always the case, there are two sides to each story. These news reports of 'Death, Damage, and Destruction' focus on the 'Dangerous Activity' of kiteflying. But if you look a little closer and simply read the daily US newspapers you'll realize that Pakistan and many Mid-Eastern countries are far from safe places even if you 'Totally Exclude' kiteflying. The very same Pakistani Daily Times newspaper that reports the ban of kiteflying also contains articles about the recent devastating earthquake, terrorists with explosives and the usual 'big city' stories concerning problems of drugs, robberies, murders and general lawlessness that are frequently reported in an large city in the world.
BUT sometimes you have to dig a little deeper and 'read between the lines'… For example there was an article in the Daily Times which read as follows:
Four-year-old killed by stray kite string
"LAHORE: A four-year-old girl died when stray kite string cut her throat in the Shadbagh police precincts, becoming the first victim of kite flying after the Supreme Court's ban on the sport.
Senior Superintendent of Police (Operations) Aamir Zulfiqar Khan suspended the station house officer (SHO) and beat officer of the police station concerned for negligence."
This is obviously a terrible accident and who's responsible? Well, of course IT'S THE KITEFLIERS!
But in another more detailed article on this tragic death you read:
"Aurangzeb's daughter Tehreem (4) was on her way to the market with her uncle and two elder sisters on a motorbike and Tehreem was sitting on the bike's fuel tank. When the four reached Nazim Abad, stray kitestring cut Tehreem's throat. Tehreem's uncle, Muhammad Ahmed, rushed her to Mayo Hospital where doctors pronounced her dead."
The most obvious questions when you have all the details are Why were there FOUR people on a small motor bike? (Try that one in New York and see if you get away with it?) and the biggest question I have is "Why was there a FOUR year old sitting on the gas tank of a motor Bike in the first place?
Or another article details the electrocution death of a police officer:
"LAHORE: A policeman died of burns on Thursday at Mayo Hospital after he attempted to catch a stray kite whose metal twine fell on electricity wires on Wednesday. This is the second reported death due to kite flying after the Supreme Court of Pakistan imposed a ban on all kinds of kite-related business on October 25. Constable Rashid Hamid, 35, of Narang Mandi was deployed at the Mughalpura Railway Station. He caught the kite twine, which fell on the mains electricity wires and gave him severe electric shocks. Passers-by rushed him to hospital where he died."
This is one that you can easily and most correctly blame on a kiteflier. Why use metal 'twine'? The fliers in Pakistan use metal flying line, because the cutting away of a kite isn't just 'Points in a Fighter Kite Battle' the 'Loss of the Kite' has religious significance. So metal line gives you a 'spiritual advantage'
But then again with Millions of dollars lost every year from metal kite lines intersecting with power lines, you'd think that a Police Officer would know better then to try and 'catch a falling kite'?
Lack of common sense?
Religious Dedication? Not enough government regulations?
or ………… simply Unsafe Kite Fliers?
I guess that I've drawn my own conclusions, you get to decide on yours?
Just keep this in mind when you examine these reports of 'Death by Kite Flying' These festivals and holy days are determined by the 'appearance of the new moon' and when the religious leaders announce the start or the end of these festivals to the gathered throngs of worshipers every year 10-15 people are killed by the "Joyous Firing of Rifles and Guns into the air' when those bullets finally succumb to gravity and fall back to earth!
I'd like to try and end this 'Rant' on a more 'Peaceful and Positive Note' A lady by the name of Rukhsana Khan wrote a wonderful story called 'King of the Skies' which is about a young boy living in Lahore, Pakistan. All year he has waited for the kite festival, Basunt, which is held in early February to celebrate the arrival of spring. It is a very interesting and enlightening story.
Details can be found by clicking here.
Good winds,
AL
Reports, articles and details about kiteflying in Lahore Pakistan
and the problems they are having can be found by reading the
DAILY TIMES newspaper of Lahore, Pakistan on line.