Fall had set in, marking it time for the Whidbey Island Kite Festival. This is truly a robust festival with single line displays, dual line displays, and hot tricks. It is a very well orchestrated event put on by NWSKL's very own Marjorie and Allen Taylor.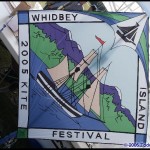 It was with excitement that my team mates, John, Moon, and myself left for this red carpet event. The excitement built as we talked on the way there because we knew what was in store for us with the other competitors and the spectators. After a reasonably short drive and a great ferry ride to Whidbey Island we found our campsite where several of our fellow competitors were already gathered… After a good deal of passionate kite discussion and camaraderie, we decided to turn in for the night so we would be fresh for the upcoming competitions in the morning.
The next morning I was up bright and early to make my way over to the used kite tent. Still being early, I found that it wasn't very full… However when I came back latter in the day, it was totally different. There ended up being tons of kites at very good prices. This feature of the festival alone would be worth your while to attend, but it just kept getting better.
First line up of the day was Masters Individual Ballet. The winds were light to say the least and just below minimum requirement to fly. With this little bump in the road, they decided to go full force into the event and make it a "Fly Or Die" event after consulting with the competitors. The day rolled on and the fog eventually rolled back to make it a very nice day.
As lunch time came around, the competition field was to be used for the teddy bear drop. Since the wind was not strong enough to lift the bears and there were lots of kids were eager to receive their own teddy bears, the festival planners rose to the occasion simply by tossing the bears high in the air and just letting the kids catch them.
Shortly after lunch the single line Mass Ascension was held… What a turn out there was for that event! Most of the participants had trouble launching their kites due to low wind, but gave it a great college try. We saw some beautiful pieces of work, and it was a joy seeing these lovely kites fly.
When the Mass Ascension was over, the Novice Individual Precision event started. I flew in this event.   The wind was still not helping very much, and it made it hard to fly. Still, we all gave it the best we could.
Then it was time to go and check out the raffle tent. WOW! What great raffle gear it was… They had a custom Quantum Pro from Mark Reed and Prism Kites as well as various other kites, and even fabric that you could make your own kites with. Along with so many others, I bought tickets too in the hopes of carrying home some awesome kite swag.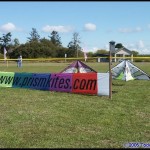 On the east side of the field, the Prism crew (Mark Reed and Matt McGee) were demonstrating their new Quantum Pro UL… Then I stopped by to see what my friend Penny Lingenfelter was doing. She was giving quad lessons to anyone who asked, and even a few who came close enough to get sucked in. All of these little things going on for anyone who wanted to participate made this a very well rounded event.
After dinner was over they held the awards banquet for Saturday's events… While I thought this would be the end to a wonderful day, I found they had planned an indoor fly too! I was first up to fly – or maybe not… In a hurry to get set up for the event, I had forgotten to check my equipment and ended up with a part off-center… Needless to say, this made for a tough time. It was a great lesson however. Make sure you always check your equipment ahead of time!
The indoor fly was soon over. They were tallying up the scores and I was able to redeem myself with a demo… Always good to shake off a bad flight. Scotty Davis did a wonderful job and came in first place, closely followed by John Barresi… But, this perfect day was not to end just yet. A few of us were able to stay and fly for a while longer since the gym custodian kept the room open for us to have a fun-fly until 10pm. A hearty thank you to him for allowing this to happen. What a treat!
The next morning we got up and after making french press coffee for several people staying near our campground, we made our way down to the Fort Casey grounds where again the fog had found its way over the fields and was providing only light winds. After a few disciplines were flown, the sun broke through and made for another beautiful day. With the wind conditions still light, the novice class chose to move on with their event anyway. What a great attitude! All those who were part of this festival chose not to let the conditions contribute to what could have been a totally discouraging day on the field.
Lunch on this day become a quick repeat of the day before with the wind not strong enough to lift the bears for the teddy bear drop. However I'm sure that the kids did not know the difference. With all of the teddy bears having new little ones to take them home, we moved onto the Beginner Individual Precision competition… This year saw four people who were brave enough to enter their very first competition. Sierra Ralson who took first, Neal Stevens who took second, Andrew Lorene in third place, and Rich Vance finished in fourth. It brought me great joy to see so many in this class, another great step towards expanding the sport.
Speaking of first time competitors… 17 year old Justin Redington took home 3rd in both Novice Individual Precision and Ballet over the weekend, out of 8 and 9 fliers respectively… Nice work Justin!
Next up was the Team Precision event, accompanied by a nice two mile an hour breeze… After Precision, the Team Ballet began and then Team 6th Sense took the field… When they were about half way through  their routine, the breeze picked up and shifted 180 degrees – then shifted again and dropped to nothing… They really had to hustle to even keep the kites in the air, plagued by a bad stroke of luck with the winds. 6th Sense finished their routine scattered in different areas of the field. My hat goes off to these guys and all of the work they had to put into flying that day, and how they handled it… What magnificent sportsmanship!
Hot tricks was next. A fair amount of fliers turned out, the wind kicked up a bit – and so did the tricks! This was a "must see" as all were doing exceedingly well… It was coming down to the wire and it was John Barresi against Daniel Haigh in the final round. In the end it would be John's mistake that would decide who was to win the event, but not in the way you might think… While the semi-finals were done with two 30-second rounds for each flier, John didn't catch the fact that they were flying three rounds in the finals and started to wind up his lines as he finished the second set… As they started his third set, John ended up wrapping his lines around his hand and flying on about 25 feet… Executing a fast, tight sequence of tricks this way, John edged out Haigh for the win and $50 in prize money.
After all of the excitement, there was still one more event to take place. Sadly, Mystery ballet ended up with more flyers than the schedule could allow… However, the first ten or so entrants were allowed to fly and Cal Yuen showed his experience by taking home the other top prize of $50.
Thus brings us to the end of a wind challenged, but otherwise perfect, festival… I would definitely have to say that this is one of the best red carpet events I have seen in my year of flying and I know that it will be even better next year. It's already on my calendar to come back to Whidbey Island for the 2006 season.
For more information about this event, visit their home page here… Or for complete competition results, visit the NWSKL web site.
Grace to you in the winds,
Todd Rudolph