DBBB (Dead Bird Buggy Bash) is an annual event without "organization" or "organizers" (officially) but it is put together by an awesome group of Texas kite fliers.
There is a core of Texans that make this trip a great one that I would only miss under great duress, such as a water line bursting under my house. A nod to: Dave, AJ, The Huckabees, Dano, Terry, Susan (I consider you a Texan too, forgive me), Joe, Mark, Patrick, Rick and Sara, Chris, Neil and Aaron Brady (new Texans).
This is not a competition or any kind of serious event with schedules and such, more of a party that goes on for days at a time. Nobody is in charge, but everyone tries to do his or her part to make all feel welcome. At worst, when the wind is not blowing, we have a nice day at the beach hanging out with friends.
Let me tell you about the beaches. There are 2 main "venues", East Beach and SLP (San Luis Pass). You can drive on these beaches and except for some fisherman and people strolling or running they are open during the week of thanksgiving. If the wind is coming off of the Gulf of Mexico you can cruise for miles on hard packed sand at the waterline. There is nothing better than getting on a long run with the only sound is your wheels on the sand and the wind singing through your lines.
East beach offers more off shore runs, curving into the shipping channel and running to the seawall in the other direction. Some buggiers can buggy right from their hotel to base camp. East Beach also hosts another kite traction activity, kitesurfing. Many locals show up to sail in the steady winds coming off of the Gulf. The downside of East Beach is after it rains, there may be many puddles to deal with. A "Texas" puddle is about the size of a pond where I live, so it can get interesting.
There was a new hazard discovered on East Beach this year. We are used to the dogs chasing us, people not paying attention to where they are walking / running, stray single line kites, washed up sea life, etc. A new one was added; kids flicking dog excrement at passing buggiers… Chris Shultz was the worst hit and came strolling into camp "poo-faced", but not in a good way. I also got hit in my sail. No worries, it washes off, move on.
I come from Philadelphia and for years have been among the furthest traveled attendees. This year we had Kevin and Margaret from Australia,. Also in attendance were the John Boys, John Ellis and John Romanek. This event is worth the trip. Although I have retired from kite traction, I am now a Blokarter. kind of like a buggy with mast. I really look forward to sailing along the shore with my kitebuggy pals.
Without DBBB I would be at home with my family during Thanksgiving. My family let me get away with going on this trip one time many years ago and that was it., I now have a therapeutic reason for attending a kiting event. Now I'm not expected at Thanksgiving dinners anywhere except the beach in Galveston. I realize that this might sound a bit over the top, but the folks in my family could never get me to eat turkey for over 40 years. I will now only eat turkey prepared on the beach, deep-fried by experts such as AJ, Dave or McDuffy. There was plenty of awesome hospitality throughout the week. These guys know how to take care of business. Glenn Pedro and I did 10 days this year, covering the weekends on both sides of thanksgiving. We feasted at the pre-event BBQ, dined out during the week, big thanksgiving dinner on the beach, more dining out, etc. Suffice to say that I gained a few pounds on this trip.
Throughout the week we had days with wind and days without. I logged @ 280 miles on the Blokart during the trip. We visited several beaches for variety, even taking the ferry across the bay to try Boliver beach. We were always searching for the perfect beach and the best wind direction, sometimes finding it, sometimes not. I love this stuff. For me it is the perfect vacation and diversion from my normally stressful existence. I even looked forward to trips to Walmart, they seem more tolerable to me in Texas I guess.
Several kite makers and manufacturers joined us… Dean Jordan, Chris & Katy Schultz from New Tech, Tim from HQ, Tim Elverson and Ruth Whiting from Windfire Designs, Kathie Nixie, Claxton and others. There were many new and very different kites flying throughout the event.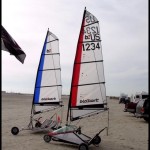 Terry Crumpler, Texas Wasp maker, has now become a Blokart dealer and was on hand to introduce the Blokart to new people by giving demos and rides to anyone that was interested.
After the sun sets, (very beautiful) we hang out, build a fire, entertain ourselves and generally chill. I want to give another great big "THANK YOU" to everyone that made another wonderful DBBB. See y'all next Thanksgiving, miss you already.
    Jason Robbins
---
For detailed info:
http://deadbirdbuggybash.com/