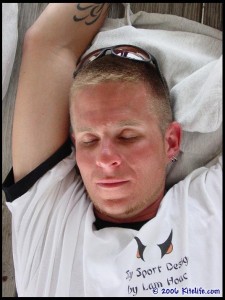 Out of the winter doldrums and into full swing of the 2006 kite season… Having covered the KTAI show in FL, and returning again for the SASKC a couple days ago I must say, I'm absolutely beat and I have the photo to prove it! Seriously though, this has been a great start and I'm looking forward to participating in even more events as the year goes on… Bringing it home to you, our readers.
As of mid-January, I've assumed the role of AKA Director for Region 9 (OR-ID-MT) and hope to help facilitate kiting in my region as much as possible… For those of you in those three states, please don't hesitate to contact me with any AKA-related questions or concerns you might have.
We've released the sixth volume of Kite Lines magazine in PDF format, putting almost officially halfway through converting the whole collection (7 more to go) and putting it on line for the world to see absolutely free of charge.
I'm off to the South Padre Island Festival next weekend, marking the first time I've flown in Texas since 1992! I'm looking forward to that visit, and to speaking with both fliers and organizers about the state of affairs in the Texas kiting scene… I'm always curious how things are going in areas I haven't been to in awhile, and do my best to help with information exchange wherever I go.
Last but not least, please remember… Kitelife is a "home grown" publication, dedicated to doing it's part to preserve and promote kiting however it can. Send us your comments and suggestions, and if you value the services we provide, consider becoming an official subscriber to Kitelife – it really does make a difference!
Cordially yours,
John Barresi 
Publisher/Editor
Kitelife Magazine
Next Prize Drawing to be held soon!