For the third year in a row, the NWSKL and World Kite Museum in Long Beach, WA have brought this home-grown indoor festival and competition to another level… Thanks to Scott Davis and those who contribute so much of their time to help make this event happen, as well as to Kay Beusing and the World Kite Museum for their ongoing support!
This year, the event was moved a short distance north to Ocean Park, maybe 10 minutes up from Long Beach (LB) which is only about two and one half hours or so from Portland, driving at an easy pace… Riding with lady friend Shannon (her 1st festival) and teammate Todd Rudolph from TKS Mid-Air, we made better time than we expected and arrived in the Long Beach area around 4:30 in the afternoon, only to find that the gymnasium wasn't scheduled to be open until about 5:30 pm – DANG! Ah well, off to the local kite shops and arcade for an hour or so to say hello and entertain ourselves.
Coming back to the gym right on time, we found Kay Beusing and the custodian had opened the gym up for the incoming NWSKL fliers coming from all over Oregon and Washington… In addition, arriving along with Scott and Theresa from The Kite Shoppe were Shawn and Patti Tinkham all the way from Rhode Island! Invited as special guests this year, Shawn and Patti are well known for their kiting skills both indoors and out… Always a pleasure to watch and interact with.
About 1/2 way through Friday's gym time, Shannon, Todd and I headed over to one of the finest Thai restaurants I've ever eaten at, located right there in Long Beach. HUGE portions, fair prices and amazing flavor, I highly recommend it to anyone who visits the area… After filling our bellies, and a brief but suitable amount of extra warm up time in the gym afterwards, our Portland and Vancouver group headed a little ways further north to where we were staying for some much needed relaxation in the hot tub, and a solid night's rest.
Arising at roughly 8:30 am, we made our way to the beach for some outdoor flying until around 11 am when we got our tails over to the gym for Saturday's scheduled events… This morning, I was also pleased to see Ari Contzius (from CT) and Pauly Berard (from RI) had come all the way from the east coast to delight our spectators with their skills and amazing performances.
Ari opened up the shows with an absolutely hilarious performance where he dressed up as a clown and did something between a Bozo the Clown and Groucho Marx routine complete with props, slapstick and a variety of kites… The crowd was in total stitches for most of Ari's demo, literally in tears from laughing so hard!
Competition brought out great performances from everyone, but especially stellar routines from Ari Contzius, Shawn Tinkham and Jerry Cannon took home 1st, 2nd and 3rd awards respectively, closly following in 4th and 5th were Wayne Turner and Bud Hayes… Complete results can be found here.
Also featured on Saturday was indoor PAIRS ballet, a first time category for the NWSKL! Two teams came forth to show their stuff… Two Mimes Named Moe (Brian Davis and Ari Contzius) who used everything from UFOs to play sails during their routine, complete with distinctive mime masks, and Chaos Effect (Alan Cunningham and Kyle Wright) who weaved their indoor Wrens around the room and had a generally good time… Top honors went to Chaos Effect.
Funny story, both pairs teams actually DQ'd but were let off the hook since it was just the two of them… Mimes Named Moe humorously shuffled off the "field" as their routine was ending (out of bounds – DQ) and Chaos Effect used their hands to mock cell phones, complimenting each other on their flying (use of props – DQ)… Great flying from both pairs however, they did a great job of entertaining.
Saturday evening found us gathering at the World Kite Museum's new building for an awesome potluck banquet and bag raffle… Kay Beusing took a few minutes to tell us about what the Museum had going on for projects, and brought everyone up to speed on their goal of paying off the rest of the building's purchase price. The Museum functions thanks much in part to grants and donations, so with over $15K still owing on the building, I personally encourage each and every one of you to send in a donation of your own or sign up as a World Kite Museum member… Sinc 1990 they've done a great deal with regard to preserving our history, running workshops and educating the public at large about kites and culture.
Visit the World Kite Museum web site!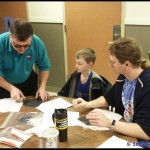 Sunday morning found us headed straight over to the gym for more fun flying (open floor) and more excellent demonstrations by all the assembled fliers, as well as a kite making workshop by Pauly Berard who taught participants how to make a train of three indoor Eddy Kites much like Pauly used in his routine the day before.
In addition to demos and free flying, indoor Hot Tricks was also scheduled for this day! Fliers were paired off in double elimination rounds, where each flier "dueled" in three 30 second bouts per round much like outdoor Hot Tricks… While a couple of people did slack line tricks indoors, most went the entertainment route and pulled out some unusual "performance" stuff.
In the end, I took home first in this event by dunking my kite through a nearby basketball hoop in one round, winding up 25′ of lines around my hands in mid-flight until the kite was in my hands, and eventually flying from my ears in the final round… To illustrate to you how interesting this event was, Ari Contzius even went so far as to put his kite down and do a quick magic card trick for the audience!
Great, great fun.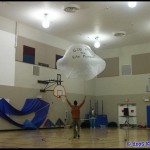 After Hot Tricks was over, awards were handed out and fliers got a little more free time on the court, Ari came out once again to give the audience a closing performance where he finished flying a large play sail with "God Bless The Kite Museum" written on it in large black marker… An appropriate ending to a wonderful event!
Thanks for reading, and I hope to see you all at this one next year… It's an absolute must for any indoor flier!
Cordially yours,
John Barresi