Without any warning or recent illness, Mike Gillard passed away (presumably of a heart attack) at his home in Columbus Ohio on the morning of February 28th, 2006 at the age of 51.
I'd first met Mike when I was flying on Team Invisible Wind during a trip to the New York Stunt Kite Championships in 1995, and later that year at the Great Lakes SKC in Michigan… One of the things I remember was how somber and serious my team was, how much fun Mike and his teammates on Captain Eddie's Flying Circus (CEFC) were having, and how they just brought me into the fold – bringing levity to an otherwise serious competition.
I didn't hear from Mike again until mid-1996 when I'd stopped flying for a while and had moved to Cleveland Ohio from Oregon… He'd seen a couple of my posts on the rec.kites newsgroup and invited me to practice with his team in Columbus!
If it wasn't for Mike, I'm not sure that I'd have gotten back into kiting. He and his teammates (Vern Balodis, Terry Thurston and Scott Nuss) on CEFC were fun-loving and welcomed me with open arms… I fondly remember sitting in his back yard, sharing a beer with him and his wonderful wife Julie, talking about kites and life until the wee hours of the morning. Mike even went so far as to set me up with a job in Columbus and helped a great deal in other ways when I finally decided to move there so I could fly with the team full time.
Mike and I shared a little over a full season together as members of CEFC, going so far as to qualify for the 1997 World Cup, held in Long Beach Washington. Terry and I left the team in 1998 due to other responsibilities, but CEFC definitely lives on in everyone who was a part of it… One of our favorite things to talk about was the "glory days" with the team, good times indeed.
In April of 1998, Mike went on to found Kitelife.com with the vision of creating a web publication that could reach a much wider base of kiters worldwide, absolutely free of charge… With the connections he'd made in kiting, the content and contributors he'd brought to Kitelife quickly made it the "must read" kite ezine and among the very first of it's kind in the world.
Not too long after, he then become involved in the formation of the World Sport Kite Championships (WSKC) in 2001… Actively involved as a WSKC judge and member of the International Rules Book Committee (IRBC), he was very much a part of bringing team sport kite competition back to the world championship level after American Kite Magazine ceased operations of the "World Cup" in 1998.
Utilizing the publishing skills he'd gathered and honed in producing Kitelife, Mike went to work as the editor of AKA's Kiting magazine in 2002 and helped bring it to a whole new level… Late in the same year, it was taking enough of his time that he felt it best to pass on the reigns of Kitelife to me so that both publications could thrive and receive the attention they deserved.
While he took his responsibilities very seriously, Mike appreciated all things kiting and always had a good time – he liked his beer, he loved a good debate, and a good competition routine, just to mention a few things… Mike's impact on me personally was profound, and even today, I live by a phrase he used often… "It's just kites, man."
Mike's obituary from the Columbus Dispatch:
Michael James Gillard, age 51, of Columbus, died suddenly at his home on Tuesday, February 28, 2006. He was born in Delaware, Ohio on October 1, 1954, the son of James and Ann Gillard. Mike attended Columbus Public Schools and graduated from Northland High School in 1973. In 1979, he married the love of his life, Julia Tolson, and to them were born 3 children, Evan James, Ann Elizabeth, and Rebecca Claire. Julie and their children were Mike's pride and joy and he loved them dearly. For many years he managed a number of restaurants including Engine House Number 9, Victoria Station, Baby Doe's, and Ground Round. For the past 13 years he has been associated with ECOLAB Corp. In 1992 Mike became involved in a hobby that turned out to be a passion – stunt kite flying. He formed a precision kite flying team known as "Captain Eddies Flying Circus". The team competed in events all over the USA winning many awards including a National Championship. In recent years he has been the Editor/Publisher of AKA Kiting, a national publication. He was also an international judge of kite competitions and was scheduled to judge an event in China in April. Mike had a zest for life and a joyous nature that uplifted everyone around him. If life ever handed him a lemon, he made lemonade. He loved camping, fishing, kayaking, and spent many happy weekends with his family and close friends at their retreat on the Kokosing River. Mike is survived by his loving wife of 27 years, Julie; son, Evan; daughters, Annie (Tommy) Turner, and Becky; parents, James and Ann Gillard; sisters, Lisa (Joseph) Heasley, and Lori (Craig) Smith, all of Columbus. He is also survived by father-in-law and mother-in-law, James and Patricia Tolson of Ft. Myers, Florida; brothers-in-law and sisters-in-law, James (Bernadette) Tolson, John (Laura) Tolson, Jean (Phil) Seymer, Jay Tolson, Joseph (Wendy) Tolson; and by many nieces and nephews. Family will receive friends 2-4 and 6-8 p.m. Friday at SCHOEDINGER NORTH CHAPEL, 5554 Karl Rd., Columbus. Memorial service will be held 11 a.m. Saturday, March 4, 2006 at St. Anthony Catholic Church, 1300 Urban Drive, Columbus. In lieu of flowers, the family suggests contributions to the OSU Ross Heart Hospital, 252 W. 10th Ave., Columbus, OH. 43210, Attn: Research or to the American Kite Flyers Assoc., P.O. Box 1614, Walla Walla, WA. 99362 in his memory.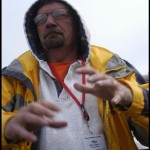 On the day of his services, March 4th, fliers around the country lofted their kites into the air with him in their hearts… I was at Kite Party in Huntington Beach, where we observed a moment of silence and then a period of silent flight during which Mark Reed, Walter Park and myself flew some impromptu team – acknowledging one of Mike's true passions.
After over 14 years of involvement and contribution to the kiting community as an individual pilot, team flier, publisher, chief judge and successful committee leader, Mike now flies higher than any of us… When I find myself lost in the pressure of anything kiting, I'll still look to my good friend on high and remember how to have a good time.
I know this piece has come from a fairly personal standpoint overall, no apologies though… We're not bringing you news here, I'm sharing the loss of a friend and mentor.
Anyone who would like to make contributions to the Gillard family can do so by mailing a check or money order made out to:
Mike Gillard Memorial Fund
Huntington National Bank 31
37 South High Street Canal
Winchester, Ohio 43110
The account will be open until June 2nd of 2006, anything received after that date will returned to the sender. All donations and monies sent will go directly to Mike's wife (Julie) in the form of a cashier's check when the account is closed.
God speed,
John Barresi