Tucked away in the dashboard of the MonkeyMobile (a blue 2005 Mustang lately!) I have a nice map of the Pacific Northwest, that's laminated nicely, folds well, and tolerates drink spills. For most destinations around here, I don't need one as I have been to festivals there before but this time, it was off to Arlington, Oregon for the 2nd annual Up The River Indoor Kite festival. There was just one small problem, Arlington was either not on the map at all, or, it was tucked into a fold in some manner that I couldn't see. But, as I knew the organizer, Alan Cunningham did indeed live there, and people had raved about the 1st festival, so, I simply struck off in the right general direction (drive south to Portland, turn left!) and hoped for the best. Along the way, I picked up John Barresi and his friend Shannon and after about 2 hours, we drove into Arlington without incident. Understand this, Arlington is a –small– town of about 450 people, nestled in a gap in the mountains that lead down to the Columbia River, but as we quickly found out, the town is big fun.
Alan had asked John and I if we could come in on the Friday evening with the plan that we could both fly during the two basketball game's halftime shows. Kind of like the Super Bowl halftime, but a lot smaller scale. For me, getting out of the car, unfurling a kite and flying in 60 seconds was a little unnerving (that, and the wonderful knot I managed to tie into my lines while unraveling them) but, John was in fine form with his VIP while I flailed about a little. Just for the record, this was also broadcast around town on their TV channel. You will all be pleased to find out that neither John nor I suffered any wardrobe malfunctions and I found the second half time was a little less nerve-wracking for me. It was a lot of fun, and we managed to drum up some more interest for the festival that was going to unfold over the next couple of days. And to finish the evening, a handful of us managed to duck into the local tavern/pizza place for some REALLY good pizza!
Saturday arrived, and after fueling up with some breakfast, we headed over to the gym to partake in some general practice and flying. Much time was spent fussing over a somewhat misbehaving Trick (renamed to Brick) Wren and if you weren't careful, it was pretty easy to have a Revolution UFO to go whizzing past your hand at the hands of some kid. About noon, most of us had signed up to fly a few demos, including the AOK Midwest Director Amy Doran's first demo! John and I had gently nudged into her flying both that and within competition as well. Despite her own feelings that she couldn't possibly do either, she did superbly well with both.
After demonstration flys by everyone, it was onto the competition part of the afternoon's entertainment. Great routines from everyone involved and the crowd loved what they saw. There were a few surprises in store however. For me, one of my "career ambitions" has been to beat John SOMEHOW and thanks to a well applied 50 bucks to Kyle (who wore out John's line set for me) I managed to place above him when he broke a line during his routine. I think we can safely file this under "every monkey has their day".
The final results for this are shown below:
Open Indoor Ballet
| | | |
| --- | --- | --- |
| 1st | Bud Hayes | 92.58 |
| 2nd | Penny Lingenfelter | 86.32 |
| 3rd | Wayne Turner | 86.25 |
| 4th | Kyle Wright | 86.23 |
| 5th | Alan Cunningham | 84.43 |
| 6th | Jerry Cannon | 83.65 |
| 7th | David Hathaway | 83.25 |
| 8th | Amy Doran | 82.18 |
| 9th | John Barresi | 76.68 |
Next up, and my personal favorite event, Mystery Ballet. For those of you who have never run across this particular event (its very popular in the Northwest), you have no idea what music you will be flying to until it starts playing, thus, its very much a "keep on your toes" kind of thing and make it up as you go along. I like the unknown of it, however I was rather surprised to hear Iron Butterfly's Inna Godda Da Vida fire up for my own routine. "Uh, is this the whole side of an album version or the single edit?". I was completely relieved to find it was the shorter version.
Open Indoor Mystery Ballet
| | | |
| --- | --- | --- |
| 1st | Wayne Turner | 90.10 |
| 2nd | John Barresi | 87.78 |
| 3rd | Alan Cunningham | 87.02 |
| 4th | David Hathaway | 86.87 |
| 5th | Bud Hayes | 83.88 |
| 6th | Kyle Wright | 83.38 |
| 7th | Jerry Cannon | 82.50 |
| 8th | Penny Lingenfelter | 77.23 |
| 9th | Amy Doran | 70.92 |
After the day's flying had wrapped up, we all headed over to Alan's house for some sashimi (absolutely incredible stuff Alan!) and good times. One of the things that always dogs me in the winter months is the lack of festivals and the good people that go to them, so we spent a lot of time simply catching up on what we had all been up to over the winter months.
Sunday morning arrived, and once more with the breakfast fuelup and we were off and ready to go! Sunday's schedule was a little easier, with demos and practice lined up for the morning and an Indoor Hot Tricks Shootout on the agenda for the afternoon. Eight of competed in the Hot Tricks and I was more than a little surprised to find myself as the winner after we'd completed the event, and thus, I finally have a 1st place trophy for my mantle. There is still a twinkle in my eye over this one.
However, EASILY the best moment of Hot Tricks was John Barresi against Alan "Captain Chaos" Cunningham. For most people, I'm pretty sure a cold chill will settle into their hearts when they see they are up against John, however, Alan was WELL prepared. As his turn came up, he ducked into a backroom, only to emerge with a Wren "aided" by 10 helium filled balloons, which he proceeded to fly and trick, often with no strings at all! Truly an inspired idea that left everyone in the gym howling with laughter.
Open Indoor Hot Tricks
| | | |
| --- | --- | --- |
| 1st | David Hathaway | |
| 2nd | Jerry Cannon | |
| 3rd | Wayne Turner | |
Alan has produced a DVD for each of the festivals, you can contact him if you'd like your own copy to view, and check out some of the Northwest's hottest indoor flying… 5 dollars from each sale goes to HonkerTech for the the school's student programs! Pricing is $15 for a single disc or $20 for a double disc.  The double disc has the same performances as the single but encoded at a higher rate… Better quality SP as opposed to EP for all you videophiles.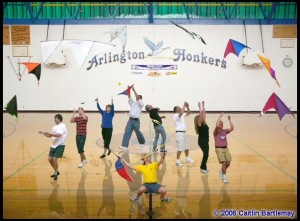 Captain Chaos and company really put on an excellent festival, I have definitely marked this onto my calendar for next year and if you are in the area you should as well. There may only be 450 people in the town, but, you'd never know it was so small as the town (Home Of The Honkers!) has a huge heart.
See you at the 3rd annual UTR,
David Hathaway