With a little wariness we woke up this morning, hoping to not here the howling of the wind against our window. And sure enough, Friday was a much quieter morning. That's if you think of 10-15 mph winds as "quieter" but in comparision to the gale force winds of Day 3 that ended the day early. We also had a later start today as there was merely the final ballets to be run, so after a 10:30 pilots meeting, it was off onto the field for what was going to be a very tight day.
Before competition began this morning we were treated to the 6-person routine that the Scratch Bunnies had been working on since earlier in the week… With six full sized Fury kite ripping through the sky, the Bunnies turned out an amazing routine that might very well have given them a 3rd place ranking if they'd been competing in this event.
Scratch Bunnies, plus James and Carl Robertshaw.
Speaking of scoring, it's been running so close across the entire 16 teams that one false step or one particularily good performance was sure to change the final rankings around a little bit. There was a light fog over the beach as well, that you can see in the single line pictures further below on this page… One dramatic moment came when Watnu, who had been doing very well throughout the event, had a collision that left one member on the ground for a heart breaking 20 seconds or so.
The winds remained consistent for the complete run of the teams with just a little misty rain towards the very end of the competition. Unfortunately, this sent most people running for the VIP tent where lunch awaited and many of us missed the Judges (with the exception of John Mitchell) and Field Director flying as a team on vented Furys loaned to them by Matrix Management and Flame… Flying some of the compulsories from the competition and a few "on the fly" moves, the judges team (led by John Barresi) was all smiles as a handful of teams stood behind egging them on and giving them their earned share of needling.
They hope to be repeating this feat tomorrow, so we'll make sure to snap some pictures for a future article… It's the first time in world championship history that the judges have actually gone out and flown together.
After competition came to a close, the judges met up at the Neptune hotel for a brief discussion about the event, shortly followed by a closed International Rules Book Committee (IRBC) meeting by the four present members… Mitchell, Barresi, Huff and Tatsuma.
Click here for complete Day 3 scores!
Following the IRBC meeting, staff and competitors gathered in the main tent on the beach for a post-event debriefing as well as an interactive question and answer session with the IRBC… What better place to pose questions and make suggestions?
One specific photographer (Hathaway) finally got a chance to sneak off and have a birthday fly with The Flying Squad and one particular judge was spotted tricking his heart out with the L'Atelier gang, which was a fine way to round out the final day of competition… Officially, happy birthday to David Hathaway!
Due to a quirk in timing with one quad mega fly going on as the dual line mega fly was just getting underway, we ended up with an incredible array of sportkites in the air all at once, presenting both the dual light side and the quad dark side all once to music… On the upwind side of the field, 12 quads and on the downwind side, a few dozen dual line kites.
As the day came to a close on the beach, people began filtering off the beach in order to get cleaned up for the banquet, held in a fair sized building called Kersal, just one block down from the casino. The banquet had probably close to 300 attendees, with free food and drinks for all of those who attended.
Dinner was a wide array of smoked salmon, cold cuts, salads of various kinds, all spread out on two long tables… Hovering near the end of one was John Barresi, who ferociously attacked the untouched plates before anyone else, and eagerly headed back to his table with a huge plate of food.
As the dinner wrapped up, it was time for the final awards ceremony… Many attending dignitaries from the city and surrounding area participated, the judges and staff gathered near the stage, the final moment of the World Sport Kite Championships had arrived.
Organizer Gerard Clement once again thanked everyone for being a part of the 20th Berck International Kite Festival and WSKC, then began reading the results in reverse order… In 5th, Watnu from Germany… In 4th, Air-Rex from Japan… And then the moment of truth came.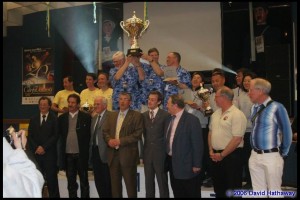 As each top three team was announced, their national anthem played and colored spot lights played about the room… Air-Rex looked overjoyed to have acheived a top three ranking, being the first time in a while that Japan had done so… Tame Bird was clearly disappointed after what is now their fifth (?) time in a row taking 2nd place at WSKC, and Cutting Edge was clearly proud to have brought the championship back to the USA for only the 2nd time in the last 13 years.
Having gained such an honor, Cutting Edge also announced their retirement… Coming up to this level of competition in only three years as a team, they've done the impossible, and are ready to retire.
After the awards had been handed out, the dance floor cleared and the party really began as funk and disco music filled the room… Nearly everyone in the house was up and dancing at one point or another, and we were also treated to FLIC popping out 5 foot quads to give an amazing indoor quad performance to French techno music. We'll never think of any gym we fly in as small after seeing the limited space with which these quads ripped around the room.
Wow, wow, wow… What a truly amazing experience, the European festivals (Berck in particular) have such a wide variety of people, kites and ways of expression… If you've never come to one of these things, it might just be time.
Thanks to everyone who's been checking in, reading, and supporting their home teams… They all deserve high praise for their dedication and efforts throughout the week, this event happens thanks to their drive for excellence.
If you've enjoyed these updates, I strongly encourage to you to sign up as an official Kitelife Subscriber… We're a small publication, doing what we can to promote and share this amazing community to everyone else out there in the world.
Until next time, we wish you all the very best.
**Article: David Hathaway & John Barresi**