Each month we'll be featuring one of the fine retailers who have been so supportive of Kitelife and other areas of the kiting community…The retailers you'll find here are established, proven vendors.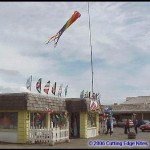 Cutting Edge Kites
676 Ocean Shores Blvd.
NW Ocean Shores, WA 98569
http://www.cuttingedgekites.com
Floor space:
About 1600 square feet.
Hours of operation:
We close Christmas and Thanksgiving day only. Our summer hours are 9:00 am – 6:00 pm Sun-Thur, 9:00 – 7:00 (or 8:00) pm Fri – Sat.
Years in business:
11 years.
Years advertising with Kitelife:
9 years, since your first day on line in 1998.
Owner(s) and/or manager:
Owners- Jim Barber (51), Monica Barber (43). Manager- Chris Casal (38).
Favorite food(s):
Jim, Asian.
Monica, Asian.
Last book read:
Jim Barber – Japanese made easy.
Monica – Rain Maker by John Grisham.
Favorite kite web site:
Kitelife.com
Favorite flying spot:
Ocean Shores , Great winds, great beach year around.
Specialty of the store: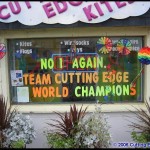 Our passion and our pedigree. Our passion comes from our extreme love of kiting. We caught the bug at Long Beach 13 years ago and have never looked back.
Our pedigree comes from years of competitive kite flying, going from novices to National Champions to World Champions. We mentor new fliers and guide them to whatever degree they want to embrace the sport. We pride ourselves on great customer service, and highly knowledgeable staff for all aspects of kiting, including top notch repairs and lessons on being a better flier or team flier.
Motivation for opening a kite business:
Absolute love and addiction to kites, and the people that fly them.
Most important advice ever received:
Never pre-judge a customer from their appearance. This advice has helped me in many ways, many times.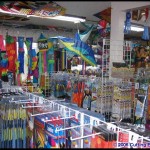 Nicest sale ever made:
We made an Internet sale to a man in Virgina, which included time on the telephone. About 2 months later a man walks in the shop and introduces himself as the man from Virginia. We were somewhat stunned, and ask him what brought him to Washington, and Ocean Shores. He said he had some family in Olympia, so I said then you came to visit them, and he said no, I came to see your shop, but I will also visit them while I am here. I will never forget that.
Best fringe benefit as owner/manager:
Buying kites wholesale!!! Also, if the sun is out, a nice wind blowing, I can go out to fly, you know, someone has to 'test' that new kite that just came in…
Favorite issue of Kitelife:
Team Cutting Edge wins at Lincoln City, Oregon. Don't know why I like that one so much. 😉 😉 😉