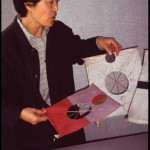 The historical record of kites in Korea dates back to the seventh-century Silla Dynasty, when General Gim Yu-Sin is said to have used a fireball-carrying kite to simulate a star. The general's troops, whose confidence had been shaken by the bad omen of a falling star, saw what they thought was the star shooting back to heaven. They rallied and defeated the enemy. Among sources that recount this legend is The Survey of Korean Kites by Ch'oe Sang-Su, president of the Korean Folklore Society, published in 1958 as the first in a "Korean Folklore Studies Series."
The Chinese-Japanese Library of Harvard-Yenching Institute at Harvard University holds an original copy of the publication; the DF Archive holds a photocopy. The archive is also adding, at the suggestion of kite historian Bob White, an edition (reissued by Dover in 1991) of Stewart Culin's Korean Games with Notes on the Corresponding Games of China and Japan, first published in 1895.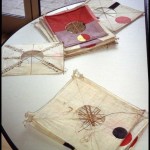 But what Korean kites does the archive hold? Because of an unexpected and delightful gift in 2000, The Drachen Foundation may hold the oldest specimens of Korean kites extant. DF Board president, Scott Skinner, describes how the fifteen kites, all more than a hundred years old, made their way to Drachen. "The kites were originally bought by or given to Georges Lefevre, French consul to the Orient in the 1890s. They passed within his family to his great-grandchildren, one of whom was Docteur François Fourrière, formerly president of a French kite club. Fourrière was unsure of what to do with these fragile artifacts, and was encouraged by members of Zoone Collectif to gift them to the Foundation. Ramlel Tien and Christophe Cheret helped make the exchange complete at the Art Kite Festival in Detmold, Germany."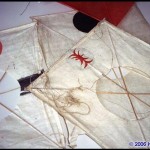 Not content with this historic trove, which is still in remarkable condition, with bamboo spars largely intact and paper sails strong and flexible, The Drachen Foundation has also been pursuing contemporary examples of traditional Korean kites. Doing so has not been easy. Executive Director Ali Fujino says, "It's very difficult to get accurate information or access, given the language barriers. We don't speak Korean, and few Korean kite makers speak English." But recently, through the good offices of DF friend Orly Ongkingco of the Philippines, the archive secured ten traditional bangpae yeon, painted in bright colors. Ongkingco knew that Drachen had been searching for accurate replicas of traditional designs. When he was in Korea for a festival, he commissioned the set from a Mr. Shin. The construction is of high quality and the colors conform to those of traditional signal kites.
Korean kites have been much on Drachen's mind this year. It commissioned from kite artist and designer Greg Kono a Korean-style fighter to use in classroom projects for intermediate and middle-school students reading Linda Sue Park's The Kite Fighters, a story set in fifteenth-century Korea during a New Year kite competition.
Drachen asked for a design not too remote from the traditional bangpae yeon but also suitable to the construction skills of young students. Drachen has tested the design in two school settings and plans to release a kit by the end of 2006. Kono adapted the same design when tapped by representatives of the Han Woo-Ri Festival, an event aimed at the Korean-American population of the Puget Sound region in Washington State, to construct twenty bangpae yeon to adorn the display tent.
Kono's design also helped Drachen respond to a request from an unusual source—MTV. One of its participants in "Next" (a reality speed dating contest) was to be a Marine who spoke Korean. Show organizers had decided that an idiosyncratic and surefire way for him to "get the girl" was to fly a Korean fighter kite. Fujino asked how long the contestant could spend learning to fly the kite. "Oh, at least an hour," said the producer. Fujino convinced him that these tricky high-fliers deserve more respect, that rather than flop as a flier, our Marine should decorate a kite with his prospective date, then soulfully inscribe something romantic on its tail. Two Kono Korean fighters were duly dispatched to Santa Monica.