Here we go AGAIN! On the Road to "My Next New Adventure!" Yeah – headed off to another Kite-Fest with a song in my heart, and a few bucks in my jeans… We've got the Northwest International Stunt Kite Championships at Long Beach, Washington this weekend. So, we got sun. We got wind. We got kites, and that huge, long beach… and we've got competitors and friends, too. There're worse things that can happen!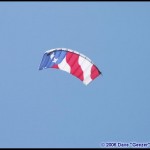 But THIS one is special, this time. No – not because it's a crucial comp, though it might be for some who're still in the hunt for AKA competition points. And Kitelife won't live or die if we make it to this one or we don't. No – this one is special because it's been there forever – or at least of 20 years – which is noteworthy… Especially so since this'll be the last one that Eric and Genny Forsberg run. Yep, those two very nice and so generous "youngsters" are finally "retiring" from festival organizing – after only 20 plus years of doing this stuff!
So, it's with those thoughts in mind that I fire up the kite-van and put it on the road again… Here goes another one!
After an easy two-hour jaunt to the beach, my first chore is to locate the condo unit I'm to occupy tonight. No easy task, that – since it's way out in the boonies this time. But I finally locate the place and check in, and find Barresi's left me a note saying "Indoor Tonight at the High School – 7:00 PM." Swell – so where's the High School? I check with the front desk and discover the High School is some 15 miles away, back the way I'd just come.
So I hop in the van and take it down the road again – only to find NO-BODY at the High School. Well… maybe it's where they'd held the indoor last winter – which (not very surprisingly) is right back where the condo is! Run back up there – only to discover THAT place is empty too! Confused? You bet! So I say "the heck with it" and head into town to find a bit to eat. And when I return, I discover the Indoor was at the Long Beach Elementary School – two blocks from where I'd grabbed my late snack – if only I'd known… Well, at LEAST I now know where the real "comp" Indoor will be held tomorrow night! Sorry, but I just gotta chuckle about it, here…
I wake next morning and we're headed to the beach again. Barresi and team have an early appointment for some pre-fest practice, which I skip, opting to feed myself some coffee and food – fuel for the day. Looks like I'll need it too, because today's gonna be a l-o-n-g one! We got Beach! We got Sun! And we got Wind! Boy, did we get WIND! It's kickin' up pretty good already, and this coast is usually kind of a "light-breeze" place on most mornings. Better get your Venteds and 150# line sets all tuned up, folks! And all that was what really happened… If you couldn't fly in big wind (15 mph or above), you had yourself some problems. All weekend! So, Novice Individual Precision (NIP), which started early, saw a number of new fliers struggling with their landings and groundwork. Yes – very predictable!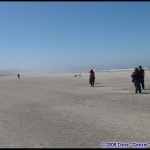 Still, event after event rolled along. Pilot's Meeting first, of course. Then Pit Bosses "bossed" and Field Directors – "directed?" Flights were judged and scored and recorded. And if you weren't flying or judging or otherwise occupied on the field, you found a place out of the wind in the Registration tent or nearly anywhere else. And by early afternoon, the "breeze" was blowing unattended beach chairs over, portable cabanas were threatening collapse, and contestants were making frequent runs past the bottled-water stash to re-hydrate themselves. A few jackets and windbreakers came off, but more than a few stayed on all weekend, too! Lunch was a grab-it-when-you-can affair. For $5, you got a pretty darned good sack lunch with a sandwich, a bowl of clam chowder, an apple, and some munchies – up on the boardwalk behind the dunes and out of the wind. And throughout it all, a few people were wandering up and down the beach through the worst sand in creation (almost like walking in flour).
Special mention needs to be made on behalf of the stalwart efforts of young Tristan Underwood from Vancouver, BC during his Novice Individual Ballet routine. Tristan is just 9 years old, and can't weigh much more that 75-80 pounds. He was flying his Red Sea Devil in ballet when a gust of wind came up and got the better of him. Suddenly, Tristan found himself sliding through the sand on his chest, with a fair amount of sand going in his nose. Tristan hung in there anyway and controlled his kite (I'm not sure if it actually grounded or not), and finally recovered to complete his Ballet routine. Tristan got a rousing ovation when it was finally over, and didn't DQ in the process! SUPERB JOB, Tristan! (…and Tristan said he was very thankful for the "lack of wind," during the Indoor event later on that evening, too!)
Late in the morning, I took some time out of the wind and moseyed on into town to chat with Dave and Keli Colbert, co-owners of Above It All Kites there in Long Beach, who'd helped sponsor this event. Dave and I yakked a bit about a pretty Premier Red Oval Roller I'd purchased from him, and also about this NWSKC event this weekend. Then I headed across the street to see Jane Holman, one of the owners of the Super 8 Hotel there in Long Beach, who will be Kitelife's hosts during the WSIKF week this coming August. Jane is a real peach, who has always been very pleased to be involved with any of the Long Beach events – including all the Kiting events. With most of my "contacting and schmoozing" chores completed, I headed back to the beach again. Yep, they were still flying comps out there…
On the "plus" side of this big-wind – all events were completed successfully, and I didn't hear of any kites or people seriously harmed. We've attended this same competition in years past where competitors had been literally "blown off the beach" by winds in excess of 35 mph! Yup – a few years back, Eric Forsberg flat-out cancelled the comps when the clouds of blowing sand got above waist level and you couldn't keep a hat on your head. So, we were somewhat thankful for the "reduced" winds this year, and at least we got it all in, this time! Still, it was nice to finally quit the field at the end of the day's events, find a hot shower and a cool drink, and fuel up for the Indoor Comp in the evening. And some of the competitors sure looked to be a bit broiled by the sun and sand-blasted by the sand-clouds. Tomorrow would bring the final individual events, the Pairs and Team events, plus the ever popular Mystery Ballet if there is time…
As we arrived at the Long Beach Elementary School, we noticed a long table full of T-Shirts right at the front door. A close examination showed us a display of T-Shirts for each of the last 18 years that Eric and Genny Forsberg had produced the NWSKC (missing only the first three years of NWSKC, when the competitions coincided with the Washington State International Kite Festival WSIKF, so no event shirts were made for those years). Quite a nice visual reminder of all of the efforts of these two fine people. Eric and Genny will certainly be missed over the coming years, though they vow to keep on attending some events – they just won't be involved in event production in future years.
Somehow, all the pilots seemed "energized" for the Indoor competition, though it would be relatively easy to claim exhaustion, or at least "tiredness," after the day in the wind and sun. Still, all contestants were in good spirits – and I was delighted with the variety and complexity of the Indoor routines the fliers offered. It's easy to say that it's just what is "expected" of indoor competitions, but only four or five years back, a successful Axel was a noteworthy accomplishment at some Indoor competitions. This year, we also saw flic-flacs and cometés and plenty of other difficult and complex maneuvers – integrated right into some well-choreographed ballet routines. As Ray Bethell would say – "Good Stuff!"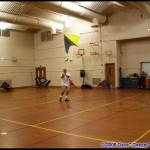 There was one instant, however, when nearly everyone had their hearts in their mouths. Mario Di Lucca is a fairly new comp pilot from Victoria, BC, and he was flying his indoor routine and was walking backwards when his kite seemed to get away from him – so he speeded up his backward motion, and tripped and fell, hitting first his bottom and then his head with a resounding "Thunk!" Fortunately, Mario bounced right back up on his feet, none the worse for wear, and assured everyone that he was fine – which fortunately turned out to be true! Whew!
Indoor comps were eventually completed, everyone had a good time, and NO serious problems or injuries occurred! And so, it was time to head back to the condo and some much needed rest. The morrow would bring more flying fun on the beach!
Sunday was pretty much a repeat of Saturday from a wind and weather standpoint. Plenty of Sun and plenty of Wind again – so here's a little more time to fly your vented kites, folks. And fly they did, too. Master's Individual Ballet (MIB) started it all off, then going on through dualie and quad Pairs and Teams, plus the Outdoor "Innovative" event, and it turned out there was even time for Mystery Ballet too. We saw good performances from most of the established pairs and teams, and some interesting and exciting work from a couple of groups just in the "gestation" stages – which is always nice, since that means new blood coming along and new ideas, and new routines will make their way into these competitions. Particularly interesting is the first new Quad (multi-line) team in the Pacific Northwest for quite a while – named "iQuad." It will be interesting to watch that team grow in the future, and to follow what will occur in terms of competition for this team (and perhaps any possible team spin-offs).
Finally, all events had been flown to completion and scored, and it was time for the Awards presentations outside the Registration tent. It was therefore, VERY special to have the Frosberg's children step in and interrupt the Awards by giving some awards of their own to their parents. Much was made of Eric and Genny's efforts and tenure in the sport of kiting, and with good reason. The Frosbergs have literally been "whatever it takes" supporters of the sport – not only of the Northwest Sport Kite League itself, but of kiting in general over at least a quarter of a century. What a phenomenal couple, and what a legacy they've given to kiting over all those years! And, in addition, they're two of the honest-to-God, NICEST people you'll ever find in Kiting, and that's really going some…
Check all the Competition Scores for the 2006 NWSKC by clicking here.
Well, this "Wind-Fest" was finally over. Sure, folks who had short drives took the time to fly a bit longer, but those who traveled distances packed up and headed out. Barresi and I dawdled a little bit, but eventually headed home too – though with a stop along the way to re-fuel Hollow Legged John, who was convinced he'd surely perish before he arrived home without some kind of meaningful sustenance! But, we rolled into the parking lot in plenty of time for some Kitelife work and a little relaxation before bed. Another one in the bag, and in the record books! Done Fest!
Dave "Geezer" Shattuck