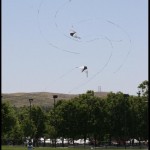 Under aqua clear skies and warm temperatures, the San Ramon Art & Wind Festival took flight with practically a six-ring circus to offer the Memorial Day weekend crowds spanning Sunday May 28 and Monday May 29, 2006. Of course, if your friends are not into kite demonstrations, they have a choice of browsing art booths, watching on stage international dancing, a kiddy petting zoo, a skateboard park and other kiddy activities. The Monday morning hot air balloon launches are awesome, but you better get your carcass out there very early!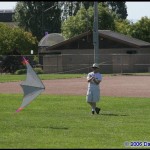 The Northern California Kite Club in conjunction with the Bay Area Sport Kite League arranged the annual kite fest occupying two baseball diamonds with one for the single line fliers. We had everything going for us including a daily hearty breakfast and coffee for us kiters. Our public address announcer, Arnold Stellema, kept the show at a lively pace, with his enthusiastic commentary and personality. However, trouble was brewing with the San Ramon winds and morning was the worst. Yet, with our prestigious fliers and award winning kite teams, they excelled in keeping their great demonstrations aloft.
John Barresi of Kitelife.com came in from Oregon to treat us to a variety of his unusual techniques including flying a Revolution kite backwards! Here, the fly line is swung around a short pole and brought behind the kite and manipulated far differently than with regular flying.
Masters team ballet, "Too Much Fun," "Bi Dance" and "AirZone," presented outstanding intricate precision flying throughout the day. Also on a team note, Mark Lummas from Too Much Fun organized an 18-kite mega Revolution fly which coaxed many "ooohs" and "ahhhs" from the crowd.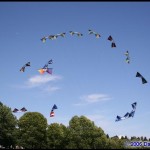 Penny Lingenfelter, accustomed to indoor flying, faced no difficulty confronting the 2 mph winds. Using a short fly line, she dances with her Revolution and changes into different whimsical costumes reflecting her wide-range choreography. Being the Memorial Day holiday, she brought out her patriotic Rev saluting our nation's heroes.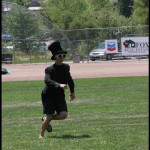 Fourteen-year old, Alex Herzog, the "boy wonder" as he is sometimes called, also wooed the crowds with quick and fast kite tricks and included a 360 circle run to keep the kite aloft. John did many runs too, and golly can those guys sprint.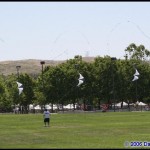 Multiple kite flyer, Carl Bragiel from Oregon knocked 'em dead with his three black and white kites with matching tails trailing the wingtips. But unlike Ray Bethell, his middle kite is attached to a chest strap. Mrs. Lisa Bragiel helped him with ground crew duties and at one point, when the kites went slightly slack with two drifting to the ground they were re-launched to continue with his top-notch ballet routines.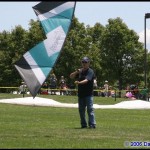 Traveling the furthest to be at this event for the first time, David Hathaway came all the way from Vancouver BC to see the show and perform with his quad line kites.
As a new flier on the scene, I anticipated my first contribution to this kite festival in presenting several demonstrations that I toiled over here at Ocean Beach. Passing spectators often came up to me amazed and charmed over these routines. So, I relentlessly rehearsed all of them with two of the demos involving a 100-foot rainbow tail swirling directly to dynamic music. One ballet segment was more suited to Johann Strauss's, "On the Beautiful Blue Danube," using the red, pink and yellow Kestrel kite with two 45 foot red Trilby tube tails attached to the wingtips and a 100 foot tail attached to the spine. Studying Ray Bethell's flying was like being at a kite academy that launched a high powered motivation to acquire near perfect choreography, inspired of course, by the musical scores sounding awesome through my headphones.
Practice sessions took on a whole new perspective as I added fancy footwork to parts of the music where appropriate. Music editing was tedious, as all the pieces needed reduction down to four minutes then transferred on a CD for the public address system. Now, a golden opportunity to show off a glorious routine had arrived . . . or so I thought.
Two major drawbacks lurked beneath all this euphoria. For one, I was in self-denial that my kite collection would never let me down. I loved the inexpensive "el cheapos" that never sold higher than $100.00. The champions use expensive kites including the Revolutions you see embellishing the arenas with optimum performance. My kites perform well, but are temperamental cusses that fly happily in 11 to 18 mph off shore winds. Off shore only! However, the Breeze kite is designed specifically for winds below 8 mph, while the diminutive Prism Micron flies wildly in the 19 to 25 mph range. Being an extremely fast kite, it has a "rascal attitude" so you better watch your manners. On the other side of the coin, the Kestrel is the most expensive in my closet and is happy with medium to strong winds, but flies slower than I prefer.
The second drawback was feeling comfortable with the faithful smoothness of beach winds resulting in a false belief that the San Ramon winds would be similar! Their kite festival is situated amongst beautiful rolling hills and valleys. Buildings and trees do not help either for winds are constantly disturbed. Many fliers noticed those tiny white cottony things coming in from different directions and created a possible vortex right in the middle of the flying field. For instance, banners waving toward the west would switch in seconds then go flapping toward the east. Could I handle this rude awaking if confronted with rude winds? If so, what measures will I take?
Now, it was Sunday, May 28 and I was scheduled to fly in the afternoon. Winds kicked up giving me a false indication to set up my impressive Kestrel kite. "What a show everyone will enjoy," I told friends. However, I sensed a foreboding as Bartlett helped me attach the three red tube tails and stretch them out on the field. Seconds later my name was announced as the next flier including a short introduction as a member of the Ocean Beach Kite Fliers! The orchestral piece, "On The Beautiful Blue Danube" filled the warm and sunny atmosphere with the Kestrel and its tails rising majestically and elegant. I was thrilled. Within moments, the wind velocity changed! The Kestrel lost altitude while I hurried back pulling on the line! Up and down she drifted. Up, down, up, down as it repeatedly cussed the winds. Music halted when I hollered, "Tails off!" Bartlett ran to remove the tails then once again my name was announced and the music resumed. Still, the Kestrel detested the low wind and after three tumultuous minutes, my whole artistic routine swirled down the drain.
I cannot remember a more embarrassing experience, but wove a comedy skit out of the situation as if it was part of the show. It was a howl all right. Spectators lovingly applauded the effort as Bartlett, a great guy, brought everything over and revealed his personal experience when he first flew and we cracked up laughing. However, when I disassembled the misbehaved brat, I groaned, "When I get you home, you better say your prayers."
I must be a die-hard or a sucker for punishment when seeking out a second attempt at flying a demo. This time, I eliminated all tails and set up my faithful standby, the Breeze. Now, it was late afternoon when once again my name was announced as the next flier. I gave Brian Champie a 4-second crash course on camcorder operation and hoped that he could film this for kiting posterity. My hands were sweating and butterflies took over as music started to Vangelis's "Antarctica."
The Breeze soared up and looked decent, but the stronger wind velocity was not acceptable for this type of kite. It handled the strain, but looked injured on the right lower leading edge but courageously flew on. A sigh of relief swept over me that caused a sudden dryness in my mouth as if all saliva had disappeared. I never experienced a dry mouth, but this resulted in pure anxiety over this "do or die" mode. Suddenly, I heard a snap and everyone's groans. The lower right leading edge broke apart and flopped like a rag doll. "Holy Moley," I grumbled. I glanced at Brian filming me and continued against all odds using fancy footwork and smiles as if nothing happened, but sending one thought to the injured Breeze: "Keep going you turkey!" Once again, another original routine hit the dirt. Gracefully, the "old standby" drifted down with the music and took my bows to a round of applause.
The next morning in the Marriott Hotel breakfast room, I was admiring the rows of stately Redwoods moving slowly in the stronger winds. A friend chuckled with me as we enjoyed our omelets and reviewed the fiascos assaulting my first flying demonstration. Both were unexpected performances not needing rehearsals, but this mixed in with the other talented fliers, was a riotous outcome to remember.
As a gutsy lady, I found success after all in practicing the following rule: A new kiter should never give up even when the wind throws you a "mickey" and your kite pulls a ratfink. You will always have another opportunity to fly your best and hopefully, the "fink curse" will have lifted. Or, just write up an article like this one and get even!
My bad luck aside, the San Ramon Art & Wind Festival proved to be a wonderful show, bringing a wonderful community and top notch performers together in the same place.
Thanks to organizer Brian Champie and all his amazing volunteers for keeping one of the finest events in North America going strong.
Joan H. Laurino