I suppose I go to enough kite festivals now that I'm getting somewhat jaded by it all – or at least the festivals don't get me quite as excited as they used to. Yes, each fest has its own special "flavor" (for lack of a better word), but some have more "flavor" than others these days. Hmmm… maybe I'm just getting old?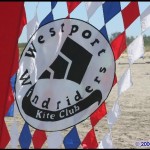 Still, by the time early July rolls around and the Westport Windriders Fest is imminent, I'm more than ready for it to happen! Why? Well – other than that humungous show that is WSIKF – the Windriders' annual summer kite party has traditionally had more big "show" stuff than anything else in the Northwest – which means I get to see some folks there that I haven't found anywhere else this summer.
So – we're off, this time to camp (Yup – tents, sleeping-bags, and all) at the Twin Harbors Beach State Park just south of Westport, Washington – and to fly at Grayland Beach on the Pacific coast. It should be lots of fun, and we'll get to see some truly spectacular kiteflying, too! Sun, Wind, competitions, and show-kites means good times in my book. Besides, it's a relatively easy journey.
With one thing and another around home I got a late start, so the kite-van didn't show up at the campground until around 9:00 PM on Friday night. An easy trip, just a late start is all. But a quiet party was already underway when I arrived, and there were Hot Dogs for roasting and marshmallows too, and a place to set up the tent and roll out the sleeping bag. And a whole bunch of good friends, of course. And it turns out that old kite-buddy Dave Harper and his partner Tanis had the campsite right next door – and there were probably another half-dozen kitefliers I've know over the years in the campgrounds too. So our "group" (amounting to eight people) was back among kite-friends again. Good food and good friends made for an easy, comfortable evening at our campsite, but we were off to bed early in order to be up 'n' at 'em first thing in the morning so the pilots could get a little beach-practice in before the comps started.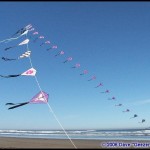 As advertised, they were up and out early, and already 5 miles down the road at the beach. I took a little time, and then got off to breakfast at my favorite little Westport diner, called "The Diner" of all things… What an original name! Eggs and Hash Brown went down easy with my Coffee and sustained me through the day, and I was soon ready to hit the beach too. I followed on down the road, then parked next to the Comp area just north of the access road, but certainly NOT on the beach itself. I've learned the hard way not to get a Dodge Caravan, with its front-wheel drive, mired in the soft sand on Pacific beaches, thank you. (Before the weekend was over, we'd helped push several cars out – a couple of them resting on their axels before their "extractions" began.)
Anyway, I wandered over to the competition field and saw that the Northwest Sport Kite League (NWSKL) was nearly done with the Comp-field set-ups, and I hung around for a bit and saw the Pilot's meeting convene, but I decided not to stick around. I had other fish to fry today, and the "show kites" called to me. So I grabbed the digital camera and a few other pieces of miscellaneous gear and headed off the other way to see some Single Line Kite (SLK) folks. No wondering where they were located either, since their displays were already filling the sky to the south. Yep – must have been 100 SLKs up there in the breeze…
Oh yeah… the weather report! It was bright sunshine, 4-8 MPH breezes, and about 65 degrees when I arrived, and would remain like that for the entire weekend. I mean, it'd get warmer during the afternoons of course, and the breeze would pick up a bit, but there would be NO threat of rain, nor any clouds, nor any major wind variations (other than a normal shifting on the compass) throughout the weekend. Altogether delightful weather – just like summer is supposed to be!
So I was headed on down the beach, really looking for Jerry Graham and his partner Glenda Kleppin. Jerry had "volunteered" to help me tune a big cellular box-kite I'd purchased – that flies well, but flew skewed sideways a little. Jerry is one of those "good old boys" who at first poo-poohs his own expertise when it's mentioned, and then proceeds to demonstrate how knowledgeable he really is when it comes to flying SLKs – and he does that every single time!
But before I reached Jerry and Glenda, I saw Miriam Schafler out on the beach, and I knew that her pal Ellen Pardee had to be somewhere close by. Sure enough, there was Ellen – right next to Bob Serac and his beautiful banner-farm. She's one of those VERY good people I've met in kiting! And I said "there was Ellen" but I really should be saying "there's what was left of Ellen," since she'd dropped about 70-80 lbs, and about 15 years in the process, since I'd last seen her. I asked her where the "rest" was, and told her to "stop losing Now" because it bothers me to see someone getting younger – especially since I'm in danger of being passed if she continues on down the wrong way! Lots of laughter at that, of course.
Kites! WE're talkin' KITES, here! (Oh yeah – sorry – I guess I got carried away.) I headed on down the beach, now shooting the occasional photo as I pass. The day was already glorious, and so were all those lovely SLKs hanging up there! What FUN! Within a few feet, I happen upon Jerry and Glenda's old bus, with the pickup they tow parked right nearby. Further to the south were Don and Joanne Lord, down from Vancouver, BC who we would run into when we traveled north to the Steveston comps later in the month. And so it went, with people I'd already met and new friends I'd not had the pleasure of meeting yet, but who would treat me like we were long lost buddies within five minutes of an introduction. Eli and Bernice Williams. Ron and Marla Miller. And so forth – and so on – throughout the whole weekend.
So I finally met up with Jerry Graham, and he was busy setting kites – then pulling them down and re-setting them again when the variable winds changed direction. I jumped in to help and we chatted about this and that in passing, and kept a half a dozen kites in the air for the most part – a Rok or two and a pretty Conyne Delta, and some others. Soon, the breezes picked a direction and steadied-up and we were done tending kites for the moment. Then it was time to say hello to Glenda, who had her dog "Suzie" (a miniature poodle) up in her chest-pouch. While we chat, she started this Mother-To-The-Universe "feeding" thing she does, so I ate a smidgeon just to keep her busy and we chatted some more about kite people we know… Next thing you know, I've spend at least an hour with them, doing "this and that" and discussing "the other," and I've still not even mentioned the cellular box I've brought along to get Jerry to help me "tune" it.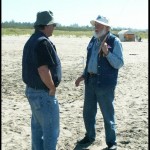 Rather than get into that discussion, I figured I'd best get back to the Comp area and see what's going on up there, so I took my leave and started to head back up the beach – and Jerry decided to come along. On the way, he stoped to say hello to John Freeman, who I've been hearing about for ages, but had never met… Naturally, Jerry introduces us, and we share some of the delights of just "being here" in this exhilarating weather and among real, Honest-To-God kitefliers! What a nice man he is, and all of a sudden we're old pals – just like all the other kitefliers – within a couple of sentences apiece. I still kind of wanted to get back up to the comp area though, so we didn't chat very long – but I left John and Jerry talking together and headed on north again.
I no sooner got to the comp area than I sensed some activity further to the north. It was going to be "judging" time among the kitebuilders soon, and Rob Pratt was busy setting up for the kite ascensions and the judging. Sure enough, I turned around and there was a whole "gaggle" of kitebuilders heading up the beach behind me with all manner of kites in hand (and a few in tow)… So the builders did their thing up there while I wandered among the Sport Kite folks, saying "Hi" and meeting and greeting.
Now, I'd truly love to tell you that something marvelous happened right about now – mostly in order to justify my writing this report and even being there at this festival in the first place. Unfortunately, that would just be a fabrication. Yeah, I spent most of the festival just wandering up and down the beach and shooting a few photos and "hanging out" with my fellow kiters. What a superb weekend! If I had to "design" a weekend for myself, I couldn't have asked for better!
I did manage to eat an Italian Sausage and get a cup of Lemonade from one of the vendors, and gobble some left-over chips I had in the car, and I even remembered I'd filled up on coffee at The Diner so I polished it off before it got too cold. I also watched a few comps, and yakked with a few more dual-line pilots and their friends and family.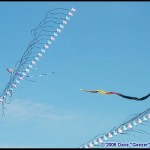 While I was up at the competition area, I happened to notice someone flying "stacks" up to the north, so I trudged on up there to see what was going on. Yup, someone – actually two "someones" – had 24-stacks of very old Trlbys, and they were up there working them out and putting on a show. I got a few decent photos, then walked up to talk with them. Apparently, the couple used to fly the Trlbys competitively, but have been out of competition for several years and they were just out flying for fun that Saturday (though they MAY decide to get back into competition again – they weren't really sure).
And, I also grabbed the "Treczok's Classic Box" – that cellular box I've mentioned earlier – and Jerry and I managed to assemble, fly, and adjust it so it flies perfectly now. It turns out that the kite's bridle was misadjusted just a tad, and Jerry corrected its "bad behavior" by moving one leg slightly. It's always nice for me to have an experienced fellow like Jerry around when I run into kite problems like that. I'm always a little reluctant to modify or adjust a new kite at first, figuring that the manufacturer knows more about how that kite should fly than I do – and so I'm also somewhat amazed when I'm wrong on that score! Thanks a bunch, Jerry!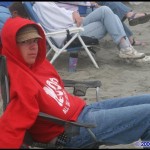 Eventually, the comps and the wind sort of died down together, and people began to head for their respective lodgings to get in a shower and a change of clothes before they all headed out to the evening's "Banquet." We'd received notice early-on that the banquet was catered for the first time in recent memory. Kite Banquets – like the kite festivals themselves – are all somewhat unique. The Westport Windriders' banquets have always been especially joyous affairs, and this year's dinner was no exception. Good food, good camaraderie, an excellent awards presentation (for both kitemakers and competition pilots), an outstanding "bag raffle" and a fun auction! Barry Crites acted as our Raffle-God and Auctioneer again this year, and hasn't lost his touch at all. Anyone who didn't have a good time, or didn't get enough to eat – simply wasn't trying!
Still, we'd had a delightful, though busy, day of it, and would likely have an equally fine time tomorrow. Maybe we all should just head for the abode and get some much needed rest. It'd probably come in handy in the morning. Yep, we figured that out all on our own and acted accordingly – and regardless of the fun we'd had, those pillows were sure mighty welcome…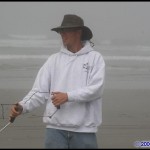 The next morning brought equally fine weather, though perhaps a few degrees cooler – otherwise, no changes. As expected, the comp pilots in our group beat feet for the beach and some team-practice that Sunday morning, while I was on my own for a quick breakfast and some much-needed coffee. I suspect part of our competitors' thinking had to do with the need to break camp and pack everything away, but all of us who were left at the campsite got out of there in good time and good order. The real action was at the beach again.
Today was Pairs and Teams day in the comps, and iQuad, the new quad-line team, would be showcasing their Rev skills again, along with several Pairs, plus flying as Team TKS Mid-Air, the majority of whom stayed in our camp.
On the SLK side, Sunday saw a much diminished kite display, since many of the fliers chose to cut it short and travel home on Sunday rather than launch kites, only to have to pull them down again at mid-day and rush for home. Still, there were more than an adequate number of SKL fliers in attendance, and those who stayed and flew enjoyed the same excellent weather we'd seen the day before. And I did my normal routine – walking up and down the beach, chatting and shooting photos – just at a more leisurely pace this time.
And before you knew it, the comps were done, the NWSKL was busily tearing down the comp field, and the SLK gang was busily pulling down their kites, packing 'em up, and stowing away. Soon it was time for all of us to hit the road as well, but not until our group had made a stop for a bite to eat and some more easy camaraderie together. All in all, it was a superb weekend.
To view the results of the 2006 Westport Windriders sport kite competitions, please click here.
John and I had an easy time of it on our way home and encountered no traffic problem to speak of. John wouldn't know much about that though – he slept most of the way home. Well, another fine kite-fest in the bag! We sure had fun at this one.
Dave "Geezer" Shattuck