You might already be asking yourself where in the world is Port Colborne, Ontario? Today it's a small city of approx 18,000 people and is situated on the northern shores of Lake Erie. It's very close to Buffalo, New York. Port Colborne is a community truly steeped in history. First Nations people lived on the shores of this area for thousands of years prior to any European arrivals. During the war of 1812 a battle was fought and lost on Sugar Loaf Hill. So named "Sugar Loaf" because the shape of the hill reminded the inhabitants of a tasty loaf from back home. Since 1833 the city has served the marine trade of the very busy Welland Canal. During the late 1800's the rich and famous helped to make this a very popular summer resort destination. As time went on flour milling, natural gas deposits, and even nickel and silver trades became a part of Port Colbornes deep history. So now you know a little about the cities location and history lets talk about Canal Days.
This was the fourteenth installment of one of Ontario's top kite festivals. Bob and Chris White and Vaino Raun head up this huge event. The entire Niagara Wind Riders Kite Club also fills in with tons of help and support. It's truly a team effort that is required to make sure all aspects of the day get covered and delivered. It's a highly organized event that features a nonstop show of various kitefliers on a designated demonstration field. Bob White is the lead announcer every year. A large variety of kiting interests are given equal time to show off their stuff to the estimated 8,000 visitors. Over 80 kite flyers attend each year from all over Ontario, New York and Ohio. From Stunt kite teams & Quad line demonstrations to teddy bear drops, traction kiting, Rokkaku battles & large inflatables bouncing about the field. This year there were two very unusual items were added to the demonstration activity list. A kite flying chicken and a rotor kite that actually creates electricity while flying. Yes, trust me this is for real!
On Saturday night just prior to the event a night flight is featured. It is always a popular event with fliers. There is music being pumped out of a sound system while floodlights and lots of shimmering tinsel & mini lights hang off of the kites. The night fly is really a great way to meet and fly with other kiters prior to the big event on Sunday. This year winds were pretty much nonexistent for night flying. A few of us decided to run and launch our kites up into the sky. Floodlights soon hit the kites but they only managed to stay aloft for short periods of time. This event has been spectacular to watch in the past so next year should prove to be much better I'm sure.
Sunday morning finally arrived and all looked good for flying! The wind that proved so elusive during the night flight was back for some fantastic daytime flying. Several of the kite fliers managed to anchor and fly several kites at the same time. Bill Peart and Kerry St Dennis flew some great stunt and quad line demonstrations for the crowd. Dennis Ische flew several single line kites including a new banner set with the words "Kites Are Cool". Lam Hoac wowed the visitors with his award winning multi line routines. Eric Curtis revealed his just completed windmill. Eric Curtis and Anne Sloboda's celtic themed kites are well known to Southern Ontario flyers. Meg and Bill Albers of New York brought along some of their huge Peter Lynn inflatables for all to enjoy. Both the demonstration field and general flying area were kept very busy.
2006 also marked the return of Adrian Pierorazio to Ontario. Adrian's is well known as one of the first people in Southern Ontario to sew appliqué onto kites. He has also experimented with other methods of applying artwork to ripstop. Some of Adrian's single line kites include a Kokopelli themed Rokkaku, and an appliquéd House Genki. Look for the Rok and Genki kite photos in this article. Note that the Kokopelli kite was painted with a Kool-Aid and water mix. . It's nice to have Adrian and Family back home!
The first special guest of the day was Miss Ohio, a Chinese silkie hen. A true show chicken that has taken the first prize ribbon at the Milton fall fair this year. Miss Ohio had promised to fly her kite at Canal Days. See attached advertising as posted on the net.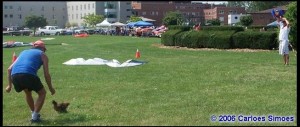 Kerry Kucharenko owner and sole trainer starts by attaching a small body harness on Miss Ohio. The kite and line are then attached to the harness. Volunteer Pete Rich holds the kite downwind in ready position. Kerry holds his favorite hen in place and offers a few words of encouragement. The flying method is actually quite simple. Miss Ohio always follows Kerry wherever he goes. Kerry simply releases the hen and jogs away. She of course runs after him with kite in tow. A local female reporter was almost run over by Miss Ohio when she made the error of crossing the path between Miss Ohio and Kerry. The site of a chicken running across the field flying a kite sure generated lots of applause and laughs. This truly amazing feat was a huge crowd pleaser.
The second special guest was not another chicken but a Rotor kite. The Magenn Airborne Rotor made its premier appearance at Canal Days. This Floating Wind Generator was designed to deliver low cost electricity. The Air Rotor is filled with helium and rises on a cable to steady winds in any location up to 1000ft or more. The structural shape permits multiple sizes from small kilowatt units to very large megawatt systems. This lighter than air rotor rises into the sky from a tethered position. As the rotor rotates shaft torque is created. Generators are attached to both ends of the axle providing electrical energy. The electricity travels down both lines to a transformer on the ground. It's great to see a new alternate energy source in the form of a kite! End uses of this rotor would include emergency deployment and disaster relief. These rotors could be easily brought in and provide electricity in areas hit hard by hurricanes like Katrina as an example. You can check out the website for more info.
Towards the end of the day I walked over the nearby bridge and got some really great shots of the Marina and kite festival from a distance. Look for several of those shots in this article. As the festival wrapped up the Niagara Wind Riders got things ready for dinner under the nearby shelter. The food was great as always. The raffle prize draws added some more fun to the event. Several plaques were presented to flyers for plenty of various reasons. Plaques for the person that traveled the furthest or a crowd favorite kite are common awards. The plaques have images of very old magazine covers featuring a kite of course. It's a nice way for the Wind Riders to show their appreciation to the kiting community. We all know that the social aspect of kite flying is just as important as the kite flying itself.
The event was over for most of us flyers but the Wind Riders still had work to do.
The very next morning they would set up to host a kite workshop for children. It's really a nice way to get the next generation interested in flying. So year fourteen is over and I look forward to see what's new in 2007.
     Carlos Simoes