Well, we're off again… On the road, headed to little old Lincoln City, Oregon this time, one of our favorite places in the whole world to fly kites and enjoy life!
Why is Lincoln City a favorite? Well, because the Lincoln City Visitors and Conventions Bureau in that fine city supports kiting better than any other city we've visited, and that's probably a better reason than any other we can think of. Oh, the venue – the "D" River Wayside isn't all that much to crow about. We've certainly seen better flying fields. But we know ahead of time there'll be plenty of people coming to see us fly, and most of the amenities Lincoln City has to offer are at our disposal (and THEY do most of the work), and the food, pottables, and accommodations are more than adequate. We'll do just fine this time – weather permitting, of course. Besides – it's "just kites" after all, and we're always up for a little fun with kites!
So we hit the highways on Friday afternoon for the hundred mile drive over to Lincoln City, and arrive at our lodgings in as fine form as can be expected – only to find John Barresi and other members of team iQuad members already out back of the house in the midst of a "line-making party." Well, we settle in, get our sleeping arrangements sorted out, and integrate with the troops while they finish up making some more 120' line-sets. We've a festival to enjoy – starting with a reception at the Nordic this evening.
After a brief wash-up, "the herd" heads over to the Nordic Inn for the opening reception, and run into our old friend, Dawn Bradimus, who is the Inn's manager. Such a nice lady, and a real supporter of Lincoln City activities. And it's things like this reception that make Lincoln City so unusual, and pleasantly so! We also run into about 50 of the Northwest's best kiters – a bunch of single-line folks, a couple of banner makers, some kite-demonstration gurus, and a bunch of multi-line pilots. So we all enjoy each others company along with a nice repast, and the festival is already underway in excellent style, and nobody's even hit the beach yet.
Saturday morning breaks with a bit of drizzle, extremely low overcast, and darned near NO WIND! Ouch!!! Things don't look too hot for huge crowds and fun times, but we go to breakfast anyway, this time at the Wildflower Grill just north of town on US 101. I gotta say, if we ever have to be held captive in some town for some reason, but free to roam within the boundaries – PLEASE let there be a Wildflower Grill within the city limits somewhere. The food and service in this place are "outrageously" good, and we tuck into our breakfasts both as "fuel" for the day and as an exercise in self-pleasure this time. Then it's off to the "D" River Wayside, right in the center of town.
Yep – things're already underway by the time we get there. The sound-booth and registration and kite-making tent is erected, staffed, and functional, and the 30-40 people who will help run this festival are already out on the job. And I get lucky and find a parking-space close in, so the walk to the beach (maybe 100 feet?) is more than acceptable. First thing, our good friend Ron Sears who does much of the event organizing for the Visitors and Conventions Bureau, hands me a packet with a lanyard, a name tag, and a bunch of coupons for several food and beverage places around town. Nice touch, Ron. Then it's down to the beach!
"The Beach" in Lincoln City isn't all that unusual, but at the festival's location it's kind of narrow, being maybe 200 yards wide at high tide. Plenty of room to fly kites, assuming there aren't a few hundred people milling about. But today, that's roughly how many souls happened to be wandering around out there. In addition, the beach is cut by the "D" River – actually the world's shortest river – and in reality it's the outlet from Devil's Lake which is just across Highway 101 from the beach. Well, the "D" River wanders a bit. Yeah – it meanders side-to-side, cutting through the beach for a couple of hundred feet wherever it chooses. And today, it's created an "S" curve for its channel – coming out under the US 101 bridge, turning south for about 200 feet, then easing west again out into the Pacific Ocean. Which means that the "D" River is cutting right across the middle of the beach, and our flying area. So throw in the crowd, the wandering "D" River, and a lot of low overcast, coupled with marginal wind at the moment, and you get conditions somewhat less than optimal for the kite-flier! Still – we'd "make do!"
And at this point, our narrative gets a little hazy, folks – not because of any extenuating circumstances – just because kite festivals like this one normally have a half dozen things going on simultaneously. So you'll get what I saw and photographed in the same sequence I ran into them, rather than on any set or "choreographed" schedule of events. Just so you know… Okay?
As I head for the beach, there's a veritable throng of folks huddled around the registration/kite-making area up on the sidewalk just off the parking lot. Folks are making kites, and fliers are checking in, and the rest of 'em have requests for information or whatever… The "kitchen" over near the restrooms have their fires lit and coffee and breakfast munchies are available. And between the north end of the parking lot and the veritable "D" River, Bob Serack has planted about 30 of his very best banners, all for show. And down there on the beach, the fliers are assembling kites, with a few already airborne, the demo fields are all laid out and functional, and there's music roaring out of the speakers, so we know we have tunes for everyone today. Okay – looks like I've arrived at a kite-fest!
I wander down to the beach and search for my pals, looking for wherever they've set up "camp" of the day. It's actually pretty easy to find – just hunt for the Kitelife banner, and that's where they'll be – or at least their gear will be. The iQuad team will already be flying wherever they can commandeer enough space on the beach. So I spot a few hangers-on from our group and make my way over.
As I pass along the beach, I notice Barry Poulter has three of his new 13' wide Genkis up, and John Freeman has a few pices of sky-art aloft as well. iQuad is also in evidence, of course – flying along the water's edge out beyond the river – which means traversing a log someone's thoughtfully left across the river or braving the possibility of wet feet by crossing in whatever shallows exist out at the edge of the ocean. So I unlimber the camera and get ready for my day at the beach, and I opt for the log (slick, but passable) and make my way over to team iQuad to see what's happening.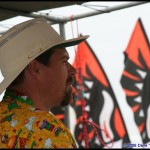 Soon the dulcet tones of none other than "MR." Arnold Stellema waft over the PA system, announcing the event's sponsors and featured kitemakers as only Arnold can. Yeah, we rib him about his announcing style, but we really love it, too.
iQuad is a "presence" on the field – as always this year. This team has been in-your-face-present and ever-dominant at every comp and festival since their gestation early in the spring, and they have an added attraction for the crowd this time out. They're unveiling their new custom-made Revolution 1.5s that arrived just before some of them headed off to the AKA Convention in Des Moines. This is the first time out for those kites as a full team – and these kites are STUNNING! So iQuad is busy "playing" at the very edge of the Pacific Ocean, and I'll surmise that at least 50 percent of all eyes in the crowd are watching iQuad fly these marvels at any given time during the festival.
So I do my log-walking act and head over there for a few photos. There're currently seven of them airborne, with Carl Bragiel missing, probably over getting his "one-man kite team" ready for a demo for the folks. And the crowd is entranced by the iQuad flying, along with whatever else is going on. I shoot, they fly, and the rest of the world carried on by itself for all I knew… or cared. These photos with my new camera were too good for me to pass up. Talk about "photogenic?" Yup – those kites are lovely, no question about it!
Soon, Mr. Ah-Nold breaks in again with yet another tasty tid-bit. We're getting ready for the Running of the Bols, folks. It's loads of fun, and if you think you wanna participate, ya gotta register. See the people at the registration tent. Or something like that, anyway… Okay, we heard you Arnold, but I'm not seeing a teeming herd heading for the registration desk right now, so maybe all the eyes attached to these people have them glued elsewhere? And so a sort of symbiosis develops… Mr. Stellema would continue to play to iQuad and to the crowd all day long!
For what it's worth, nearly every member of iQuad would take the opportunity to fly a demo whenever Arnold offered a time-slot. Therefore, we saw demos from most of the team as individuals, and also two or three demonstration flights from iQuad in its entirety! Nope, I'll make no further mention of any iQuad flights, except to say note that iQuad would eventually "air" all of their new custom team Revolution 1.5s during the day, with the Venteds showing up about mid-afternoon and the "night" versions (All blindly White, except for the color flashes) in the very late afternoon. All of iQuad's kites looked exceptionally lovely in the sky!
But, of course, there were other demo flights as well – some going extremely well and others falling victim to the wind-gods. Throughout the afternoon, we'd experience breezes in the 4-8 MPH range, and sometimes the wind shifted drastically in a very short time – which also meant the wind would drop off, sometimes abruptly, during the shifts. Eventually nearly every pilot fell prey to the "wind burbles" and so spent time compensating, rather than actually flying, some routine they'd planned.
One of the all-time crowd favorites is a fellow named Al Washington who hails from nearby Portland. Al flies dual-line kites in Ballet maneuvers, but what really excites the crowd is the fact that Al also "dances" while he performs – right along with his kites. This fact earns Al lots of points with the crowd, and also earns him nick-names like "Dancing Al" and "twinkle-toes." So you can actually watch Al's kites fly, or Al dance on the sand, or both – whatever you choose… Al would fly demos 3-4 times during the day (as far as I observed, anyway), and at least once feel victim to the errant breezes. In order to gain at least a little breeze, Al began backing up, "dancing" all the way, but eventually Al ran out of available space, so he finally had to give up due to a lack of wind.
Anyway, I finally left that rag-tag bunch out at the water's edge and meandered through the single-line folks. Sure enough, there was Dave Gomberg out there on the sands. Unfortunately, he was right in the process of calling it quits in order to go and help his wife Susie clean house. Apparently they were expecting a crowd that evening – and it's quite true that we DID all show up at the Gomberg chateau for a nice buffet dinner that evening. And – we'll let you leave the flying field any time to go clean house in exchange for the chance to eat that well again. And the beer wasn't too bad either, Sir!
And, I also ran into Phil and Barb Burks out on the beach. We'd met briefly the evening before at the reception over at the Nordic Inn, but hadn't had much of a chance to swap kite tales, so we stood on the beach and shared 5-10 minutes of sagas about our more memorable flying experiences. The Burks were flying some of their smaller single-line equipment that afternoon, but they often proudly display one of the more attractive large deltas on the West Coast. The story is that Phil wanted a large delta, but Barb said that was fine – as long as it didn't cost them anything. So Phil, being an enterprising young feller, designed this large delta out of his "scraps" bag by laying it out all over the floor in the firehouse where he works. Yes, there's even an associated Spin-Sock, and both the delta and the spin-sock are made from the remnants of their prior kite-making projects.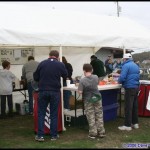 Somewhere in here, I cut away for a short break at the restrooms, followed by a chili-dog and another cup of coffee at the concession stand. By the way, that turned out to be a pretty decent lunch. And in a way that only Lincoln City seems to master, the hot-dog stand was run by the local Boy Scout troop in support of a fundraising effort for Lincoln City's version of the Soap box Derby – yet another festival that'll draw more crowds and provide more fun for Lincoln City's visitors and local spectators.
And on other parts of the beach, similar flying occurred among the single-line pilots too. There were at least two mass ascensions, where everyone flew a similar kind of kite for fun, received a pin to commemorate their efforts, and maybe even got a feather or two that Deb Cooley passed out, plus a chance to win one of Lincoln City's favorite prizes – hand-blown glass fishing-floats.
And then there was Lam Hoac! Lam flies about anything that will take to the air, and does so with top-notch expertise, too. Lam demoed at least a couple of times, including once with a Rev 1.5. And – wouldn't you know it – Lam no sooner got his music rolling and his Rev in the air – than the bottom completely dropped out of the wind… What to do? Well, Lam started backing up, but the wind never did return. So Lam backed up – completely out of the demo area, ACROSS THE "D" RIVER, and all the way to the Pacific Ocean before he ran out of room. Fortunately, he ran out of music at about the same time, since a few of us were wondering whether he'd even stop at the
shoreline…
Also on the demo field – and an equally "expert" pilot – was Ben D'Angelo from Revolution Kites, the folks that made all those stunning quad-line kites running around all over the place. Ben will tell you he's "okay" with a Revolution, but we caught him flying a demo to music picked for him by somebody up in the sound-booth rather than any music he'd brought. I have to say it was truly SPECTACULAR, Ben! That man REALLY knows how to fly a quad-line kite to good old Rock 'n Roll music.
Fly, fly, fly… Everybody flew who knew how – most of them multiple times. If you had a multi-line kite and knew how to fly it, you had an invitation to show your stuff. I even saw Bob Serack out on the beach with his stack of matched Rev 1.5s – putting on a show and wowing the crowd as usual. Bob chose not to take advantage of the designated demonstration field. He just found a spot out there, set up his kites, and put 'em into the air! In a way, I suppose I was lucky not to get roped into flying myself – not that it'd be that big a deal if I had. Everyone who flew had their time in the limelight and received warm and gracious appreciation from everyone in the audience.
And – one-by-one – seven of the eight iQuad pilots demoed, too. Someone would slide out – fly a demo – then return to the iQuad group almost immediately and continue practicing. I think Steve De Rooy was the only iQuadie who didn't chose to demonstrate his individual expertise with a kite. There were also a few "pairs" demos – mostly by pilots who'd flown together before, but a couple were first time, ad hoc, pairings if I remember correctly.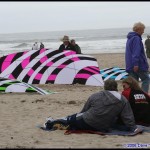 Those who were featured single-line fliers also kept the air filled with a "Myriad of Kites," which was this year's theme for the Lincoln City Fall Kite Festival. Phil and Barb Burks flew a variety of deltas that I observed, and goodness knows what else. John and Marzilie Freeman were down from Vancouver Island in British Columbia, flying several lovely hand-crafted kites. John and Marzilie are fine enough kite-makers that they're invited around the country to various locations and workshops to teach others how to build similar kites. Barry "Bazzer" Poulter was in evidence too, displaying three absolutely lovely new 14' Genkis of his own design, and those kites were aloft nearly all day until it was time for the Saturday session to end…
And Deb Cooley and Ken Tumminia, both from Lincoln City, provided a bit more "active" participation for festival visitors. Along with Ronda Brewer, Lindsey Johnson, and Jerimy Colbert, there were "audience participation" events galore… Debbie Cooley helped nearly everywhere, and spearheaded the mass ascensions. Ronda and Lindsey spent time up in the registration area, out on the boardwalk answering crowd questions, and down on the beach helping nearly everyone there. Dave Gomberg marshaled the older kids into the "Running of the Bols" pretty early on, and a contingent of helpers aided Jerimy Colbert's Kid-Kite-making efforts down to the beach as part of the "Kid's Parade" – on their way to Ken Tumminia's "Stuffed Animal Drop"…
Yep – there was truly something for everybody, and the action was nearly continuous. Actually, there was always something to see that hadn't occurred before. This kite, that music, those activities, this group of pilots, these banners, or this kid event…
But eventually, the skies began to darken and stomachs began to grumble a bit, and perhaps we should think about packing up and getting off the beach. We've been going at it for at least seven or eight hours pretty steady now, and the crowd's starting to thin and it's getting dark, and I could sure use some food, get off my feet for a change, and maybe even use the motel's hot tub. So, one-by-one, the participants started packing up and pulling out for somewhere warm and dry, and some food and drink too.
And for those who chose to avail themselves of it (iQuad included), David and Susan Gomberg hosted a rather nice buffet dinner out at their home in Neotsu, just north of Lincoln City. For those who've not had the pleasure of attending one, the Gombergs are superb and gracious hosts and often invite festival fliers to their home for an evening of food and relaxation following a day on the beach – where on this particular Saturday, "relaxation" was perhaps a bit tough to come by at times. Then it was back to our rented abode and a night's sleep.
If Saturday had been a bit "trying" at times, Sunday was an altogether different story. Yesterday's weather was "marginal" if we want to be charitable about it. Sunday's weather, however, was some serious stuff. We watched it from daybreak, and tried to find some way where it was at least "flyable," but the early drizzle evolved into a steady rain with lowering temps and wind-gusts up above the mid-20s MPH or more. Not looking very much like "festival" weather. Some folks went to the beach, but your humble reporter chose breakfast instead – thinking I'd need every bit of sustenance I could pack aboard if we were going to be "out in it."
Once we reached the "D" River Wayside however, it was already evident that there'd be an extremely brief festival Sunday – if there was one at all. And within ten minutes of our arrival, a wind gust picked up the pavilion that was the registration and sound tent and moved it a couple of feet down the sidewalk – and it was quickly obvious to all that we were done for this fest. Ron Sears, as the man on the spot for Lincoln City, made the call and nearly all efforts shifted immediately toward the swift and efficient recovery and pack-up of equipment and gear. The parking lot was nearly empty of spectators anyway, and most of the kite fliers wanted nothing to do with carrying soaked or shredded kites home with them. Time to pack it in…
Well, for nearly everyone anyway. There's always an exception, of course. In this case, the exception happened to be iQuad. The team had arrived at the beach early, as is their habit. Once they saw the conditions there, iQuad left the "D" River Wayside for the Tanger Outlet Center nearby, and most team members purchased an extremely weatherproof jacket at the Columbia outlet store – figuring they'd need them in order to fly in the rain.
When they returned, however, the remaining day of the festival had been cancelled and the tear-down was already well underway! What to do? Well, shucks – we already have this brand new rain-gear! I guess we'll just stay here and fly! Yep, that's exactly what they did – they flew all day long in the rain.
It was a different story for this correspondent, however. I was not going to be flying. I had not purchased rain-gear – only breakfast. Moreover, the folks from the City of Lincoln were busy tearing down the last available shelter, so if I stayed – I'd do so in the rain, or from the confines of my van. Well folks, much as I hate to disappoint you, discretion got the better of valor again – and I decided I'd head for the hills and home instead of drenching myself for no good reason that I could think of. I was home by early afternoon, but John Barresi of iQuad rolled in about 11:00 PM, give or take…
Was it worth it? Well, SURE it was! Anytime the folks from Lincoln City want to hold a kite festival, we'll be back there to help. And – next time – you're invited along too!
    Fair Winds and Good Friends –
       Geezer