This issue, I'll touch on a few topics that have cropped over since I last wrote in this space. It's been a very busy fall season for me, so here's some of what went on.
AKA Grand Nationals
Des Moines, IA
The beginning of October saw many kite flyers gather in Des Moines, Iowa. For me, this was my first Grand Nationals and I had an excellent time, meeting many new people I'd heard about for years (including Lee Sedgewick!) and getting together with friends I already knew well. From the moment I arrived and found John Barresi flying an indoor Revolution within the Holiday Inn Holiodrome, I knew we'd be in for a lot of flying and fun. Multiline competition was well represented in both Experienced and Masters level events and once the dust was settled we ended up with the following for results :
[twocol_one]
Experienced Multiline Precision
1 – David Hathaway
2 – Alison Newman
3 – Karl Berg[/twocol_one] [twocol_one_last]Masters Multiline Precision
1 – John Barresi
2 – Zach Gordon
3 – Egan Davis[/twocol_one_last] [twocol_one]Experienced Multiline Ballet
1 – Alan Cunningham
2 – David Hathaway
3 – Karl Berg[/twocol_one][twocol_one_last]Masters Multiline Ballet
1 – Shawn Tinkham
2 – John Barresi
3 – Zach Gordon[/twocol_one_last]
Great competition in what can only be described as very challenging winds; I think a specific word I used to describe the wind during the week was "charming". I particularly enjoyed judging the Masters multiline events. While I end up judging dual line events regularly in the Pacific Northwest, I'm nearly always in the Open multiline class, thus, it was truly a treat to sit back and pick apart some multiline flyer's performances for a change. It proved to be VERY difficult to choose between the Masters flyers and it also served as an excellent introduction into just how well I'll need to fly next year if I qualify to the next Grand Nationals, this time held in my own backyard, Ocean Shores, Washington.
Mere days before leaving for Des Moines, John took delivery of the iQuad team kites that we've commissioned through Revolution and we used the opportunity to fly and display these as much as we could during the week. In retrospect, I could have left my entire kite bag at home and flown just these, I don't think I took anything else out of my bag all week long.
Three of us from iQuad were in attendance, myself, John and Egan Davis, effectively making us "triQuad" for the week. We also took the chance to introduce a few new people to the fun of team flying, and I have a sneaking suspicion we'll see some of them itching to get involved in some level of pairs or team multiline sometime soon! Quads also faired well in a couple of "not multiline specific" events, with Shawn Tinkham taking 1st in Indoor, using both a Rev Indoor and a VIP (dual line) by Lam Hoac. I also managed to cop a third in outdoor Hot Tricks, capitalizing on some truly goofy wind to work my way through to the semi finals. Thanks again to Doug Coates for loaning me his quad-sticked 1.5 since the one I'd chosen (a heavily modified 1.5) just wasn't going to cut it in those weird winds. And finally, a big thank you to everyone who came out for Quadapalooza on Thursday afternoon.!
A fine gathering of quad freaks were out for this and we spent some time working as a larger team, much to everyone's delight. We'll hopefully run this again next year in…
AKA Grand Nationals
Ocean Shores, WA
This season's AKA Grand Nationals, as mentioned above, will be held in Ocean Shores, Washington. John and I have been tirelessly promoting the idea of Multiline pairs as a sanctioned event, competing in 10 of the NWSKL events in 2006 as "Furious George" (or, earlier as Felonious Monk), we also did this at Berkeley in the summer.
It seems to be catching on in a fairly big way now, with a growing number of quad line pilots getting ready to compete so for this year, we're going to try and rally the AKA into running quad pairs, both precision and ballet, as "demonstration" events at Grand Nationals to demonstrate interest and value in these disciplines being sanctioned.
With some good participation, we hope to see this become an AKA sanctioned event for the 2008 season but, it will take some people to make this happen.
If you'd like to fly multiline pairs in your area, be sure to ask organizers for this event at any upcoming competitions you may have in your own region, and request that they send the scores on with their regular results.
It is important to understand, these results will not be included in standings, but will show the AKA that multiline pairs events are seeing participation.
You will find that the quad pairs figures for precision are an excellent challenge, so start working on this over the winter and let's make a strong showing of the events at Ocean Shores.
Animated Compulsories by Roy Reed
As the AKA won't be keeping track of scores for events until it's recognized as a sanctioned event, please forward any event results you have for this to Kitelife directly and we'll keep tabs somehow over the year on where people are at.
Revolution's Masterpiece Series
Many years ago, as Revolution kites were just gaining traction in the kiting world, Randy Tom was commissioned by Revolution to make a series of custom Rev 1's for them. The design was heavily influenced (and officially endorsed by) Patrick Nagel's work in the early 80s with a very stylized woman's face. These became known as the Nagel Revs, of which there were 12 made. As you'd expect, these are now very rare kites to see (in nearly 12 years of kite flying, I have never seen one in person) and, as you'd also expect, the value of them (if someone was to actually part with one) has really climbed as well. I've -always- wanted one but, I'd resigned myself to the idea that it wasn't going to happen any time soon due to the value and rarity of these kites.
Now, over the summer, Ben D'Antonio of Revolution began making noises about a new line of "customs" to be released by Revolution, what he referred to as "The Masterpiece Series" and true to his word, Revolution has begun doing these this past fall.
Commissioning well regarded kite artists to take the basic 1.5 shape and let their imaginations run wild. The results have been truly spectacular, with Ron Gibian, Jose Sainz and once again, Randy Tom all contributing new designs. These are some of the most beautiful Revolutions I have ever seen (and they fly great too!) but, they have also tended to be gone nearly as soon as they have been offered up for sale.
Me, I picked up one of the Randy Tom ones for myself, the Samurai Girl (with a green katana!) and I'm very happy to finally have a Randy Tom in my bag.
It only took 11 years but, I also know that Revolution will be doing some more limited editions in the new year, so, keep an eye out on their website and discussion forum for further designs to be released.
Street Kiting Man
About a year ago, some random googling of Revolution kites brought me to a site done by two guys from France, Seb Clarke from France's FLIC and Alex St. Jouaine. The site address itself is www.larandocv.fr.st , and within this site is numerous videos of Seb and Alex flying in and around Paris, utilizing very light kites and taking quad kiting to the streets, with footage shot at The Eiffel Tower and a few other amazing spots within Paris. I was very inspired by these videos and promised to myself that at some point, I'd try some street kiting myself.
With Steve de Rooy coming over for a weekend visit to work on some indoor flying, the opportunity presented itself and we found ourselves with Egan Davis, headed to downtown Vancouver with camcorders in hand to do a little of this flying ourselves. Short lines and light kites are all it really takes (and a lack of concern for potential damage, "the streets" contain many new places to get a kite caught up) and we had a great time in a few different locations.
Egan is probably the very first kite flyer to ever get thrown out of a library as you'll see towards the end of the video clip. I'm pretty sure that the guard on duty had never run across such a situation, so, we're kind of happy that he was reasonably good natured about it all.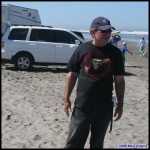 You can find this video (NightQuad), and others from iQuad on the video page of their web site.
Good winds to you,
David Hathaway