Oh man, this morning was a tough one but after a little oatmeal and a lot of coffee, I started to get the cobwebs shaken loose, and just in time.
At 8am, I joined David Gomberg to give a seminar for KTAI members, educating them about running a web business… Why a site is useful, how to set it up, how to manage it, and how to get it found on the search engines… Website 101, as it was named.
Immediately following, Ben D'Antonio from Revolution and Corey Jensen from WindPower Sports gave a seminar on sales techniques… You might turn your nose up at this, but I'm confident anyone would have enjoyed the wonderful and highly entertaining workshop they provided.
After the seminars came to a close, everyone headed right back into the trade show room to have another full day of business… Retailers who researched the day before came back to various booths to place their orders with their vendors.
Aside from working in the Revolution booth, I also spent some time hanging out around the Magnum Enterprises booth with Dan Smith, who produces a wide line of rubber band guns and targets… I mean, look at the gattling gun in the picure below! It fires roughly 140 rubber bands in a mere 6 seconds… His stuff was scary and awesome at the same time, but Dan is a top notch guy.
The show closed at 4pm, some of the vendors took down their booths on this final day of the show, and headed for a clean off before the reception began at 6pm, with dinner and the annual awards banquet scheduled to begin at 7pm.
Special awards:
Best Booth
Go Fly A Kite
Best New Kite Product
Special Banner Pole
(Gomberg Kites)
Best New Product (not a kite)
X-Launcher
(William Mark Corp.)
Best New Kite
Dopero
(Gomberg Kites)
Oustanding Kite Festival
AKA Convention Ascensions
Best Mfgr Promotional Effort
Mega Flag
(Gomberg Kites)
Best Retail Promotional Effort
Into The Wind
Manufacturer of the Year
Revolution Enterprises
Retailer of the Year
Catch The Wind's Flying Things
David Checkley Award
Billy Jones
The overall energy of the people here has been simply amazing this year… All around, the general consensus is good, hopeful and motivated! The workshops have been stimulating, more organic and understandable, as well as being a whole lot more energetic and fun.
Much of it can be attributed to the return of Maggie Vohs's return as Executive Director, who has kindly taken on the role for the year to come as well… Also responsible for organizing the AKA Convention, Maggie is a top notch professional.
Of course, equally responsible are the board members, who have made some drastic and encouraging changes in the organization this year! Again I say, brave steps are being taken, and I encourage any kite businesses who may have left the KTAI before to come on back, they are ready for you now… After two years of poor experiences at the KTAI show, I am totally pleased with this years show and would give it an 8.5 out of 10, with an expectation for 9 next year.
Tomorrow is purely a demo time, which should run all day if the wind provides… People will be headed home throughout the day, with myself and a few others leaving for home on Monday.
On a closing note, I'm proud to have spent my time in Revolution's booth this year… Their presence was strong at the show this year, with a lot of exciting promotion ideas that have taken hold with a number of the retailers who came this year.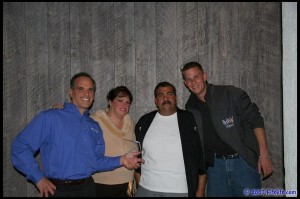 To all of you, I wish a good night… See you all tomorrow night for one more update, hopefully with some video of the new products out on the field!
John Barresi