Yeah, we're doing it – or really, we already did it! Sure, you'll read this when we're in the midst of winter, and you're probably as tired of it as we are by now. But never mind all that. This saga really started back when the days were still long, the weather amenable if not perfect, and the kite season in North America was still going strong. It actually began right after the annual AKA Convention / Grand Nationals back last fall. So maybe to start with, we should tell you the "Why" of it first…
John Barresi and I have been extremely blessed with a wonderful, if unsolicited, Kitelife Correspondent. Senor Gustavo Di Si from Buenos Aires has been sending us articles and event reports from Argentina for two years now, and we have been enthralled with every one. And, in the private emails to discuss things with Gustavo, he has asked, suggested, and even at times, pleaded with us, to come to Argentina and enjoy the kite festivals and the delights of his country. And, believe me, we have paid attention when Gustavo asked. But, for one reason or another, we have not been able to join the kite pilots in Argentina – until everything fell into place this year, allowing us to "bend the budget" just a little, and head south for the winter!
Now, we here at Kitelife truly believe in trying to further the growth of kiting wherever possible. Yeah, there are certainly times and places where our efforts might well be used to good effect right here in Estados Unidos (the United States), but there's another side to that same coin, too. If we flip the question around and ask "Who is there to help kite pilots in Argentina?" we found that we had no decent answer. Moreover, we began to question, "If we do NOT go, who will go to help the Argentineans?" And again we found no reasonable answer. So we checked with folks like Scott Weider, who had gone to Columbia to fly and demo, and teach, earlier in the year. "Do they really need us down there?" And Scott went on to regale us with all the wonders of performing, and helping, and teaching kite flying, in a South American country… And the answer turned out to be a resounding "YES!"
So we decided we'd simply do whatever it took to get down there – and besides, it'll be a bit of fun, or so we thought at the time… Little did we know! So we shredded and rewrote the budget a few times, finagling all the way. And we got passports ready and hunted for cheapest-available airfares, and got some major help from the Argentineans too. And in essence, we MADE IT HAPPEN, with the help, the assistance, and it turns out, with the "Love" of a whole bunch of extraordinary people! And so, on the 30th of November last year, we left Portland, Oregon, headed for Houston, where we'd pick up a ten and a half hour flight down to Buenos Aires, Argentina. And truthfully? Nobody was more amazed than I was!
I guess there were a few "moments of truth" on that southerly journey. As I look on it now, even getting onto an aircraft to begin with was a truly incredible feat. And then I met Amy! Amy was a Continental Stewardess taking a holiday down in Buenos Aires who happened to sit beside me for the long "red-eye" flight to Buenos Aires. She was bright, personable, open, and honest, and we discussed all manner of issues on our long way south. And as we deplaned, I left feeling that I'd met the "perfect woman" – if only I'd been about 30 years younger! Yeah, she was a stunningly good looking lady, too! Gosh, if this is how our trip was going to turn out, I could hardly wait. Well, I hate to say this because Amy is still a real wonder to me, but Amy only turned out to be the beginning. The rest of this incredible trip only got better!
So we finally got through customs in Buenos Aires, and I was honestly amazed to discover that BaToCo, our Argentinean Kite Club sponsors for much of our trip, met us at the airport. No, not some BaToCo representative – it seems like the WHOLE CLUB was there to meet us. Gustavo Di Si, our "correspondent" was there, of course! And so was Roberto Cassanello, the BaToCo President, with his lovely wife Bette. Plus Gustavo Sonzogni, another BaToCo officer, and there must have been at least another half dozen club representatives – most of whom spoke a little English! Well, isn't this amazing? It was almost like we were "royalty" or something! And that special treatment wouldn't stop during our entire visit!
So we were shepherded outside, introduced around (with names almost instantly forgotten), and glad-handed by everyone. Then we climb into Roberto's carry-all and headed for our hotel. And as it turns out we had the perfect accommodations at Hotel Vicente Lopez, too – a smallish twin-bed ground-floor room with daily maid service, free coffee around the clock, Internet access 50' away, and all the breakfast we could eat before 10:00 AM. And it's not every day you can pick bananas off the tree from your bedroom window, either. Oh, and we had a three-block walk to the perfect kite-field, where it was sunny, about 85-90 degrees Fahrenheit, with winds off the water at 7-12 MPH… WOW! Were we in Kite Heaven? Well – we took a few minutes to get stowed away in our room, and then did what any responsible kiter would do. We had a fine lunch very near the beach – and then hit the flying field!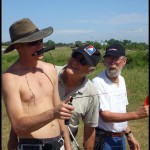 Now, in Argentina, we always ended up flying on "land-fill." Yes, I know what that means in the USA, but it means something different in Argentina. Down there it means "rubble from urban renewal" – so we flew on bricks and concrete and plaster and pipe – whatever they could salvage to form a shelf out into the water. You can't drive stakes into it. There's no sand to bag for ballast, either. So if you fly SLKs (and I do), you either hold your line or find something to tie off to, which along the Rio De La Plata means either a chunk of concrete or light-poles – because the fields are LIGHTED at night! (This keeps getting better and better, other than that "land-fill" part – but we managed somehow, heh-heh…) John was playing with his Revs and his Sea Devils, and Roberto Cassanello and I assemble one of Barry Poulter's Commets to fly, and kite fliers began showing up and joining in. We met about half a dozen pilots that afternoon, and I think that was probably the lowest number we ever saw out there – and we were out there every day!
After about three hours of flying however, it was time to head back to the hotel. We'd used the cell-phone BaToCo had thoughtfully provided, and John has us lined up with a dinner date. Time to re-hydrate (we're down in the tropics, folks), grab a shower, apply some sunburn lotion (yep – burned already), and get ready to eat dinner with the famous LAlo Loescher! Now LAlo will swear by all that's holy that he is NOT any kind of Kite Guru, but the facts of the matter belie his natural humility. Senor LAlo is THE man who has organized and fielded dual-line kite teams in Argentina, and they're good enough to get invited to fly in Berck sur Mer, at the World Sport Kite Championships – not once, but twice in the last few years. That's pretty amazing for a country like Argentina, where the normal family income would be at poverty level in the USA, and any kiting equipment costs at least half again as much in real dollars than we'd pay anywhere else in the world, due to their very heavy customs duty!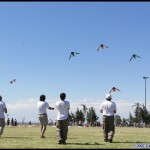 So we go eat dinner with LAlo. One of the really nice things about LAlo is that he speaks and writes excellent English – and my own Spanish is terrible to non-existent! LAlo is delighted to see John, and also to meet me. I try the Bif de Chorizo at a nearby restaurant along with some of the local Malbec wine, all on the recommendation of an Argentinean friend back home. Yeah – Good Stuff! So we get all filled in on "Kiting in Argentina" generally, plus what to expect of the two Kite Festivals we're to attend and also a bit on the National Oil Party who sponsors the second festival down in Patagonia, 1100 miles south of Buenos Aires. Finally, it turns out to be quite late, a bit of Jet Lag for both John and I, and the strong possibility of just a little too much Malbec. But in the process, John renews an old friendship, and LAlo and I form a new one! It's all Good, my friend – and, after all, it's just kites! Anyway – so much for Friday, December 1st – our first day in Argentina.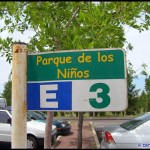 While the beds slept pretty darned well, and the breakfast was excellent, it's the unending supply of good coffee that finally gets John and me going the next morning. Saturday is the start of the "workshops" that John's agreed to teach to all comers. So he dawdles abit less than I and we are soon picked up by Roberto and Bette Cassanello and taken to Children's Park in Buenos Aires. Soon John is out on the field along with Giselle Sosa, a lovely young lady who acts as his interpreter. John and Giselle are surrounded by 15-20 pilots, and John spends two or three hours laying out his basic workshop curriculum and offering help to all and sundry. Giselle spends a fair portion of that time grappling with the translation of John's kite-technical terms! It was the first – and last – time the pilots would gather together like that, and from that time onward, John would take on all comers on a one-on-one basis instead. In true John Barresi fashion, he would soon acclimate himself to the point where interpreters are unnecessary anyway. John teaches by doing, and by showing – and so the pilots study and copy John's moves, and each pilot improves in almost direct proportion to how much time they spend with John and how much they practice what they learn from him.
Meanwhile, I set up a Poulter Commet again, and have myself a bit of a solo SLK fly. After all, that's my contribution to the assembled pilots, and it's also why I brought the Commets to Argentina with me. I might as well participate. Sure, I take photos, and write pieces like this one too – but I also fly occasionally, too. Just like John occasionally teaches about sport kite flying, I guess…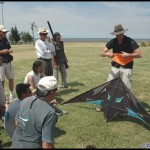 Anyway, I don't know what else to report, because John's teaching methods are very one-on-one and are tailored to each individual. All I can really say is, (a) John will have, make, or find, a way to teach anyone who really wants to learn to fly sport kites, and (b) his teaching methods always work. I've seen him work with young children, with very experienced pilots, and with 75 year-old "wannabes" – both here in the states, and now in another country with another language – all with the same results. Pilots learn exactly as much as they are willing to learn and committed to learning. It sounds like an easy bunch of platitudes I'm spouting, but John's kite flying lessons just-plain WORK! So for the next few days, John would teach dual-line and quad-line flying techniques for roughly 8-10 hours a day to anyone who asked. And, after the sun went down, those who remained would make their way over to one of the local beach cantinas for a bite to eat, some liquid refreshment, and a fair amount of laughter, teasing, and camaraderie.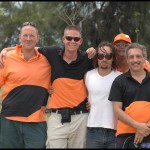 Anyway, after John's session on the field everyone piled into their vehicles and drove to downtown Buenos Aires, where we attended a BaToCo dinner and BBQ. Now this BBQ stuff in Argentina is almost "ritualized," so that everyone knows what to expect – except for John and I of course! I found several things to like (Empanadas, Chorizo, Malbec again) and a few dishes I didn't particularly care for, and I'm sure it was the same for John. What WAS important is that this BBQ preceded the local "Wind Party" Festival to be held then next day. So it was our chance to meet most of the festival participants, including their wives and families. Good times had by all, of course, with lots of kidding and camaraderie back and forth – including many of the women in the audience.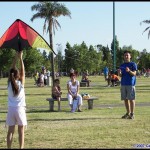 And it was here that I managed to identify a lovely difference in Argentinean culture from ours here in the USA. Yes, the men have their Latin "Macho" as part of their culture, but these Argentinean women all think, act like, and believe that they are truly Empresses. Moreover, the Latin men PREFER it that way – as do the women of course. So, the way it works out is that the men and women of Argentina end up being true equals and partners in their world – without any of the male-dominance/female-subservience we sometimes see and experience in the USA. And from that particular standpoint, Argentina is a delightfully refreshing place.
The third annual "Wind Party Festival" in Buenos Aires was next on our agenda. And the next morning broke bright, clear, and warm, with westerly breezes – promising flyable conditions if not exactly perfect. As with any winds flowing TOWARD the sea, these tend to be of various speeds and directions and those conditions stayed with us throughout the day.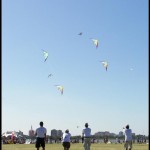 The BaToCo and Alto Vuelo folks – the event "Sponsors" – arrived at Children's Park and began setting up the field, including a raised stage and an excellent Public Address / Sound system (complete with a superb Announcer), and various tents, shelters, kite corrals, the usual family cabanas, and several banner farms. Just to the north of the main field was a large Single Line Kite area, and both fields overlooked the Rio de la Plata to the west.
Behind the field proper, a couple of permanent concession stands would provide the Argentinean version of snacks and drinks – which turned out to be things that looked amazingly like hamburgers (called "Hamburgesas" as I recall), and the South American version of "Smoothies," though soft drinks and bottled water were also available. (Alas – NO coffee, however…) I quickly became addicted to the Melon and the Pineapple smoothies.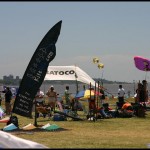 And by 10:00 AM give or take ("Kite-Time" is alive in the Southern Hemisphere too, folks), we were underway with the opening free-flies and demos. The "field" schedule called for a loose organization of flies and demos, followed by the official dual-line "Competition" in the early afternoon. We'd also see a bit wider variety of kiting skills displayed than we'd normally watch in North America – principally because there were some Traction Kite demos (both buggies and boards) scheduled for the late afternoon. And there were events loosely "scheduled" for the Single Line field as well.
My role was my usual "wander, schmooze, and shoot" responsibilities, and if I had the time, I'd also put up the 150' Barry Poulter Commets again for the crowd to enjoy. John had agreed to fly demos whenever asked (principally quad-line routines), to judge for today's competitions, and to help in other activities as requested. John was "shadowed" by his interpreter, Giselle Sosa again, though she would quickly be quite tired of trying to keep up with him, since he wanders the field incessantly and talks with everyone at fests and comps. So, we each slid easily into our "normal" festival roles and all was goodness…
After getting the lay of the land and shooting numerous photos, I saw an opportunity to go off by myself and try to hang the Commets in the sky for the crowd, so I ditched the camera, grabbed the Commets and associated equipment, and headed over to the SLK field. These kites take a bit of time to assemble, so I set up fly-lines, pounded stakes, unrolled the first kite and set to it. Well, about the last thing you do in setting up a Commet is to stand the kite on edge and set the "bows" in the nose. And as I was in the midst of doing so, the flukey winds shifted about 30 degrees and began to roll the whole 150' kite over on its back. Oops! Well, I instinctively grabbed for the nose to stop the roll, but caught the kite about 3' back – and the pressure from the gust managed to fold the nose back over itself and break the main "spine" at one of the ferrules – punching a thumb-sized hole in the center of the kite! Okay – this is a bit more than a little "Oops," so I sat there for about 5 minutes, both angry with and sorry for myself – then set about disassembling and packing up everything I'd laid out. There would BE no more Commet flights until I emailed Barry Poulter to ask his recommendation on repairs. Sorry, but these kites are truly flying "works of art" (and no small investment either) so I had no intention of putting them at any more risk than absolutely necessary. They'd fly again, but not today! I later obtained a replacement spar from Guillermo at Alto Vuelo Kite Company, but that Commet did not get completely repaired until it arrived back in the states.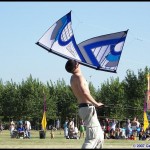 So, on to other things… John, over on the official "field" is in his element. He would work with the PA Announcer (more like a disco DJ in his delivery style) to set up demos throughout the day – officially doing three quad-line demos, one quad-line DOG-STAKE demo, and as the festival was winding down, he was requested by the crowd to do another "encore" demo! The Festival Announcer was absolutely wonderful. This guy would set up each demo, starting slowly and gradually building his speed and volume, so that the crowd was nearly at fever pitch when he finally set the music rolling. And John – running true to form – milked every bit of delight from the crowed imaginable. John does that naturally anyway, but with an Announcer "fronting" him like that? It was really pretty heady stuff, and the crowd responded with wonderful delight.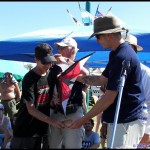 Anyway, by this time, John had one demo under his belt, and now we're ready to get into the Competitions proper. Comps in Argentina are somewhat different than what we're used to in the USA (no Precision-Ballet splits, for example), but we adapted and the comps went off with good-to-excellent routines, very nice crowd reactions, and decent scores, too. Without going into it too much, I'll just report here that a 14 year-old young man named Federico Polizzotto ("Fede") took top honors, followed by Rodrigo Posada in second place, with LAlo Loesher taking third.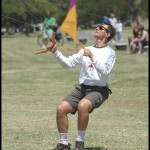 Following the Comps, we were back into the "demos" again, and various pilots took to the field to show their stuff, Barresi included! One of the big "hits" of the afternoon was our amigo, Gustavo Di Si, who helped us so much in our quest to get to Argentina in the first place. Gustavo has been practicing two and three kite dual-line flying and flew with both two and then three kites in separate demo routines at Wind Party. Gustavo initially had some difficulty with the blustery winds during his two-kite routine, but he flew well and then got a bit of rest before coming back with his three-kite routine.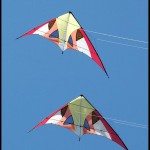 I stood and watched the three-kite show, and saw that Gustavo was having a much better time of it, controlling all three well, synchronizing the kites perfectly, and then Gustavo tried – and succeeded – in a three-kite "refuel" maneuver, and he kept his cool and accomplished the "breakaway" with style and grace as well, and the crowd was very appreciative for "one of their own" doing this. It's one thing when the "Grand Old Man of Kiting," Ray Bethell, does this kind of stuff, but a mid-40s Bank "Funds Strategist" in Argentina who flies for fun? The audience's applause was heart-felt and well deserved – and justly so!
Over on the SLK field, I run into Giselle Sosa, John's interpreter, taking a break, and she says her dad has some books and mementoes he would like to give me. So she runs and gets Dr. Ruben Sosa, her father – who gives me a series of 3-4 books he has authored that he wants me to have, including a history of kiting – all in Spanish, of course. Well, I tell Giselle to tell her dad that these will go to the World Kite Museum in Long Beach, Washington. Oh? A Museum? Well, in that case… And Dr. Sosa goes to get kites to give me. Unfortunately, they glue the cross-spars into their SLKS in Argentina. And since I could not break them down to carry back on the airplane, I had to decline his offer.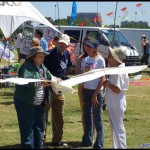 Then, I run into a marvelous lady named "Alice" (pronounced "al-LEESE") who is a 78 year-young artist, and akin to a "National Treasure" in Argentina. Alice is flying an old single-line "Seagull" kite she has made, and we chat for quite a while about what it means to be an "artist" and what it means to be "free" as a human being – her choice of topics. Alice and I have a marvelous time, and this takes away much of the sting of spar holes punched through Commet rip-stop. She ultimately has much to say that makes sense, and she finally decides that I am also "free" and can fly with her whenever I am in Argentina! I am assisted in this conversation by Gustavo Sonzogni, another of the BaToCo folk who speaks excellent English.
Over on the main flying field, John has completed another two Quad-Line demo to his usual acclaim (one being a DOG-STAKE routine), and an Argentinean four-man kite team takes the field. They fly well given the blustery wind, and they too would be "competitive" in the normal USA competitions. Yep – My opinion of Argentinean pilots continues to rise by a notch or two with each demonstration flight.
About this time, Roberto Cassanello, the President of BaToCo, comes looking for me. They want me to help fly an enormous "sheet" kite they have made. Okay – I'll help, and I also get the story of the Sheet Kite. During the 70s and 80s, there was a military dictatorship in Argentina, and the "powers" did away with 10,000-30,000 people known as "The Disappeareds" – principally young men who disagreed with the policies of the dictatorship. Well, this kite was made in Argentina's national colors of light blue and white. The center white panel has BaToCo's logo on it, and the side panels are all made of bed-sheets, painted with scenes depicting the times during that dictatorship, and each panel must contain the light blue of the country's national "colors."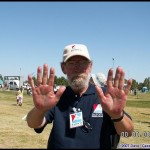 Well, several men and I are standing and holding onto this hempen line that is the fly-line for the Sheet Kite just prior to launch, when a gust comes along from the side again, threatening to turn the kite right into the crowd looking at the Sheet Kite downwind. So I grab hold and reef in pretty well along with everyone else, and the kite takes off and now threatens to engulf the crowd entirely – so there is only one way to avoid this happening! The Sheet Kite must fly to the sky – NOW! So all the men on the Fly Line pull like crazy and the Sheet Kite ascends and floats beautifully in the late afternoon sun. HOORAY! And I discover that (1) I am the only one on the line without gloves, and (2) my hands burn like crazy from the rope sliding through them a while back. Nothing to do but ask for help (in English) and someone goes and gets a bottle of Baby Lotion to dump onto my hands – which continue to burn. Finally, we get to Dr. Sosa, who gets ice in a plastic bag from the concession stands, and within 5 minutes I think I may survive intact! WHEW!!!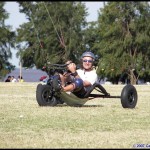 With a spar hole in a Commet and my hands rope-burned enough to bring tears to my eyes – I am NOT having a very good day, nice Festival or not! Fortunately, it's late enough in the day that John now has a coterie of quad-line and photo geeks (Yep – they have 'em in Argentina too!) down at the extreme western edge of Children's Park, and he's flying his Rev on 120' lines out over the Rio de la Plata. At about the same time, Jose Luis Baldesari and Guillermo Fernández of Alto Vuelo Kites are using the main field for their Traction Kite demos.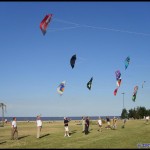 There is one more single-line flight left – a stack of a dozen two meter (6+ feet) Rokkakus, and I choose not to participate in that one. Then John is requested by general acclamation, to perform his "encore" quad-line demo, and we're done! We've met some marvelous people, had some fine delights (and a few moments of only so-so), and flew in acceptable but not noteworthy breezes in about 85 degrees and sunshine. Altogether a nice and enjoyable festival for the general public, and not a bad one for me either. I will survive my mishaps, none the worse for wear. So we all pack up and go find some food and drink. Tomorrow's another day!
So the Third Annual "Wind Party" in Buenos Aires was over. I ticked that one off the list. We had four more days in Vicente Lopez (a Buenos Aires suburb), and then we'd be off to our "Next New Adventure" – down to Comodoro Rivadavia for the First Annual Patagonia International Kite Festival, plus an Indoor fly for the National Oil Party show – televised nationwide. Let's make the most of our time here. So we did!
As usual, the day broke bright and clear. By the way – I think we saw maybe two brief spats of rain during our whole two weeks in Argentina – once during early morning hours before sunrise and once in the late afternoon when were back at our lodgings waiting to be picked up for dinner. Both times, the shower lasted an less than an hour – otherwise, the weather was absolutely gorgeous!
We'd taken a stroll around our local portion of town and found our way hither-and-yon so we were prepared for the short walk to the field and knew where to get our morning coffee, our evening snacks and Ice Cream, and our hydration drinks to take to the field, etcetera. There was even the Argentinean version of Wal*Mart close by called "Carrefour," so we managed to survive quite nicely.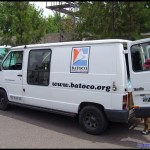 Anyway, on Monday we were treated to a tour of Buenos Aires conducted by Gustavo Sonzogni, one of the BaToCo officers. We were picked up at our hotel by Gustavo and a driver and given a marvelous tour of the city, including plenty of chances to look, ask questions, take photos, etcetera – plus we had an unbelievably fine luncheon. We walked along docks where the early Antarctica explorations started, as did many of the subsequent rescue expeditions. We saw the "Pink Palace" where Juan and Eva Peron had addressed the crowds in the 1950s and walked through the Plaza of the 25th of May, where grieving mothers and wives of the "Disappeareds" congregated during the dictatorships in the 70s and 80s. I count us extremely fortunate in that Gustavo has a tremendous grasp of Argentina's history, an equally good grasp of the English language, and the ability to put both history and English together so that we two foreigners could understand it all. I count that tour as one of our real high points in the entire trip to Argentina.
Anyway, finally, John was back on the flying field about 3:00 PM, on Monday and the field had began to fill with pilots getting off work as early as 2:00 PM, so there was no end of teaching effort for the master, who relished that work in any case. In addition, John had enough grasp of the language to do without an interpreter by then, so he'd show something to a student, they'd repeat it, and then John would embellish a little and they'd mimic him. And that's the way the teaching went. Besides, there were always one or two people around who spoke enough English to help out in a jam.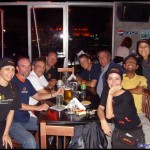 I will not try to remember all who showed up, and on what day. Suffice it to say that there were always enough pilots to keep John busy – which is another way of saying that there was sometimes not enough of "John" to go around. So Monday through Thursday, John was at the flying field around noon unless something was going on, he taught all comers, flew for himself when there was nobody asking questions or wanting one-on-one instruction, and he shared his delight with his "being there" with everyone. They brought their kites, flew, learned, asked all kinds of questions, and in the process we all became friends! After the sun went down, John would wander over to one of the local eateries and share some beverages (beer) and food with whoever wanted to come along – and most kite pilots usually elected to join him. Yep – it was a WIN/WIN situation all the way around.
Let me give you some examples of the kind of incidents that occurred, however…
Monday afternoon, Carlos and his wife, Monica showed up – having taken an hour train-ride to get to the field. Carlos had recently had open heart surgery and was still recovering. Monica spoke English and came along to interpret. John looked at Carlos' old Obsession kite, and happened to mention quad-line kites. Carlos expressed an interest, but said he'd never flown one. John decided to fix that right away, so he showed him a Revolution and discussed flying techniques (in English) with Carlos (who only speaks Spanish) for about 15 minutes – then put Carlos on the end of the lines and said "GO!" Carlos was flying like a veteran within a few minutes. John was so tickled by it all that he almost wanted to GIVE Carlos that Rev, but Carlos had gone home by that time!
Tuesday, we left the flying field early to head downtown to go to a "Tango" show with Roberto Cassanello and Gustavo Sonzogni from BaToCo, our kite organization sponsors. As we were seated, Roberto presented John with an extraordinary letter from Roberto's lovely wife Betté, explaining in lyrical terms how she had felt when she watched John's quad-line demonstrations at the Wind Party Festival. It was the first time I'd ever seen John in tears… Then we enjoyed a marvelous dinner with lovely wines and scrumptious desserts, followed by a fascinating show about the Tango, which might well be called Argentina's "national music." There's nothing like a production featuring excellent musicians and a first class dance troupe to do it right – and this presentation was very special. Afterwards we walked over to the Tortoni Café, a famous Buenos Aires landmark where artwork from the 1940s and 1950s lined the walls. The artwork had been accepted as payment for bar-bills from refugee artisans fleeing post WW-II Europe, and the café (with the country's help) still sponsors impoverished artists and artisans today.
Wednesday afternoon, John phoned and later met up with a young protégé he'd spent time with on the field in Berck sur Mer, France and had "clicked" with in the kiting arena. Ezequiel and John picked up right where they'd left off, and they spent the entire afternoon flying dualies together, exchanging tricks and skills. After it was over, they both went out for ice cream – a shared passion with both of them. After our trip to Patagonia, Ezequiel returned to fly with John once again and brought his father and two brothers with him.
On occasion, some of the fliers would often stop at the field on their way home, but did not bring their kites with them. Instead, congregating at the field, chatting with each other, and watching the others fly seemed to meet a "communal" need, and the non-fliers seemed to be quite as content to be there as the Pilots. The only two pilots who were ALWAYS flying rather than talking were Rodrigo Posada and Federico "Fede" Polizoto. That probably has a bit to do with those two being the top ranked pilots in Argentina, however – plus the fact that they practice nearly every day, of course. By the way, neither one of them has been flying for two years yet, and yes, our pal LAlo Loescher introduced them both to kite flying.
So anyway, the Monday through Thursday segment of our flying in Buenos Aires eventually finished. But we would be seeing most of these pilots tomorrow as we boarded the plane to our "Next New dventure – flying to Comodoro Rivadavia for the First Annual Patagonia International Kite Festival, plus an Indoor demo fly for the National Oil Party!"
See you there…
Dave "Geezer" Shattuck