While visiting the village of Sumpango, Guatemala, in 2003, to investigate their Dia de los Santos kite tradition, the Drachen Foundation found a kite making culture steeped in tradition and pride, as the Mayan Indian culture continues their tradition in kiting.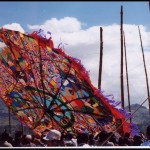 The giant kites of Guatemala, or barriletes gigantes, are in Sumpango a labor of the plight of the Indians. The tradition can be tracked to the end of the 1400s, when they made and flew their kites to honor their ancestors and rid the area of evil spirits on All Saints' Day. They now create and fly their kites to show pride in their Mayan Indian heritage and send a quiet protest to the government that regulates and neglects Indian culture, as the government imposes barriers on Indian language, religious practice, and tradition.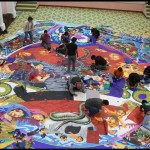 Up to 40 feet across in diameter, these circular kites are made of hand cut pieces of colored tissue paper, arranged and glued to "construct" a story. Each kite is composed of thousands of tissue papers and gallons of white glue, costing around four hundred dollars to construct.
Villagers travel to the south coast of Guatemala to collect bamboo for spars; wire and rope hold the kites together. Groups of Sumpango residents collaborate to make each kite. The standard size 10 foot kite takes up to 15 people up to a month and a half to design, create, and assemble, depending on how complicated the design is.
The designs show the importance of Mayan traditional life—a mother braiding her daughter's hair, people working their land, women in traditional clothing as colorful as the kites. The words communicate their troubles, one exclaiming "Respect our lives, it's the basis of peace." Others object even more to government atrocities.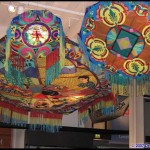 The pieces photographed here are three of maybe 1,000 kites that have been completed in Sumpango over the last 65 years. Most of these kites are still stored in homes throughout the village. After viewing the kite tradition in Sumpango in 2003, the Drachen Foundation wanted to incorporate some of these kites into their collection for the purpose of exhibition to educate others about the tradition and plight of the Mayans. Though this village does not typically sell their kite artifacts, as they are considered village property, the foundation was honored with three of to incorporate into its collection.
After the kites reached DF offices, director Ali Fujino spent a number of hours devising a way to make these delicate treasures safe and capable of travel and display. A paper backing was applied to reinforce the kite sails for durability. In place of bamboo spars, wooden dowels held together at the mid-point with a screw and bolt for rotation, were used as a way to "break down" the sparring system for travel.
In the past four years, these kites have been exhibited in the halls of many area community libraries, schools and museums, many times in conjunction with a lecture and Guatemalan children's kite making workshops. They are beginning to show wear, but the cultural awareness and appreciation for Mayan heritage that they supply far exceeds any desire to keep them pristine.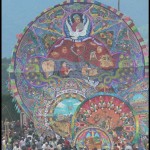 In the fall of 2006, a team from the Drachen Foundation again traveled again to the village of Sumpango, this time to video document the Day of the Saints celebration and the giant tissue paper kites. At a gathering of nearly 50,000 Indian residents (and a few foreigners,) Drachen was able to interview and visit with kite makers about the celebrations. Even more apparent than the first visit was the use of these kites as a "billboard" of communication to the government, as these works of art and protest proudly proclaim, "the persecution of the Mayan Indian is not ok."
Endeavoring to maintain interest in these kites will ensure the continuance of the tradition of kite making in Guatemala, as Sumpango kite makers strive for awareness. As one Guatemalan kite make expressed, "it's the only thing I can think of that permits me to revisit my Indian culture, combining my mind and my soul and my skills."
As reporter Jerry Large of the Seattle Times expressed in his column, Mayan Kite Fliers Send Aloft a Message of Pride, "when kites fly in Sumpango, the people who make them soar, too."
Renea Nielsen