Each month we'll be featuring one of the fine retailers who have been so supportive of Kitelife and other areas of the kiting community…The retailers you'll find here are established, proven vendors.
The Kite Shoppe
2727 East Evergreen Blvd
Vancouver, Washington 98661 USA
360-695-9646 or 1-866-ROKKAKU
http://www.thekiteshoppe.com
Floor space:
Although we do a lot of mail order and Internet business, The Kite Shoppe is indeed a real brick and mortar store.
The utility billing has me at 1622 square feet, but I tend to overflow a bit out into the lobby and adjoining spaces. In fact, you may arrive, finding that the front door has changed to one or the other doors from time to time.
Hours of operation:
The regular posted hours are Tuesday Wednesday Thursday, from noon to 4pm PST.
However, if I am not away at an event, I am usually at The Shoppe anyway, sometimes till midnight. I try to attend as many events during the Kite season as possible. Therefore, I am often packing up and hitting the road on a Friday, playing all weekend with kites on the beach or indoor, and returning on Mondays after the events.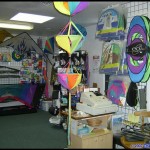 And I'm not at The Shoppe, on weekend for example, I'm likely to be on the beach… The Shoppe phone is forwarded to my cell phone, and the call should come right through, wherever I am.
I find myself explaining: Yes, it's a real shop, yes, it's a real retail store, and yes I sell kites, and yes, I'm closed on weekends during the season (a season that goes just about year round!) and I'll be back in The Shoppe on Tuesday. Why? Because I'm Serious about Kites. When I'm actively involved, at events, on the field, at the beach or indoor… I see, hear, feel, experience first hand impressions from the flyers. What works for some and what doesn't work for others. I guess I'd call it product research.
Years in business: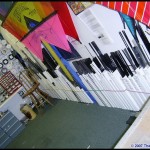 Gosh how time flies when you're having fun! I 'retired' from a paycheck job in 1999. Thought I'd spend some time playing with my grandkids, traveling, gardening, cooking, sewing, more traveling… Mainly to the beach.
By 2002, I realized my hobby was more than a hobby. Now that 2007 is here, this starts my 6th year in kite retailing.
Years advertising with Kitelife:
Since July of 2004.
Owner(s) and/or manager:
Just me… Theresa Norelius… Hmmm… You really don't want to know how old this grandma is, do you? LOL! Recently, my daughter, has been helping out at The Kite Shoppe. So occasionally another Theresa may answer the phone.
Favorite food(s):
Just about anything… Popcorn, French fries, Thai food, Italian, pizza, Lam Hoac's cooking, junk food, ice cream, fresh ground coffee… Oh, that's not a food.
Last book read:
The Bourne Legacy
Favorite kite web site:
That's an easy one! Kitelife.com!
Favorite flying spot:
West Delta Park is my most frequent flying spot because it is only 3 miles from The Kite Shoppe, but it's not my favorite. My favorite is a toss up.
Sunset Beach is only 91 miles away and doable as a day trip. Or as a quick jaunt up the road (8 miles) if staying at Seaside, OR.
My other favorite is Ocean Park, WA, the approach road off Bay Avenue. I like to drive right out on the sand, open up the tail gate, and start pulling kites out to fly. I can spend the whole day playing with this or that, leisurely enjoying the beach and flying. Pack a cooler with lunch and drinks and kick back and enjoy.
Specialty of the store:
I'd like to think it is Customer Service.
My store slogan is "We're All About Serious Kites", and for good reason… We specialize in individual, pairs, team and indoor competition kites, parts and accessories by the following manufacturers (just to name a few):
AeroStuff, Avia, L'Atelier, Cavalier Du Ciel, HQ, Laser Pro, Level One, Ozone, Precision Kite Co., Premier, Prism, R Sky, Revolution, Sky Shark,
Sky Sport Design, Sky Burner, Wolfgang Siebert.
Why do we say we're all about serious kites? The Kite Shoppe has one of the largest in-house selections of mid-range to high-end kites and accessories found anywhere in North America… If you want some AeroStuff or Black Diamond spars, an SUL Revolution frame, or a Lam Hoac kite, we generally have it in the store already and won't make you wait.
We have an excellent relationship with our manufacturers, and do a fair amount of custom orders for our customers as well.
In addition to supporting quite a few kite events around the country, The Kite Shoppe is also proud to sponsor several sport kite pilots, helping with equipment and a few expenses so that they can attend as many events as possible, and share their passion with others.
Motivation for opening a kite business: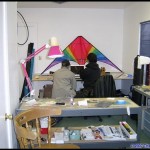 Living life to the fullest, and being involved in something special. Retirement doesn't mean you retire from things you love to do. And when it gets to the point that your hobby takes over your life, you may as well make it your life! I love being at The Shoppe and working with our customers. There's always something to do. And when I'm not at The Shoppe, I'm usually on my way to or from an event. It is a huge wonderful fun happy caring family, this kite family of ours, and it stretches all the way around the world!
Most important advice ever received:
Well, there have been many that come to mind. The most important? So many things in business are critical. Like first impressions. Like customer service. Like honesty. Like… Just do it Right.
Of course, it's nearly impossible to 'do it right' 100% of the time and I do mess up on occasion, but being aware, and being able to follow up and 'fix it' if it wasn't right… That is the best advice I ever received.
Nicest sale ever made:
Every sale is a nice sale! The nicest? The most recent was the evening before Christmas Eve, 8:30 pm. I received an e-mail from a lady who said her 6 year old son had just told her that the only thing he told Santa he wanted for Christmas was a kite. She was desperate to find a kite, and here it was, just hours before Christmas Eve. I e-mailed her, and then we chatted on the phone. We met at The Shoppe in the morning, on Christmas Eve, and she found exactly what she was hoping for! She was so relieved and happy.
Best fringe benefit as owner/manager:
I love my 'job'! The people, the travel, the events, The Shoppe… All the experiences and contacts and fun associated with playing with kites 24/7!
Favorite issue of Kitelife:
That's also easy! They all are my favorites!