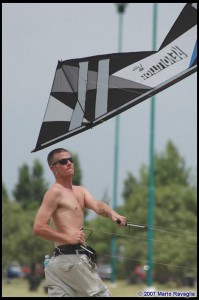 Wow, it's only February and already so much has happened in the kite community… I'm little underwhelmed with the small number of feature articles we have in this issue, and we're looking forward to covering more topics as the season kicks into gear, hopefully with more hands-on articles and content… In the mean time, we've got some excellent event reports, especially from the Geezer.
Just to bring everyone up to date… The Kitelife site now hosts an amazing 192 videos in the public archives which span from 1987 to 2007, along with another 82 special videos in our subscribers section which include larger resolution viewing, unique footage and special festival medley videos which we put together as thanks for those who go out of their way to support Kitelife.
On a projects note, we're scanning the last six issues of Kite Lines magazine and should have them added within the next month or so, completing the on line collection of this amazing publication… Published from 1977 to 2000, Kite Lines still offers one of the largest varieties of kite plans, interviews and history available anywhere.
In 2006, Kitelife was represented at 37 different festivals, comps, workshops and events in the USA, France and China, which gave us a lot of opportunities to meet a great number of interesting people… We're looking to do even more traveling this year, hopefully expanding our contacts and promotional efforts into some new areas and venues, getting kites into as many hands as possible.
The final count for January of 2007 came in just as I started writing this, and our site hosted a new all time record with over 92,000 visitors in the last month, and almost 60,000 of those are unique visitors, or individual people checking out our site's content.
It would seem we're reaching more and more people… If you find us at a local event, please don't hesitate to say hello and share your thoughts, comments and suggestions with us directly… We love to work on the site and improve our services when ever we can, feeback is both highly valued and very useful.
Cordially yours,
John Barresi
Publisher/Editor
Kitelife Magazine