The winter in the northwest can be an odd time. From about May to the beginning of October, there's a kite event almost every two weeks but, once we're into October, it quiets right down to nearly nothing for months. The addition of the event in Camas this year that Dave Shattuck wrote about last issue has broken that up a little bit, but, beyond that, the "next event" for the last 6 years has been the Windless Kite Festival in Long Beach, Washington on the Martin Luther King weekend in January. Organized by Scott Davis and sponsored mainly by the World Kite Museum & Hall of Fame, this festival simply gets better and better attended every year.
But, for me, this trip started back in October. John had gotten a hold of me to tell me that Scott Davis (long time organizer along with Kay Buesing of the Long Beach-based World Kite Museum & Hall of Fame) had asked iQuad to come to the festival. "But John, we're an outdoor kind of thing". At the time, we figured ok, we'd be going anyways, so, we can go as iQuad and do some outdoor flying and then play in the gym individually. Nooooo problem right? Well, when the Camas festival came around, we ran into Scott who told us "No, iQuad indoors, you know, indoor team!". Um. So, at that point, we started thinking of how we were going to manage to do that. We've seen pairs in the Northwest before but nothing beyond that, the gyms are only so big! But, given John spent a bunch of time in Argentina, and then we were onto the Christmas season and voila, its mid January and we've managed to do not much but stress out over how we were going to manage an indoor team of quads.
Oh, and did I mention we got yet another snowstorm the day before I was to leave for this event? Indeed, the evening before I was to leave, the Northwest got yet another round of our wildly wacky winter this year and we got a further 10 inches of snow. Luckily, the main roads were dealt with reasonably and by Thursday, I felt I had a reasonable chance of making it there intact. And while it was cold out, the drive itself was pretty uneventful and surprisingly light going through the Seattle/Olympia corridor, I managed to make the entire drive in just over 6 hours. Kay had managed to secure iQuad early access to the gym for Thursday evening and I was there in time to get down to the job of coming up with a routine with John and Todd. And 2 hours later… We had one.
Once we were up and alive Friday morning, we had the better part of the day to kill off as the gym wouldn't be open for flying till about 4pm. So, given we were in Long Beach, home of WSIKF and one of the best flying beaches in the world, we did what any sane kite flyer would do, we headed out to fly with the three of us. Given the recent weather it was plenty cold out however, we were bundled up nicely and constantly moving so, it was too bad. The oddest thing to see however was snow upon the sand in various place though, it's a sight I've never seen.
Beyond simply having some fun with a three person version of quad team flying, we also had the prototype of a pretty special Rev with us, the John Barresi Series Revolution 1.5. At the time we were flying, this kite was a pretty big secret however as this article comes out after KTAI where the kite will be announced, I can at least mention it in passing (and see a full review on the kite elsewhere in this issue. ) and say WOW, we had a fine time with it! But, the time had come to hit the gym with the hope of getting in a few more runs through what we had developed as a team.
People begin trickling into the gym, hoping to either watch some of this purported indoor kite flying or, learn and/or practice for themselves a little before Saturday's events. We managed to get a couple more run throughs of our own routine plus I managed to spend some time working on my own solo flying. People gathered in ever changing groups, exchanging stories on what they had gotten for Christmas or what they had been up to in the last couple of months. After everyone had gotten their time in on the floor and caught up, we descended upon the Thai restaurant, one of everyone's favorite places to eat in the town. The poor owner always manages to look worried when we all arrive but they managed to get us all fed without any issues. I'd roughly guess that we managed to get 20 people in through that restaurant that evening and everyone left utterly stuffed with food and big smiles on their faces.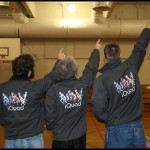 Saturday morning arrived all too soon and John being the evil drill sergeant that he can be, hustled Todd and I out of bed bright and early for a proper breakfast start at The Cottage Bakery after which we headed up to the gym only to find it… Very, very cold. As we needed the gym to be truly "windless", the heating had been left off over night and we couldn't really fire it up either as this would then start air circulating around the gym. Thankfully, the order of the day had demos most of the morning with the competition starting after lunch, so we all had some time to warm the place up a little bit. First out of the gate, iQuad debuted the routine that we had worked on over the previous two days. Much to our collective surprise, it even worked out pretty good! I don't think I have ever been as nervous for a demo!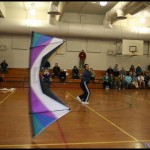 Following iQuad, we had excellent demos by Lam Hoac, Tristan Underwood and Nelson Borelli who was the person who had traveled the furthest, coming to us all the way from Illinois. If you are unfamiliar with Nelson's name or flying, you can catch a video of him taking 3rd place at the AKA Grand Nationals this past year in Des Moines, Iowa. Nelson flies a custom kite he has developed over the years, what he refers to as his Indoor Fighter Kite. Essentially an oversize fighter made of very light materials, Nelson pilots these kites with a simple elegance to some very pretty music, captivating the entire audience with his performance. There is a collection of videos shot during this event that are within the Subscribers section of this site and within there is another video of Nelson at play. However, Nelson also took the time to teach a workshop for people, showing them how to make their own indoor fighter kite. This proved to be a very popular workshop as well with nearly every attendee sitting down to build one of their own. A straightforward kite to make and it's a very graceful flyer once it's done.
Saturday afternoon brought us to the competition portion of the weekend's schedule, with 11 pilots lined up to see how they would fare with the judges. One thing with the NWSKL is that we have so many opportunities for indoor comps (off the top of my head, I'd count at least 6 over a season) that the level of skills amongst the people competing is very high. Less than 10 points separated the top of the Masters class from the bottom (another event where we've split the class for indoor, yet the points awarded at the AKA level will reflect just one open class) and the Novice/Experienced class flyers were not that far off those 10 points either. Below is the final breakdown of scores for the competition:
Alan Cunningham 80.900
Wayne Turner 79.150
Scott Davis 78.950
Nelson Borelli 78.000
Tristan Underwood 77.933
David Hathaway 75.550
Bud Hayes 74.400
Ray Underwood 71.233
Jerry Cannon 68.433
Jennifer Brown 63.250
Toby Arndt 56.517
Judges were Bill Rogers, Jeannie Rogers, Don Ostey, Linda Hayes and Doug Lommel and our lovely Field director was Todd Rudolph. Also worth noting, this was Toby Arndt's first competition, having only picked up an indoor kite at the PCKA Christmas dinner a month earlier. Way to go Toby and welcome to the NWSKL! Saturday afternoon was again rounded out by a few demos, this time primarily by the invited flyers, so we saw Tristan, Nelson, Lam and another try by iQuad to finish off a great first day.
Saturday evening saw all of us heading over to the Kite Museum for a fantastic potluck that all of us had contributed to. The theme was "Italian food" and wow, was there ever a lot of it. Of particular note was Doug Lommel's Eggplant Parmesan. At the next NWSKL AGM, I'm putting forth a motion that Doug is required to bring this dish to any potluck that we have over the next year. I am pretty sure that this motion will pass too, so, thanks in advance Doug!
Also part of the evening's fun was the Raffle! Easily the most sought after prize was one of Don Ostey's custom Gliders, this one done especially for the 2007 Windless Festival. While this kite walked away with our announcer for the event, Bob Wendt, I personally had my eye on "Scottie's Clothes", a custom shirt and pants sewn by Scott's wife. And much to my utter delight, indeed, I won it! I was now set for my wardrobe requirements for Sunday's events! As I hadn't managed to make it to the museum since it had moved to its new location, I spent a little time just wandering around the actual building. If you've never been through this place, you really owe it to yourself to come here and take a tour. The new building is really nicely done and the sheer amount of kites (from out of their collection of 1500) that can be on display at one time is vastly improved from the old place.
Of course, "Sunday Morning" arrived far too early for my liking, despite how early I went to bed. I was utterly wiped out once we got back from the feeding/raffle and I think I was in bed before 10pm! We followed much the same routine as Saturday morning, mainly a quick trip to the bakery again for some breakfast and caffeine infusion and then off to the gym to warm ourselves and the gym up. Today's schedule of events was a little different, but started in much the same fashion with demos being given by nearly everyone who had competed or been invited again. However, there was a subtle difference.
Nearly every flyer that demoed on Sunday morning included one of Nelson Borelli's indoor fighters in their routines. All of us who did this had our own personal take on flying Nelson's baby, whether it was Lam or John, the flyers individual style translated well onto the kite. Nelson himself was thrilled to watch so many different people have a go at his design "It's like my own personal laboratory" he proclaimed at one point.
From my perspective, I found it to be a really gentle kite to fly and I enjoyed it so much that I think I need to make one myself now too! I simply stole Shannon's for my demo on Sunday. Sunday's only "competition" event was the Hot Tricks Elimination, with 8 fearless flyers stepping up to the plate to try for the win. However, much as previous battles have gone lately, Tristan Underwood (all 4 feet and 10 years of age Tristan) worked his way first through Lam Hoac, and then through John (who'd fought a close round with me!) to take first place, again. That being said, he didn't manage to break his record of 42 multilazies indoors, but, alas, that's a hollow victory for those of us who lost again to Tristan's skills. Well done Tristan! After Hot Tricks, a few more demos were flown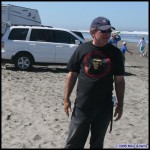 and we'd reached the end of the 6th Annual Windless Kite Festival again! This year was my first trip down to this event but, I can safely say I'll be down there again next year for number 7!
From the frozen Northwest, thanks for reading,
     David Hathaway