Saturday afternoon, a frigid wind was blowing across the ice in Clear Lake Iowa. Kiters had gathered for the annual winter fly and it was cold. But Susie and I weren't there. We were on the bright, sunny beaches of Guam where it was a full 80 degrees warmer.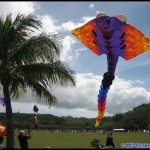 If you have been reading our updates for the past few Februaries, you know what a fan I am of this event. Great field, great people, great hospitality and treatment, great wind, and a great cause.
We fly on a grass field next to a pristine sandy beach. We stay in a beautiful resort hotel. And we raise money for Make-A-Wish who work to support kids with a life-threatening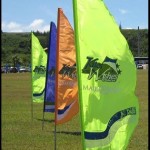 illness.
It is really quite an emotional experience. The field is a historic national park where the Marines landed to re-take the island 70 years ago. And around the perimeter are 150 banners memorializing the kids and wishes that Guam has supported.
The first year, it was Ray Bethell from Canada, Modegi and Takeda from Japan, and myself. I had suggested that the flying conditions and location of the Island presented an ideal opportunity for a significant Pacific Rim event.
And now, for the third annual festival, we had fifty fliers from 11 nations. Teams had gathered from the Philippines, Korea, Indonesia, Bali, Taiwan, Australia, Japan, Malaysia, Germany, Canada, and "mainland" USA.
Each of the teams gathered in the main tent to organize the show and be introduced by the announcer.
In a marked field, fliers presented kites from a variety of cultures and traditions.
And in the adjacent open space, Susie and I put up five large pieces and a series of Van Weers fish.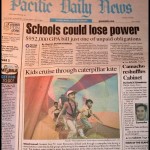 The day before, we'd offered caterpillar tours to visiting children with hearing, sight, or developmental disabilities. Over the course of four hours, we let hundreds of kids into our two inflatables. And yes, we also let them out….
Guam is a wonderful event. It is an event that started well and has grown in stature and experience.
One of the Germans asked why more Americans didn't attend. I laughed and said that all the spectators were "Americans". Since Guam is a US Territory, that was technically true. But it is about as far as you can go and still be in the USA. In fact, Susie and I had to connect through Japan. The trip required a full 30 hours.
But if you are interested in visiting Guam with us next year, drop me a note in December and we'll see if we can facilitate a visit for you. You can expect five or six meals a day, snorkeling on the beach just steps from your hotel, cookies on the pillow each night before you go to bed, and a great kiting experience. Oh – and it will be much warmer than home….
See you out there somewhere!
David Gomberg