"Empty Spaces In The Sky" pieces are never easy for us to write at Kitelife, and they are doubly difficult if we knew the person. And this one is perhaps as difficult for us as any we have written.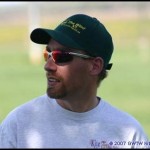 Peter "Shane" Hill was a stalwart friend of kite fliers everywhere, who passed away from Congenital Heard Disease on February 23rd, 2007. We who fly kites and knew him will mark Shane's passing with sorrow and sadness, and miss his gentle and occasionally "gruff" demeanor, his indomitable spirit, his rare inquisitive intellect, and his strength, and his courage, and his belief in himself.
I first ran into Shane Hill on the sands of Huntington Beach, CA at one of Dave Shenkman's annual "Kite Parties." Shane and his wife, Shelly, had come down from Eureka for the party, and Dave was introducing Shane to the crowd as a "real red-neck!" I have to admit that I was NOT amused by Dave's intro, but Shane owned up to the title immediately. I would later find out that, while Shane said he believed he was a "red-neck," he was actually a very fascinating and rather complex individual who accepted this title, only because he thought it was the best way to characterize himself to those who might stereotype him as something else… a "cripple."
You see, Shane was living a life-long battle with Congenital Heard Disease. Shane and I discussed that subject in Huntington Beach too. Put very simply, Shane's body functioned with a limited – even inadequate – supply of blood to the right side of his body. All of this is nearly impossible to imagine if you've not met Shane, but he walked with a limp in his right leg and his right arm was nearly useless. Lord knows what other parts of his anatomy were blood-starved, but I'm sure there were several associated internal problems. But Shane's courage and his attitudes simply refused to let these things keep him from being the person he wanted to be. So – if there was a "poster child" for living with Congenital Heart Disease, Shane was certainly worthy of the title.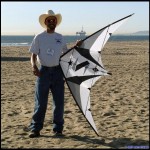 Now Shane, during one portion of his life, had worked at a (now defunct) Kite Store. Oh, I suppose it'd have been much easier for Shane to fly Single Line Kites, but he was really interested in those "controllable" dual-line jobbies. We'd kicked around our common interest in kiting, and it turns out that while Shane was extremely enthused with Paul Shirey's Aerostars and Zerostars, he'd cut his flying teeth on Don Tabor's old Top-Of-The-Line kites, and he still had many great examples of them in his kite-bag. So we soon got to yakking about the wonders of Team Hawaiians and Spin-Offs and Northshore Radicals and Shane's favorite – the "R-2s" (standing for "Radical, Version #2"). But, while I had some good TOTL examples myself, Shane re-interested me in an implement I'd not been able to find in recent years – the old "Kite-Mate" – a device used to pull those old fiberglass spreaders out of their vinyl-tubing LE connectors. So I later ended up buying a dozen Kite-Mates that Shane had managed to acquire when his local kite store closed its doors for good.
And, as we talked kites, I soon found Shane to be an extremely bright and very straightforward fellow. He didn't lack for opinions at all, but everything he had to say had solid thought and research to back up those opinions. Well, that's swell as far as kites go, but Shane's opinions and attitudes about EVERYTHING were usually based on his education, observations, experience, and research. So, while Shane may have had some "physical/medical" problems, his attitudes about things like work-ethics, morals, the importance of "family," and about how he lived his life, were very much "right on!" And never mind all that "red-neck" stuff – Shane was his own person, and certainly no stereotype.
The next time I ran into Shane was at one of Steve Hall and Chris Miller's Gone-With-The-Wind (GWTW) "Open House" weekends in Chico, California. We rolled into town with a bunch of kites in the van, with an idea in mind to create a "Kite Museum" in some spare space that GWTW had available. And, while I had kites to hang, Shelly and Shane and their kids also showed up, and Shane had brought a TOTL "Maestro" to contribute too – and what a lovely "centerpiece" kite that one turned out to be. Shane described it as an "Upgraded R-2" and it certainly was gorgeous – complete with "checkered-flag" and gold lame fabric panels.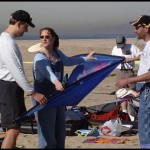 Well, we hung kites early in the weekend and wandered the GWTW shop/warehouse, but a nice breeze came up and there was a surplus of sunshine, so we finished throwing the "museum" together and headed out to fly at a local park. And, if ever there was a perfect kite day, we'd lucked into it. Shane and I flew some of the old TOTL stuff, and Shelly pulled out some of her pretty Rokkakus, and Dan Whitney happened by, bringing his rainbow Rev 1.5, and Steve Hall put up his Robertshaw Delta Serpent and then pulled out his Opium, and Chris was "Alive with Mamba Madness" again – and we made a superb day of it! Oh – and some local folks by the name of Mike and Rhonda happened by, bringing a few of their SLKs and stunters of their own, too. It wasn't exactly a "planned" affair, but we made a party of it right there on the field. And Shane was truly in his element – flying some of his own TOTL stuff, and then putting some Aerostar beauties up too. Wonderful kites. A Superb day. And incredible camaraderie among the people too. What could have been better? And that turned out to be the last time I ever saw Shane Hill…
From that time onward, Shane and I kept up our email correspondence for a while but it dwindled a bit, starting about the time when Shane and Shelly went into business making kite sleeves for GWTW. And, about that same time, Shane got the word that there was a new operation that the docs figured might give him longer life and better circulation throughout his body. We chatted about it briefly via email, and his opinion was that he really had no choice, since to NOT take advantage of the operation meant resigning himself to the condition he was in at the time – with part of his body still functioning in a blood-deprived state. Yes – He understood the risks involved, certainly, but he was determined to give himself the best chance of a "whole" life possible.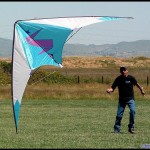 So Shane underwent the operation – which turned out to be the first in a series. I've no idea how many times the doctors operated on him, but it eventually had to be quite a few – especially if you also consider all of the times they'd cut on him in his younger years. I remember a few emails where Shane's delight came roaring through. "My body is PINK now," he said in one – absolutely amazed! And those of us who knew Shane rejoiced, even though we knew he still had the tough "recovery" period to go through. And that was the first of… several (?)
Anyway, I am not really aware of how things went with Shane on a day-to-day or even a month-to-month basis from that point on. We lost track of each other – each of us busy dealing with the separate trials and tribulations of our own lives. I only know that I looked for him at the festivals and kite competitions whenever I got down into Southern Oregon and Northern California. And so, as I headed down to Huntington Beach again for the first time in three years, I'd mused over the chances that Shane and I would run into each other on the sands by the pier in Huntington Beach, where we'd first met. It would have been very nice to see Shane and Shelly again and to renew the friendships and to catch up on all the missing segments of each others' lives. But that was just not meant to be, I guess.
Well Shane, wherever you are now, you can rest assured that you're here in our memories too.
From The Eureka Times-Standard:
Peter "Shane" Hill passed away February 23rd, 2007, in Eureka at the age of 38. He was born and raised in Eureka, CA.
Shane's entire life was a constant battle with his congenital heart disease. He always managed to beat all odds with his extraordinary strength and attitude. He has astonished so many people with his ability to survive that he will live on forever in our hearts and in Medical Journals.
The things he enjoyed in life were hunting, fishing, competition shooting and flying kites. But most of all, cheering on his Minnesota Vikings.
Shane is survived by his wife he cherished, Shelly and children Cain and Chyna. His sister, Shannon Fulton and husband Jeremy. His brother, Joe Bonomini and wife Cindy. His parents, Diane Hauger and Lou Bonomini. His grandparents, Jack and Betty Morton. His grandmother, Vera Bonomini and many more loving family and friends.
He was preceded in death by his father, Peter A Hill who died in Vietnam. His grandparents, Curly and Ruth Hill. His aunt that cherished him, Linda McDonald. His grandfathers, Lou Bonomini and Stan Hauger.
The family would like to thank Dr. Robert Popper and his team at California Pacific Medical Center in San Francisco for believing and never giving up on Shane. Dr. Popper gave us many extra years to spend with Shane that we never expected to have. Dr. Popper and Shane were a team that no one could touch.
In lieu of flowers contributions may be made to: California Pacific Medical Center, Pediatric Ward. Make checks payable to C.P.M.C., 89 Grange Road,
Eureka, CA 95503
A few messages from friends, family and admirers, many excerpted from the GWTW on line forum:
Peter "Shane" was a unique individual in many ways. At California Pacific Medical Center we knew him for 22 years. In the hospital he was known for never complaining, but always encouraging the best from his nurses, doctors, and other staff.
The abnormalities of his heart/lungs are rare; the complications that developed over the years were severe. He would challenge us often to find new ways to treat his disease, but he also taught us that he could, and would, make his own informed decisions. He could do this because he was intelligent and inquisitive. Without doubt, he taught us a great deal about the management of complex congenital heart disease. What we have learned from Peter will help us to give ever better treatment to all the other individuals with these challenging conditions.
Peter has given us this valuable legacy for the future. We are humbled and grateful that Peter's family is adding to our care fund.
Very Sincerely, Robert Popper, M.D.
Robert Popper (San Francisco, CA)
I left many tears on the kite field when Shane's passing was announced. Fortunately, I have many, many fond memories for each tear. God Bless.
John & Bambi Chilese (Las Vegas, NV)
It is with deep sorrow to notify the kiting community of Shane Hill's passing on Friday 2/23/07. He was only 38 years old. A call was received late last night from his loving wife Shelly. I'm still completely numb and in disbelief as I write this.
Several of you knew Shane from this forum or having met him in person. For sure, he was very passionate about kite flying and a great ambassador for the sport! What many may not have known were the long-term health battles Shane endured. He had struggled with a myriad of issues, even undergoing three open heart surgeries (the last one occurring just a year ago).The reason many were not aware of his struggles was Shane's positive "can do" attitude. He never complained and still did everything in his power to lead a full and productive life. In all honesty, Shane was one of the most inspirational people I've ever met. His grit and determination in the face of overwhelming adversity could not be surpassed!When flying dual-liners, Shane used a special handle he developed for control with just one arm. I still have vivid memories of the ballet performance he did at Kite Party II. If you just focused on the kite, you wouldn't believe the flyer had any physical limitations (lots of axels, stalls, etc). And if you asked Shane, he would say there were none either!Besides kiting, Shane was also a competitive rifle shooter. In fact, he was once ranked #1 marksman in his class. Yet another example of his will to excel at everything he did. Damn, he would have been an awesome motivational speaker!For me personally, Shane started out as a customer and ended up a good friend. I will definitely miss our frequent phone calls where we shared our passion for kites, the band RUSH and high-performance cars & motorcycles. I'm also thankful for the opportunity to spend quality time together while in California.If anyone would like to send condolences directly to his wife and children, please e-mail me. I will then promptly forward their mailing address.Next time you launch a kite and look skyward, please think of Shane."We will all miss you greatly our dear friend!"
Paul Shirey @ AeroStar
Pittsburgh, PA
Last night Shelly telephoned me and gave me the really sad news of Shane's passing. It's really heartbreaking to accept this. What can I say about Shane? First, I cannot thank him enough for all of the help and inspiration he gave me, not only about kite flying, but also for being such a good friend. I first met Shane about five years ago at the Eureka, California waterfront during my lunch hour. As it turned out, I was flying a single line delta kite (the first kite I had purchased in well more than a decade), and he was kind enough to approach me, introduce himself, and asked if I would be interested in going to one of his kite club weekend flys. After meeting up with him in Crescent City, me and my wife were very excited to become members of the flying club he belonged to, the Rogue Valley Windchasers.
Shane was the first person to take the time and teach me how to fly stunt kites. Not only that, his enthusiasm and passion for kite flying re-kindled an interest in the hobby that I had "put on the shelf" for more than 20 years. After spending more time with him, my interest and excitement in kites increased to a level that I had not experienced since I was a child, and I have since bought many more kites.I could go on forever talking about all the enthusiasm, spirit and passion that Shane presented and shared in kite flying, but for all us that knew him personally, it's pretty obvious. Shane, my prayers go out to you, Shelly and the family. There is going to be a huge empty spot on the flying beach without you there. All of us Winchasers will keep you in our hearts forever.
Steve D
Fortuna, CA
This means alot to us i remember the 1st kite i got was a 2 line kite it was purple (my favorite color)I really appreciate this i kinda remember alot of You guys and i know how much my daddy loved kite flying and thank you especially Paulfor writing it and Thank you Steve For the slide show. We all really started to cry but that just means you did a awsome job.
Thanks,
Chyna (12 year old daughter of Shane)
Here at Kite Party, Shane's name came up in conversation several times on Friday. "Are Shane & Shelly here this year?". "Anyone hear from Shane?", etc. For the people in the convesation who didn't know Shane we talked about his flying, kite swaps, the Viking helmet, his lovely wife and kids. We also talked about how we hadn't heard much since the last big surgery and we all hoped to see him soon.
The next day Dave made the announcement to all of us. It was strange, unexpected and very sad. Kite Party came to a halt. He had been in so many people's thoughts the day before.I immediately took out the Vanishing Point he sent me. Just for the memories of this pile of battered kites he rescued from a thrift store.Then I went to the car and got the handle he made for me, with the smiley face grip tape. I hooked up a Midi and flew one handed for a while in the midst of the usual KP chaos. Shane was with me when I popped up a perfect fade launch, rolled out and flew off. Never done anything like that before.Thanks Shane.Thanks Shelly. Shane wouldn't have been Shane without you.
Allen Carter
Shane and I met just after my graduation from high school in 1991 and we quickly became friends. Having been born and raised in the same area and knowing many of the same people it always amazed us that we had never met prior. We had many similar interests and spent many many years driving, shooting, flying and laughing. A long standing joke that we always shared was that 90% of our stories of outlandish shenanigans included a pick up truck, most of which also included guns, and some of which included beer. Of those, a few included any or all of the above in varying combinations! Oh, we also flew kites together, though he pursued it to a greater degree and accomplished much more ability than I.
I'm not a member of your forum but if you would please post this for me it would mean so much. Many of us moved away from our home towns in Humboldt County to start new lives and families elsewhere while Shane remained and chose to start family life in Eureka. It's always hard when your friends leave town but like many times before in his life, Shane perservered and prospered. Part of this process was taking on the art of kite-flying and showing the world what he could do and then some. Shane was an inspiration to us all and while his style and demeanor alone was enough to make him a class all his own, at some point you have to admit; IT'S HARD NOT TO NOTICE THE GUY IN THE VIKING HELMET! Thank you all for sharing the breeze. I'll guarantee Shane is out flying… somewhere.
Sincerely,
Aaron K. Francis
Lebanon, OR
Shelly our thoughts and wishes are with you and the kids. We only met you briefly at one of the GWTW open houses & fun flies, but are saddened we won't get the opportunity to know Shane better. Maybe our paths will cross again one day, but we'll have you in our thoughts Sunday when we gather on the field we shared once.
Mike & Rhonda
We hope you're "walking tall" and feeling good, and that you're PINK all over! We trust you're done with pain and moving easily now. And maybe you're even tricking those Aerostar kites all day long, too. But one thing's pretty certain. Your hard-as-nails spirit will never die. And, yes – you were indeed one of the very good ones!
We'll miss you, my friend.
Dave "Geezer" Shattuck