I was sitting around the office this past January and got an email from Carl Robertshaw with news about an upcoming project with Red Bull Air Races, developing a specialized kite show in conjunction with their events in 2007… Reportedly reaching a global audience of over two billion people last year through their shows and media, the Red Bull Air Race offers a totally unique opportunity for kiting to reach an international audience the likes of which has never been seen by any single modern kite exhibition.
We won't be getting in depth here about the project and planning just yet, as it's still being developed… While the show has already been booked and we completed our first training camp in the middle of March, some facets of the show and contracts are still being finalized.
The current plan includes exactly a dozen primary fliers and kitemakers from around the world, each some of the very best in their respective areas, most with extensive experience and a wide variety of kiting skills to offer… Let me introduce you to the team we saw at our training session in Deauville, France this past month.
Also on the roster, but not present at the first training session, two more North American pilots will be involved in the shows to make our full dozen…
[twocol_one]Ray Bethell
(Canada)
A full time world traveler, Ray holds a number of World Records in kite flying.[/twocol_one] [twocol_one_last]Marc Ricketts
(United States)
Renowned designer of the Synergy Deca, and the founder of Guildworks Studio.[/twocol_one_last]
Although the show format is still being refined, we can expect to see both dual and quad line team flying, a mega team, select individual sport kite performances and single line interludes, all laced together with the pilots cooperatively crewing for each other as a fully functioning team.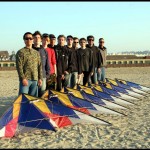 One would think that with such a wide variety of nationalities and so much success between the various team members that there would be a great deal to overcome with regard to personalities and egos… But if the six day training session in France showed anything, it was quite the opposite! This overall caliber of pilots with a single minded goal proved to be incredibly efficient, humble in distributing show time to everyone and constantly contributing to the show design without any interference from their egos, they quickly gelled together as a group with respect for each other across the board.
To give you a taste of some of the styles involved in this project, click on any of these names for a video sample of the influences we'll see in this show – Ray Bethell, AirKraft, Richard Debray, Mathieu Mayet, Overdrive, Lam Hoac, and John Barresi… A simple web search should turn up video from some of the other pilots on the team.
One of the key people to thank for the opportunity we've been presented with is Konstantin Jakabb from the Rock + Partner promotions company in Austria who has been the key facilitator, organizer and contact with the Red Bull Air Race offices, working long hours for many months to help make this kite show a reality.
On the kiting side of things, Carl Robertshaw, Pierre Fabre, Ramlal Tien and others have been there from day one, working with Konstantin, bringing their extensive experience with kite-related productions to bear on creating an efficient, effective and exciting format that will fit into the Red Bull Air Race scheme, representing modern kiting to the fullest.
At the moment, four kite shows are already confirmed for Air Race venues in Barcelona (Spain), Interlakken (Switzerland), San Diego (USA) and Perth (Australia) with negotiations underway for Air Races in Hungary, Portugal and Mexico… To stay abreast of schedule developments and for further information about the Red Bull Air Races, visit their web site:
We're still a ways off from locking this down and earning our place in the races, but this is one of the largest mainstream gateways kiting has been offered thus far and this group will certainly do everything it can to make the show a success this year, and hopefully for years to come.
Proud to be a kiter,
John Barresi