Let me introduce you to the joys of winter on the Pacific Northwest. It typically involves a lot of rain, and temperatures hovering just over freezing so that we can rarely get any snow, however this year proved to be somewhat different in that we DID get a lot of snow. So, when John Barresi phoned up to see if I could make a trip to Texas with him for the South Padre Island kite festival, I think I took about an entire 2 seconds to say "when do we leave?"
One nice feature of going was that we were slated to be there a couple of days early, with a Wednesday afternoon arrival. Bill Doan of B&S Kites, the main festival sponsor, met up with us in Brownsville airport to give us a lift into town and give us a chance to settle into the hotel, explore the town a little and get some flying in. But first, we had to stop into the store and see Susie as well! For me, it had been weeks since I'd managed even a quick fly outside that didn't involve a monsoon like downpour so I was particularly pleased that we could even fly on the beach that was right outside our hotel. After some great sushi just down the road, Wednesday evening saw John and I out there having fun in the dark as the hotel's beach front area was well lit. I was feeling better already!
By Friday afternoon, other people were slowly trickling into South Padre in preparation for the weekend's events. We spent some time with Jim Cosca of Premier Kites, who was going to fly with John and I as a third person for some quad team antics, when he could get himself away from the huge array of single line kites he bought from Premier's amazing collection of kites and a a bit later on, both Jeff and Donna McCone were spotted lining out the fields. While the weather wasn't a hot sunny day, it was markedly better than it would have been at home with temperatures in the mid 60s, some light cloud cover and a wonderfully smooth 8 mph wind all day long. And to top off what a spectacular day of flying, a small get-together was thrown by Barry and Karen Ogletree where most of the flyers who were involved with the festival got caught up with old friends and munched their way through a great spread of food. Of course, by the time we got back to the hotel again, John and I hadn't gotten enough flying in and we also managed to drag Jim and Chris Schultz of New Tech out for another late evening fly on the sand. There are certainly rougher ways to end a great long day!
Saturday morning arrived and SPI Kite Fest tradition states that one must head to the Grape Vine at least once for breakfast before heading down to the field. A quick filling up with food (mmmm, really good Huevos Rancheros!) and coffee and we were ready to start the day. While the day started and remained overcast, it wasn't cold and there was a decent breeze blowing through the festival area. Bill and company had set up three main areas to fly, a central demo field, with a sound system, and a large single line kite area off to the side of that where some spectacular SLKs were beginning to go up, including some really nice kites built by Doug and Linda LaRock of Yakima, Washington (who were undoubtedly as pleased as John and I were to be out of the Northwest winter weirdness) as well Phil and Barb Burk (also from the Northwest), Dr. Gayle Woodul and Rick Hawkins with a very large and very popular Gecko.
On the other side of the demo field, they had setup an area for sport kite play and quad lessons that John and I spent much of our time flying around in, either chasing each other around amongst some of New Tech and Premier's large SLKs. John was effectively debuting his new signature kite from Revolution (review link) as this was the first festival to occur after its launch at the Kite Trade Association convention the week before and it proved to be a very popular kite. I'm pretty sure Bill had none left by the time the weekend was over. We also had our Masterpiece series revs out for people to take a peek at but, I was somewhat reluctant to teach on an expensive custom, so I spent much of the weekend on my own B Series as well. While I'm not sure he'll admit to it, both John and I also gave at least one lesson each on Spirit quads as well. Someone there had asked me how I'd fly the kite through a typical Rev clockwork series and after a few minutes of adjustment to the different flight characteristics, I was able to walk a person through the basics.
The central demo field was kept hopping all day long for the good-sized crowd that had assembled. The first fly of the morning was a flag raising ceremony performed by Roger Horne, of Rockport, Texas, which was followed by demos by John Barresi and myself (as individuals and also as our pairs team, Furious George and with the addition of Jim Cosca, "Tri-Quad"). And while we're on the topic of Jim Cosca, he's usually known lately for his work with Premier and as a single line flyer however, make no mistake about it, he's a highly skilled dual and multiline flyer as well. Jim said it had been quite some time since he'd demo'ed quad skills at a festival, however, you could have fooled me, he did a great fly! Also of note was a great demo flown by Chris Schultz of New Tech with a black set of Mirage Warbirds. While this may be a VERY old school kite, in the hands of a talented flyer, it's a beauty to see flying in the sky. Chris had chosen a tune from Pink Floyd's Dark Side Of The Moon, gracefully arcing the Warbirds around the sky and never missing single opportunity contained in the song. Some of the Texas-based teams were also out giving demonstrations, with Austin's End Of The Line team, and South Padre's own team SPI.
As the afternoon wound down and the crowds began to disperse, all of us headed off to wherever we happened to be staying so as to pretty ourselves up for the banquet, which was held just a little ways down the road at a place called Louie's Backyard. They had reserved us a good sized room (with a bar!) upstairs and the place was well packed with worn out flyers looking to unwind from the first day of the festival. The food was really good, including some Texas BBQ items, which I had been craving ever since we landed! With some door prizes and both a silent and LOUD auction being held, there was a large array of items including a beautiful 22 foot Delta Kite made by Doug LaRock that were given away or bidded on. Me, I walked away relatively easy for change, simply picking up a sweet blue fade Gemini that Jeff McCown had donated from his vast collection of dual line kites, I know John also had his eye on this particular kite so, I guess I'll let him fly it at some point. Now, maybe I can spend some time actually learning how to fly a dual line kite with a small amount of style but, I wouldn't hold my breath on that. And in similar fashion to the previous few nights, we ended it with a fly down in the beach by what was nearly a full moon.
After a nice sleep Saturday evening, we woke up energized to head back out for Sunday's events on the field. The day started much like Saturday had, however by the early afternoon, the sun was beginning to peek through the clouds so by the end of the, it was a very sunny Sunday afternoon. Some of the others who performed individual demos both Saturday and Sunday were Bill Seward, Lamar May, Guy Blatnick, Claudia Steen, Roger Horne, Tom Brailey and Danny Mathis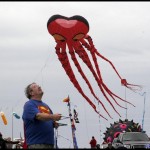 Also, with the jaunty snap of a bright red cape, Bill Doan doing a great routine, dressed as Superman, complete with a Superman logo'ed custom kite he had built. The routine starts as a standard dual line routine however, about mid way through, you find that Bill also has a dogs take playing a part, with the finish of the routine with Bill catching his own kite. Truly a Superman-level performance by Bill!
We also some pairs flying over the weekend, with Jeff and Donna McCone (Windjunkies) reprising their famous Phantom of the Opera routine which incorporated a large array of kites, from a few single lines to some pairs on duals. With the costumes Jeff and Donna had with this routine, the crowd loved seeing this performed. Other pairs included Windchasers (Guy and Claudia) and Billy Bob, made up of Bill Doan and Bob Fudge.
Out on the single line areas, some of the kites bought in the previous night's auctions were also being newly flown, notably Dr. Gayle Woodul's new dog that fit perfectly on her existing pack of pound puppies. Coatie was supervising their flight quite well from the ground and I really liked the tube she flies that suggests people adopt dogs from the local SPCA or pound. Off in another corner, Barry Ogletree had a really sharp looking rainbow Peter Lynn octopus up in the air for much of the afternoon and Jim Cosca had unfurled one of Premier's huge red dragon kites, beside a cute Clownfish. Sunday drew to a close a little earlier than Saturday did as everybody seemed excited by something called "The Super Bowl" but, John and I took as much advantage of the great sunshine that was now shining down on the beach before we headed over to a small party held by Bill and Susie. It was a great game to watch (who would have predicted monsoon like rains in Florida?) and by the end of the day, we were exhausted and actually did not go flying on the beach that evening! What a fine way to wrap up what was a really well put together and fun festival which managed to attract 1000s of people each day down to the beach.
But, then, as it always does, Monday rolled around and that meant time to head home, back to a frozen Pacific Northwest. Oh well, the time spent in Texas more than made up for the cold rain when I returned home. I'd like to take this moment to heartily thank Bill and Susie Doan for having us down to their festival and with some luck; I'm hoping to go back again next year for some fine Texas Hospitality! Thanks again to everyone else involved as well and I hope we managed to bring some out of state color to your festival.
See you on the field!
David Hathaway