The Second Annual Cloud Buster Kite Festival held in Perrin, Texas was preceded by a real Texas size gully washer. 10 inches of rain fall on Thursday and Friday prior to the main events scheduled for Saturday March 31, 2007.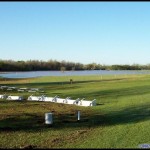 All of those living in the South are quite aware there has been a severe and lengthy drought. When the sky opened up March 29th over most of Texas, the local cowpokes were dancing next to their pasture tanks full of fresh rain water. Unfortunately all the tanks, creeks, and bar ditches could not handle the quantity. Friday evening after two days and the 10 inches, access roads to Perrin on State Hwy 281 and # 199, the Jacksboro Highway were closed with flood water. The local authorities were posted along these routes with water crafts launched and prepared to save someone with the "wild west" living in their minds and the attitude "my pickup and I can do this".
Mitchell Resort and RV Park owners Kevin McGrath and Doris Reed originally from Seattle, Washington understand rain and what can happen with too much rain too fast. Much of Friday March 30th was spent by Doris and Kevin running between buildings, cottages, the parks common areas, and drain ditches worrying about what was taking place. The young nine hole par three golf course once it was saturated, become a lake. The normally dry creek bed became a fast moving river as the banks overflowed and passed over the cattle fencing.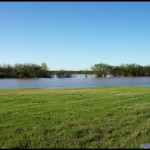 What normally would be considered peaceful welcome sounds of a river flowing could be heard with a fear throughout the park. When was it going to stop? Kevin and Doris also watched as the 28 acre fly field became an extension of the existing fishing lake in the park. Not the best timing for a kite festival, but the rains were going to fall and the flood was going to happen. The 28 acre fly field was staked and ready for all sizes and shapes of sky toys but was being over taken by the rains.
Barry Ogletree had arrived with his trailer loaded. The 454 sq. foot Sutton, the 125 x 40 foot squid and more were waiting to take flight – but it wasn't to be. The Yantes family arrived in their recreational vehicle ready to help get those big kites in the sky. Mr. Walter Mitchell floated in with his trailer of 40 foot kites from Lubbock, but after a Coke-Cola and Snickers snack, turned his rig around and headed back to Lubbock. Capt Rick (Richard Hawkins) arrived from Houston with his golf cart and truck full for the kite festival. This was his first visit to Perrin, Texas located in the heart of the North Texas Hill Country. In route, he had stopped by Super Wal-Mart and snapped up the last pair of knee high black rubber boots on his way to the park. Fortunately for Capt. Rick, the size of the last pair – a 9.5 was just his size. He was so proud of his new purchase and out foxing the weather that he never removed the price tag and arrived at Mitchell Resort sporting the Minnie Pearl look. He and a couple friends hunkered down awaiting the clear sky and sun that did come to Perrin and the Second Annual Cloud Buster Kite Fest as was forecast for Saturday and Sunday.
George Weber and friends, the Whitacres also hung in for the weekend of sunny fly fun. One four plus acre field remained high and dry and the show would go on. Troy Gunn and his family arrived from Wichita Falls for the Friday 50's dinner followed by a great Elvis performance by Terry "E" from Dallas. That show did get a late start after Elvis was given directions by the law enforcement officers for the "around and around" roads that were not closed. That drive was about 3 hours longer for Terry "E", but he did arrive and put on a great show for the rain soaked visitors who had no problem waiting for his late arrival. What a great audience as Terry always incorporates all ages into his performance from hip swivel dancing lessons for the men and fun entertainment with the kids. Saturday, as promised the sun came out and the kite festival got a good start around 11:00 am with the light winds. By late in the day, many a kite could be seen from the now opened State Hwy 281.
The Cloud Buster Kite Fest was a scheduled AKA "Fun Fly" with 12 whimsical trophies available for all ages. The sun would bring out 54 entrants from The "Oldest" 78 year old Pete Taylor from Weatherford, Texas to "Youngest" 3 year old Alex Cato from Springtown. Returning Champ Kimberly Merrill easily snapped up the "Kids 50 Yard Dash With A Kite" while her Mom (Debbie Merrill) was the winner of the "Longest Kite Tail". Chace Blackburn received the "Most Unusual Kite" with his flying truck and Christy Hall was honored with the "Most Colorful" while Rusty Hall picked up the "Most Beautiful" with his flying dragon. Patty Priest of Mineral Wells, entered her kite into the "Largest Kite" category and was the easy winner when all the big kites left town with no large dry acreage to safely put them to flight. "Smallest Kite" was flown by Roy Winstead. It could be heard some say that his goofy little kite would never stay up long enough to fly and win the trophy. Roy used some impressive skills to get it up and keep it up and snapped up the coveted trophy much to the surprise of all. "Most Impressive Individual Ground Display" was again won by Jewels In the Sky under George Weber's leadership and Capt. Rick easily ran away with the "Most Impressive Team Ground Display".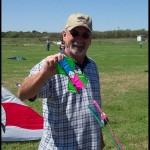 Troy Gunn was the only member of the TKO Flight Team able to make it through the flood to Perrin, Texas. He did put on a show Saturday with his sport kite and easily won the "Best Stunt Kite Ballet Demonstration". Sunday, Troy was one of the first ones to the substitute kite fly field and managed to get many single line kites in the sky including a 252 square foot flow form, large yellow pyro delta kite. An impressive display for the crowd that had managed the elements and stayed for the duration of the weekend. Dick Turner, a local balloon artist contributed to the family fun Saturday when he made balloon hats and animals for visitors of all ages. Local clowns Cliff and Robin Ward also arrived in their fully restored 1954 Plymouth to put smiles on faces. This was an unexpected event, but while in full costume they passed by on Hwy 281 from another function and noticed the kites and came on in knowing there would be kids having fun.
Local kite enthusiast Kyle Wilson drove in again from Mineral Wells with his old and new kites to have some more fun at this second festival. Kyle is an employee of a local utility company who stays in touch with Mitchell Resort awaiting the next years kite festival. The appreciation he and others in the community have shown to Mitchell Resort owners, Kevin and Doris continues to inspire them to keep this kite festival as an annual event for the locals to enjoy.
Doris and Kevin hope they and all who attended the kite festival in Perrin, Texas will put next years Third Annual Cloud Buster Kite Fest on their next years calendar for the weekend of April 4-6, 2008. This event has been entered on the AKA calendar and they hope to see everyone back again. They have promised clear skies and no flood waters on the 28 acre fly field in 2008.